This is a slightly different recipe to my previous one for shortbread. This recipe uses brown sugar instead of white. It works well! I recomend to make both to see which one you prefer!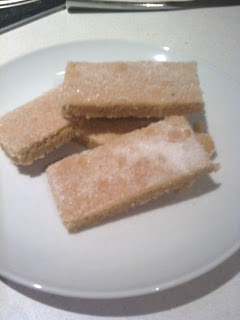 Ingredients:
455g butter
220g brown sugar
560g plain flour
The How-To:
Preheat oven to 160c
Cream butter and sugar together
Add most of the flour leaving just enough to dust a bench to roll it out
Use your hands to mix in the flour, kneeding it until it becomes a ball of dough
Kneed the dough on a worktop coated in flour so it doesnt stick, kneed for about 5 mins.
Roll out to about 1/2 inch thick
Transfer onto a baking tray covered in a sheet of greeseproof paper
Mark out into fingers
Bake for 18-20 mins
Leave to Cool
Your done!