The reason I call this recipe customisable frosting is that it is the blank canvas of frostings. It is the absolute basic and tastiest frosting I have discovered.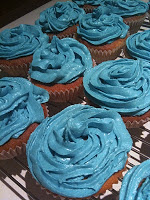 The Ingredients:
450g of Icing Sugar
110g of Butter
1tsp Salt
3tbsp Milk
2tsp Vanilla
The How-To:
Cream the softened butter in a bowl for aprox 5 mins until light and creamy.
In a seperate dish mix the salt and the vanilla together.
Mix the salt and vanilla mixture into the creamed butter.
Turn your electric whisk onto the lowest setting and slowly add the icing sugar. The key here is to add it slowly. Making sure each addition is fully combined before adding the next. Continue until all the sugar is added.
Now combine the 3tbsp of Milk a tsp at a time.
Finally whip the frosting for aprox 2 mins on high speed until light and fluffy.
If you decide to add food colouring or any other liquid flavourings you may need to add 1 or 2 tbsp of icing sugar to thicken it up.
That is you done. I highly reccomend you start icing straight away. Make sure your buns are completely cooled otherwise the frosting will melt. To assist in the setting of my frosting I leave the buns beside an open window when done.
Your Done!