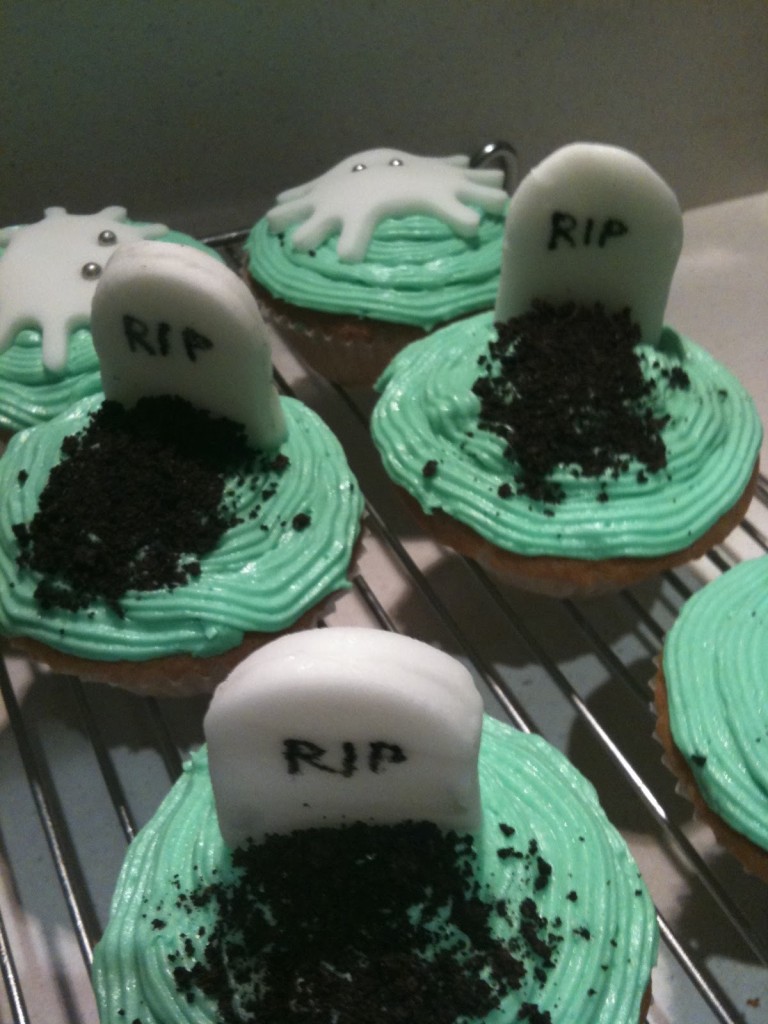 This is an excellent recipe where the kids can help out too. You will need to make the cupcakes from our "simple vanilla cupcake" recipe which you can find
here
and the "customisable frosting" recipe which you can find
here
.
The First Option: Vanilla cupcake with grave decoration:
To make this cupcake the recipe stays the same as
here
but the frosting is coloured green using green food colouring. This makes the grass. You will need some ready rolled icing similar to
here
but also available in loads of other brands to make the headstone. You will also need some Oreo cookies which you will crush to make the soil on the graves.
Experiment with different piping attachments to find one you like for the grass, alternatively if you don't have any piping bags you can use a freezer bag with the corner cut off or even just spread the frosting on with a knife. For the headstone you will need to cut out a headstone shape in icing (make sure it is thick enough to stand up, you may need to double it up), you can also write what you want on the headstone with an icing pen if you want but this is optional.
1. Bake cupcake and leave to cool completely.
2. Make frosting and top the cupcake
3. While the frosting is still soft stick in the icing headstone and decorate the grave with the crushed Oreos.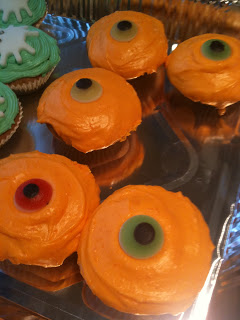 4. Leave aside to harden.
The Second Option: Pumpkin orange cupcake with orange flavoured frosting:
This is a simple but delicious cupcake! Simply make the batter for the vanilla cupcake again, but before spooning the mixture into the bun cases add some orange food colouring, be generous to achieve a nice bright orange sponge.
Now make the frosting
here
but leave out the vanilla, instead grate some orange zest into the frosting. You will probably need about the zest of two large oranges but you can add this to taste.
Frost the cupcakes in whatever way you want, you can either pipe the frosting on or simple spread it on, finally decorate with any disgusting Halloween jelly sweets such as eye balls.
You're Done!