Recipe Book Review – NIGELLA EXPRESS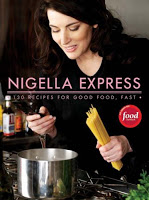 I think this book is an essential for every kitchen shelf. Whether your tired or just cant be bothered this book will guide you through how to make fantastic, quick and easy meals, which taste like you have spent hours slaving over the stove.
This book works as a perfect accompaniment to the Nigella Express TV series, whether to look back at for the recipes or to follow along as she cooks with you.
You can have confidence when reading this book that you wont find recipes that say to prepare this or that 24 hours in advance, all recipes are truly quick to prepare.
Nigella recipes come across just as passionately in the book as she presents them on TV. I think I can truly say that Nigella is the queen of the kitchen…..at least for now.
Nigella Express can be found on amazon for the very reasonable price of £10.79.