Scary Halloween Double Chocolate Cupcakes
In theme with Halloween is another recipe which is perfect to make with kids and will certainly get them in the mood for Halloween! This cupcake is chocolate sponge with Chocolate frosting and a dusting of coconut on top.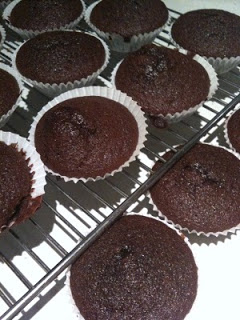 The Ingredients:
Cupcake :
75g Coco Powder
300g Caster Sugar
2 Eggs
250ml Milk
175g Flour
2 tsp baking powder
0.25tsp bicarbonate soda
1tsp vanilla extract or essence
40g Butter
0.25tsp Salt
Frosting:
650g Icing Sugar
100ml Milk
175g Butter
1tsp Vanilla extract or essence.
The How-To:
Preheat oven to 180c.
Cream the butter and sugar together.
Add the eggs one at a time ensuring each is combined before adding the next.
Stir in the vanilla.
In a separate bowl sieve all the dry ingredients together.
Add the dry ingredients to the wet mix alternating with the milk until all ingredients are combined well.
Place the mixture into bun cases, it will seem quite thin but they cook perfect. 3/4 fill the cupcake cases.
Bake in the oven for 15 mins.
Remove and allow to completely cool before frosting.
Making the frosting:
Cream the butter until smooth.
Slowly add the icing sugar and coco powder alternating with the milk.
The mixture should be spreadable. Spread onto the cupcakes using a knife.
Dusting with Coconut:
For best results here I use green food colouring so slightly dye some shredded coconut to look like grass.
Use a spoon to sprinkle this over the frosted cupcake and tip upside down to remove any excess.
Place a spider or other creepy insect on top to complete the cupcake.
Your Done!