Simple Chocolate Chip Vanilla Muffins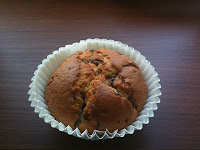 Ive done the recipes for simple cupcakes and simple cookies. Now for simple muffins!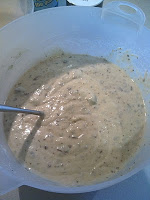 Ingredients
220g Self Raising Flour
110g Butter
75g Caster Sugar
1 coffee mug of chocolate chips
270ml of Milk
2 Eggs
1tsp Baking Powder
1tsp Vanilla Extract or Essence
The How – To :
Preheat oven to 200C
Line a muffin tray with 12 muffin cases. If you don't have a muffin tray you will have to triple up the bun cases so the mixture doesn't spill out during baking.
Mix the flour and baking powder together in a bowl.
Chop the butter up into cubes and add to the flour/baking powder mixture.
Use your hands to rub the butter into the flour mixture. This should take a few mins. You will know you are done when there are no more lumps of butter left and the texture is that of rough breadcrumbs.
Stir in the sugar and the chocolate chips.
In a separate bowl mix together the milk, eggs and vanilla.
Make a well in the centre of the flour mixture and slowly add the milk, eggs and vanilla mixture.
Stir until all ingredients are combined.
Spoon the batter into the muffin cases and bake for 20 mins in the middle of the oven.