The Simple Vanilla Cupcake Recipe
I like to think of this cupcake recipe as the blank canvas recipe as this makes the perfect cupcake for you to customise using your wildest dreams (or some of the suggestions I will be writing about).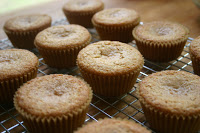 This normally takes me 20-30 mins to prepare and then 20 mins to cook. Makes 12 Cupcakes.
Simply 6 ingredients:
150 g butter, softened
150 g sugar
3 eggs, beaten
1 tsp vanilla extract
150 g self-raising flour, sifted
1 tbsp milk
The How-To :
Preheat over to 180 degrees C
Cream the butter and sugar together until creamy and light in colour
Add 1/3 of the beaten egg into the butter and sugar mix, stir in. continue to add 1/3 of the flour to the mix, stir in. Continue to do this with the flour and the eggs until all ingredients are in the bowl.
Now stir in the vanilla extract (Do not over stir)
Evenly divide mixture between 12 cupcake cases and place in the centre of the oven for aprox 20 mins.
Finally leave to cool before decorating. Stay tuned to this blog for plenty of cupcake decorating ideas and inspiration.
Your Done!