This is the best recipe for Cinnamon Raisin Cookies. Soft and chewy and absolutely delicious.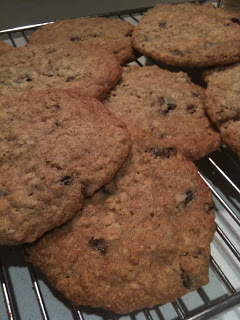 The Ingredients:
175g Butter
150g Granulated Sugar
160g Light Brown Sugar
150g Plain Flour
220g Oats
150g Raisins or Sultanas
2 Eggs
1 tsp Vanilla essence/extract
1tsp Cinnamon
1tsp Baking Powder
0.5tsp Salt
The How-To:
Preheat the oven to 190c
Cream the butter and sugar together until smooth.
Add the eggs one at time beating the mixture together.
Beat in the vanilla.
Sift the Flour, Baking Powder, Salt and Cinnamon together.
Stir this into the butter and sugar mixture.
Now stir in the raisin and oats making sure the mixture is well combined.
Place 4 tablespoons of the mixture onto a baking sheet at a time and bake in the oven for 9 mins.
Remove and allow to cool on a wire rack.
This mixture will make about 40 cookies depending on the size you make them.
You're Done.