These muffins are great for parties. Quick and easy to make and always disappear quickly! Vanilla Cupcakes with a surprise jam filling.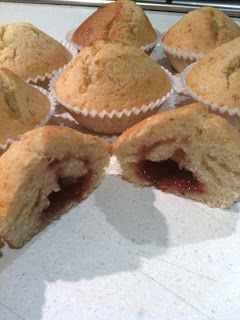 The Ingredients:
150ml Milk
230g Plain Flour
Jam of your choice
75g Caster Sugar
1tsp Baking Powder
0.5tsp Salt
2 Eggs
70g Butter
2tsp Vanilla extract/essence
The How-To:
Preheat oven to 180c
Sieve the flour, sugar, baking powder and salt together in a large bowl.
Melt the butter in a separate bowl and mix in the milk, two eggs and vanilla.
Slowly add the milk mixture to the flour mixture. Do not over stir, just enough to combine all the ingredients.
Spoon half the mixture into 12 cupcake cases
Use a teaspoon to place about half a tsp of jam in the centre of each cupcake case. Press down slightly (but not all the way to the bottom) with your finger.
Spoon the remaining mixture into the cupcake cases so the jam is covered.
Bake in the centre of the oven for 20 mins
You're Done!