Apple Crumble is a much loved British classic……..so why not turn it into a cupcake. This recipe is a brilliant modern twist on a traditional dessert.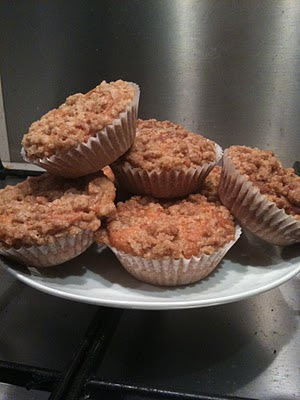 The Ingredients:
The Cupcake:
170g NEILL'S®Self Raising Flour
60g Butter
90g Demerara Sugar
1 Egg
A 280g Jar of Apple Sauce
0.5tsp Ground Cinnamon
0.5tsp Ground Nutmeg
0.5tsp Bicarbonate Soda
The Topping:
50g Demerara Sugar
50g Plain Flour
0.25tsp Ground Cinnamon
0.25tsp Ground Nutmeg
30g Butter
The How-To:
Preheat oven to 180c
We are going to make the topping first and then set it to the side.
In a large bowl place the flour, sugar, cinnamon and nutmeg. Stir these together.
Now rub the butter into this mix until it resembles breadcrumbs.
That's the topping made. Set this to the side.
Now to make the cupcakes. Cream the butter and sugar together in a bowl.
Gradually beat the egg into this mix.
In a separate bowl mix the bicarbonate of soda with the apple sauce and set to the side.
In another separate bowl sieve the flour, cinnamon and nutmeg together.
Fold the flour mix into the butter mix alternating with the apple sauce mix until all ingredients are combined.
Spoon this mix into 12 cupcake cases. Now sprinkle the topping we made earlier on top and gently press down.
Bake in the centre of an oven for 20 mins.
Allow to cool slightly before eating.
You're Done!