These are a coffee lovers dream! Simple but very tasty cupcakes. Combining chocolate and coffee to create an irresistible flavour.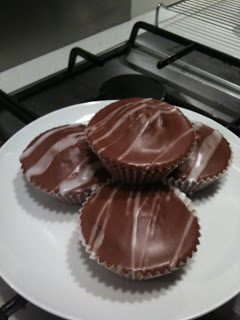 The Ingredients:
Cupcake:
115g NEILL'S®Self Raising Flour
115g Butter
115g Caster Sugar
2 Eggs
1tbsp Instant Coffee Granules
2tbsp Boiling Water
1tbsp Coco Powder
The Icing:
200g Icing Sugar
2tbsp Warm Water
1tsp Coco Powder
1tsp Instant Coffee Granules
1tbsp Boiling Water
The How-To:
Preheat oven to 190c
First we need to make the cupcake, Cream the butter and sugar together until smooth.
Beat in the two eggs
Sift the flour and coco powder together and gradually stir this into the mix.
In a separate bowl mix the 1tbsp coffee granules with the 2tbsp boiling water and mix well.
Stir the coffee into the mix.
Divide the mix between 16 cupcake cases and bake in the centre of the oven for 15 mins.
Allow to completely cool before icing.
Now we need to make the Coffee Icing.
Sieve the icing sugar into a bowl and stir in 2tbsp warm water.
In a separate bowl mix the 1tsp of coffee granules with 1tbsp boiling water.
Stir the coffee into the icing mix.
When cupcakes are completely cool use a spoon to cover them in the icing. Allow to harden.
**For an extra effect mix up a little plain icing and put into a freezer bag, cut a tiny hole in the corner and drizzle this across the cupcakes to create the lines effect in the picture above.**
You're Done!