This is a fantastic recipe for an indulgent chocolate cupcake. Brownie meets cupcake!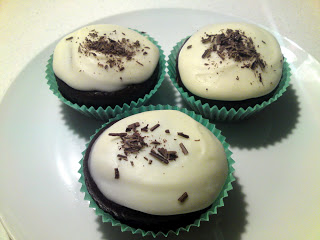 The Ingredients:
220g Plain Flour
180ml Water
5tbsp Milk
3tbsp Coco Powder
90g Caster Sugar
1tsp Vanilla Essence/Extract
1tsp Bicarbonate Soda
1tbsp Golden Syrup
80g Butter
The How-To:
In a pan heat the water, butter, syrup and sugar. Bring to the boil for 3 mins, remove from heat and allow to cool.
Preheat oven to 180c
In a large bowl sieve the flour and coco powder together.
Slowly mix the syrup mixture into the flour mixture.
In a separate dish mix the milk and bicarbonate soda together until dissolved.
Stir the milk mixture into the bowl.
Ensure all ingredients are well combined.
Divide the mixture between 12 cupcake cases. Bake in the centre of the oven for 20 mins or until a skewer inserted comes out clean.
To make the topping you can either use milk or white chocolate. In a small bowl melt the 50g or butter and 50g of the chocolate together until combined. Stir in 170g Icing Sugar, add 1tbsp of water until desired consistency is reached. Spread this on top of your cupcakes.
Add an extra touch to your cupcakes with some grated chocolate.
You're Done!