Strawberry Frosted Cupcakes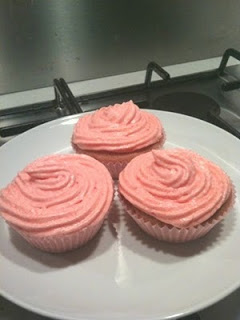 These are perfect to make with children especially for birthday party's!
The Ingredients:
Cupcake:
150 g Butter
150 g Caster Sugar
3 eggs
1 tsp Strawberry Flavouring
150 g NEILL'S® Self-Raising flour
1 tbsp Milk
Frosting:
225g Icing Sugar
55g Butter
0.5tsp Salt
1.5tbsp Milk
1tsp Strawberry Flavouring
Tiny drop of red food colouring
The How-To:
Cupcake:
Preheat oven to 180 degrees C
Cream the butter and sugar together until creamy and light in colour
Add 1/3 of the beaten egg into the butter and sugar mix, stir in. continue to add 1/3 of the flour to the mix, stir in. Continue to do this with the flour and the eggs until all ingredients are in the bowl.
Now stir in the strawberry flavouring (Do not over stir)
Evenly divide mixture between 18 cupcake cases and place in the centre of the oven for aprox 20 mins.
Allow to cool
Frosting:
Cream the softened butter in a bowl for aprox 5 mins until light and creamy.
In a separate dish mix the salt and the strawberry flavouring together.
Mix the salt and flavouring mixture into the creamed butter.
Turn your electric whisk onto the lowest setting and slowly add the icing sugar. The key here is to add it slowly. Making sure each addition is fully combined before adding the next. Continue until all the sugar is added.
Now combine the Milk.
Now add a tiny drop of red food colouring to make a pink coloured frosting.
Finally whip the frosting for aprox 2 mins on high speed until light and fluffy.
You're Done!