Farringdon Stackable Cooling Racks – Review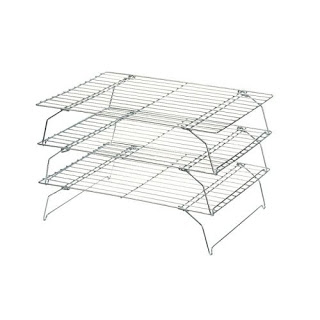 These are simply a great invention and something which every baker should have. How many times have you made cookies or cupcake and run out room on your cooling rack? I know I do it all the time!
Stacked 3 levels high this cooling rack takes up the same room as one but gives you the cooling space of 3. Perfect!
Not only does it save worktop space but it also folds down completely flat to allow you to store it away when not in use.
I simply cannot find any negatives about this product. I will probably be purchasing another one of these very soon.
I cannot seem to find the Farringdon brand in America but I have found a Wilton stackable cooling rack which is identical. A link to both the Farringdon (for the UK) and Wilton (for the US) are below.
Wilton 2105-459 Excelle Elite 3-Tier Cooling Rack

Faringdon 25 X 34cm Stackable Cooling Racks – Set of 3