Mint Choc Cookies & Cream Cupcakes
Combining two of my favourite things, mint chocolate biscuit and cupcakes I came up with this Mint Choc Cookies & Cream Cupcakes recipe.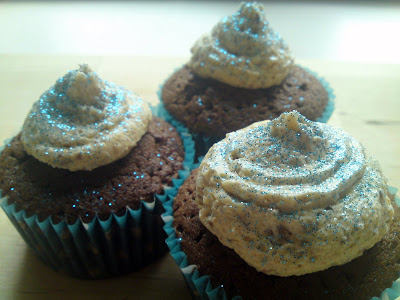 Ingredients:
Cupcake:
150 g butter
150 g sugar
3 eggs
1 tsp vanilla extract
150 g NEILL'S®self-raising flour
1 tbsp milk
Frosting:
225g of Icing Sugar
55g of Butter
1tsp Vanilla
4 Crushed Mint Chocolate Biscuits
The How-To :
Preheat over to 180 degrees C
Cream the butter and sugar together until creamy and light in colour
Add 1/3 of the beaten egg into the butter and sugar mix, stir in. continue to add 1/3 of the flour to the mix, stir in. Continue to do this with the flour and the eggs until all ingredients are in the bowl.
Now stir in the vanilla extract (Do not over stir)
Evenly divide mixture between 12 cupcake cases and place in the centre of the oven for aprox 20 mins.
Now we need to make the frosting
Cream the butter in a bowl for aprox 5 mins until light and creamy.
Mix in the vanilla
Mix in the icing sugar until combined.
Finally whip the frosting for aprox 2 mins on high speed until light and fluffy.
Stir in your crushed biscuits.
Decorate your cupcakes with the frosting and enjoy!!
Your Done!