Notoriously hard to make……or so many people think. French Macaroons require exact measurements to get them just right. Having never made these macaroons before I decided to attempt a recipe for them. Some people wished me luck and others warned of frustration on my first attempt. Thankfully, and probably due to a lot of luck they turned out acceptable. Of course there is always room for improvement and we will be working on this recipe in the coming months to make it even better.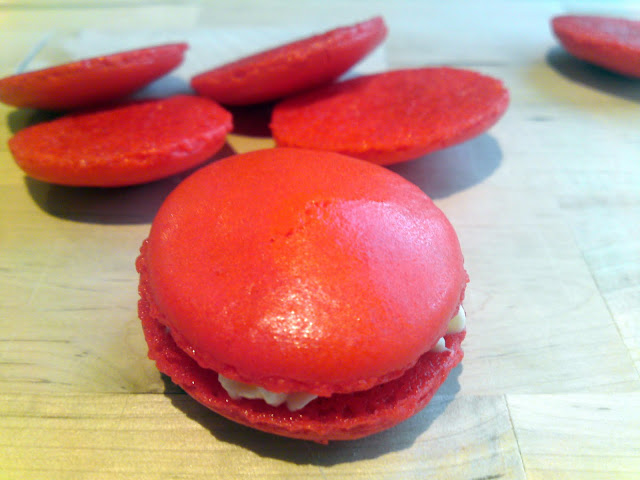 Ingredients:
Shells:
130g Ground Almonds
200g Icing Sugar
115g Egg Whites
30g Caster Sugar
Food Colouring (Powdered or Gel works best)
White Chocolate Filling:
80g Butter
150g Icing Sugar
60g White Chocolate
1tbsp Double Cream
The How-To:
Measure out the ground almonds and icing sugar and sieve together. Some larger pieces of almond will get stuck in the sieve. Do not add these to the mix. If there is a lot of them sieve a little more ground almonds to make up the lost amount.
Now this part is slightly unusual and I have never used it for any other recipe, but I was warned not to question this method when making macaroons, and who am I to argue with that. So weigh out exactly 115g of egg whites. I worked out this is about 3 medium eggs.
Place these egg whites in a large bowl and whisk on a medium speed until soft peaks form.
Add 1tbsp at a time of the caster sugar while continuing to whisk the egg whites.
Continue to whisk until the mixture is smooth and glossy.
Fold in the food colouring to get the colour which you want.
Fold half the almond/icing sugar mixture into the egg whites at a time and stir until combined
Continue to fold the mixture together for about 2 minutes, do not worry about knocking some of the air out of the egg whites. These are not like meringues.
Place the mixture into a piping bag (or freezer bag) with a round nozzle.
Pipe 2 inch circles of the mixture onto baking paper. You will get about 30 shells out of this recipe.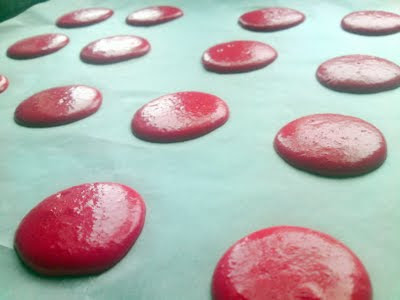 Set these to the side and allow to sit for about 1 hour until the mixture is tacky to touch.
Now you are ready to bake at 140c for 15 mins. It always wise to do a test batch of about 4 as every oven differs slightly.
When these come out of the oven do not attempt to peel them off the paper, they will fall apart. Allow to cool completely. If they still wont come off the paper I found if you place them in the fridge for 10 minutes they simply lift off.
Now to make the filling. White Chocolate Frosting
Whisk the butter until creamy
Stir in the icing sugar and then whisk this until smooth
Add the 1tbsp of cream
Melt the white chocolate and add this to the mixture while whisking
Place in the fridge for 30 mins+ to cool and thicken
Now the fun part, the assembly
Pipe the filling onto a shell using what ever piping attachment you want, place the top on the macaroon and enjoy!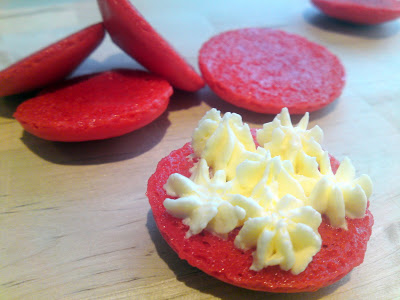 You're Done!