Combining two of the tastiest desserts, brownie and cheesecake makes this Brownie Base Cheesecake a king of desserts.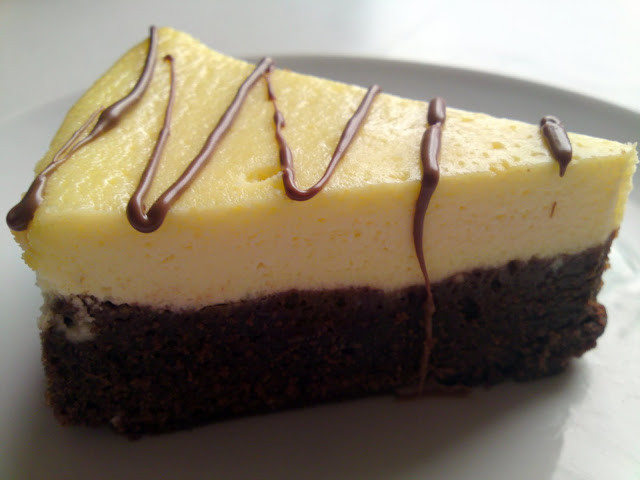 The Ingredients:
Base:
120g NEILL'S® Plain Flour
120g Butter
120g Dark Chocolate
220g Caster Sugar
2 Eggs
40ml Milk
2tsp Vanilla Extract/Essence
Filling:
500g Cream Cheese
120g Caster Sugar
3 Eggs
2tsp Vanilla Extract/Essence
120g Natural Yoghurt
The How-To:
Preheat oven to 180c.
Over a low heat melt the butter and dark chocolate in a saucepan.
Remove from heat and pour into a large bowl.
Beat in the eggs one a time while beating.
Beat in the sugar.
Beat in the milk and vanilla extract/essence.
Fold in the flour until just combined, do not over stir.
Pour the mix into a 8/9 inch cake tin. The best tin to use for this is a spring-form tin.
Bake in the centre of the oven for 25 mins.
Remove from oven and set aside.
Now we need to make the filling. This is incredibly simple.
In a large bowl beat together the cream cheese, sugar, eggs and vanilla extract/essence until the mixture is smooth and all ingredients are combined.
Stir in the natural yoghurt.
Pour onto the base which you have just cooked.
Turn the oven temp down to 150c.
Place in the centre of the oven and bake for 45 mins. Turn the oven off but leave the cheese cake in then oven for a further 10 minutes.
Remove from the oven and place into the fridge. Allow to cool and set for a few hours to make it easier to cut.
Don't be fooled by a jelly like texture when it comes out of the oven, it does firm up in the fridge.
You're Done!