Like melt in your mouth fudge? Like creamy peanut butter? These delicious cubes of Peanut Butter Fudge heaven are super simple to make and take very little time and effort. This recipe makes between 50 – 60 cubes.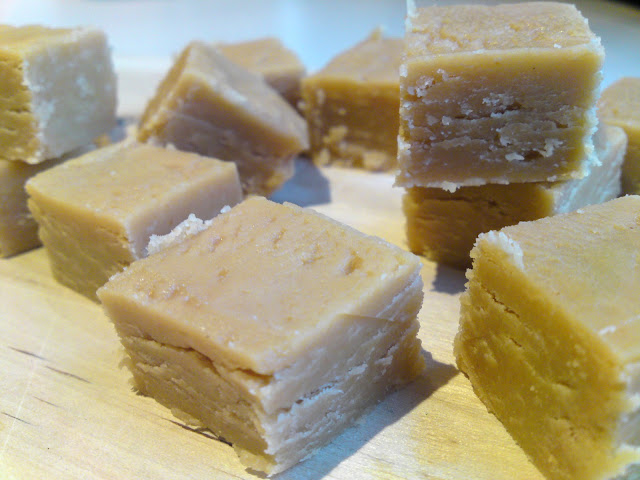 The Ingredients:
210g Butter
500g Icing Sugar
1.5tsp Vanilla Extract
250g Smooth Peanut Butter
The How-To:
Prepare a 8 x 8 inch square tin by lining with baking paper and greasing a tiny bit. If you don't have this exact size don't worry. As the fudge mixture will be so stiff that you will be able to spread it into part of a bigger tray and it should stay in that shape.
Place a heatproof bowl above a little water in a boiling pan. It is important that the water not touch the bottom of the bowl.
Place the butter and peanut butter into this bowl and allow to melt until the mixture is creamy and smooth.
Remove the bowl from the heat and stir in the vanilla extract.
Slowly add the icing sugar and stir into the mixture. Adding more until all 500g is mixed it.
Stir the mixture until it is very smooth with no lumps of sugar.
Spread into the prepared tin and smooth out the surface with a knife.
Place the tin in the fridge for about 2 hours.
Remove and cut up into cubes. 1×1 inch I think is the perfect size.
Place in a tub lined with baking paper and keep in the fridge. These last about 10 days in the fridge.
You're Done!