Raspberry & Chocolate Cake
Chocolate and Raspberry are two flavours which work so well together so why not put them in a cake? We have and below is the recipe. We hope you enjoy our Raspberry & Chocolate Cake !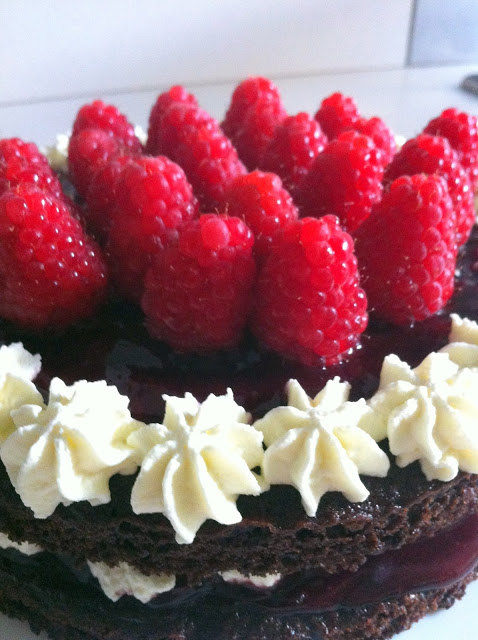 Cake:
50g Cocoa Powder
150g Caster Sugar
1 Egg
130ml Milk
90g NEILL'S®Flour
1 tsp baking powder
0.25tsp bicarbonate soda
20g Butter
0.25tsp Salt
Topping:
4 carton of Fresh Raspberries
Half a jar of Raspberry Jam
300ml Whipping Cream
The How-To:
Preheat oven to 180c.
Cream the butter and sugar together.
Add the eggs one at a time ensuring each is combined before adding the next.
In a separate bowl sieve the flour, coco powder, baking powder, bicarbonate soda and salt.
Add the dry ingredients to the wet mix alternating with the milk until all ingredients are combined well.
Place the mixture into two prepared cake tins. (8 inch is best).
Bake in the oven for 15-20 mins or until a skewer inserted comes out clean.
Allow the cakes to cool for 5 mins before turning them out onto a cooling rack to cool completely.
Using a palette knife (or a knife with a large flat blade if you dont have one) spread the raspberry jam all over the top of one of the cakes.
In a bowl beat the whipping cream until stiff. Using a a clean palette knife spread some of this cream on top of the jam in the centre of the cake.
Place the second cake on top.
Spread the remaining jam on top of the cake. Add cream on top any way you wish. If you want to do it neatly you can use a piping bag. Alternatively spread it on using the palette knife again.
Stick the raspberries into the cream.
This cake needs to be kept in the fridge but is best removed 15 mins before serving to allow it to come up to room temperature.
You're Done!