The AdagioTea's IngenuiTEA
Tea is one of the most widely drank beverages in the world. With
an estimated phenomenal 165 million cups being drank in the UK alone each and
every day!! Most tea is produced in China and India but there are literally
thousands of varieties to choose from, with new varieties being developed all
the time. It is thought that tea was first drank in China around 5000 years ago
but only came to Europe around 1560 and believed to have been introduced to Britain
by the Dutch, gaining social acceptance after Charles II's Portuguese wife
Catherine of Braganza introduced tea to her court.
The history of tea is long and complex but it is clear that
tea has grown in popularity ever since being introduced and has now become a
custom which few of us even think about anymore.
BakingBar are huge fans of tea, since a cup of tea goes so
well with a slice of cake of course!
The most popular tea which we all drink is unfortunately
from a teabag and normally served with milk. This is normally driven by its
convenience instead of brewing a teapot of tea. Adagio have come up with a
solution which is so modern and convenient we just had to try it out!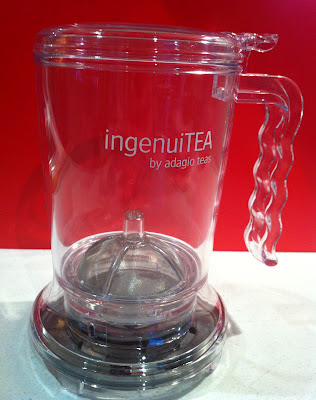 The AdagioTea's IngenuiTEA
The IngenuiTEA is a revolutionary teapot. It doesn't look or
act like any teapot you will have used before. Its size means you can brew
yourself just one cup of tea without mess or fuss.
IngenuiTEA sent us one to try out, and we used it 6 times
the first day we got it. We'd love to say that this was solely for testing
purposes but the truth is that we simply loved its convenience and ingenuity we
just wanted to use it again and again.
It really is as simple as placing a teaspoon of loose
tealeaves into the teapot chamber, pouring in some boiling water, closing the
lid and allowing it to brew for the length of time determined by that variety
of tea (normally just 2-3 mins). After that you simply lift the IngenuiTEA and
set it on top of your cup, the IngenuiTEA's unique design means that a valve is
then opened and the tea is filtered out into your cup, minus the tealeaves. The
tea is crystal clear thanks to the metal mesh filter. MAGIC! In fact it's so fascinating
you'll just want to try it over and over again. We've found that the IngenuiTEA
is also very good at keeping the remaining tea warm in the teapot, meaning you
can return for another cup. And don't worry, when your IngenuiTEA isn't on top
of a mug, gravity makes sure the valve at the bottom stays closed meaning no
leaks, not even a drip.
Unlike most teapots which you use with loose tealeaves the
IngenuiTEA is extremely easy to clean. Simply open the lid and empty out the
used tealeaves, give it a rinse and that's it. It's even dishwasher safe!!
We love it so much it may just be packed into our suitcase
when we next take a trip somewhere!
This video is provided by Adagio and shows exactly how easy it is to use!
As well as the IngenuiTEA we also had the privilege of
trying out some of Adagio's many varieties of loose leaf tea.
Both are absolutely fantastic but worlds apart when it comes
to their flavours and qualities.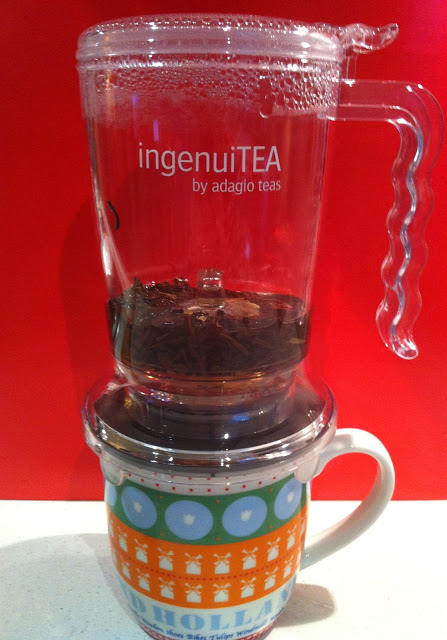 Adagio Tea Reviews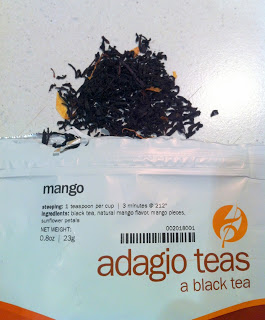 Variety – Black TeaThe Yunnan Gold is a very unique tea and very different to
any we have tried before. It has a cocoa and black pepper flavours with a milk
chocolate texture. This might sound like a weird combination of flavours and
qualities for tea but in our opinion it is a must-try tea!
Variety – Ceylon Black Tea
This tea is luxurious and silky smooth in texture which has
the delicious aroma of vanilla cream. The sweet aroma of this tea is enough to
make those around you envious. Add a little cream for that added sense of
indulgence. Craving something sweet? Pop on the kettle and have a cup of this
tea.
Variety – Ceylon Black Tea
This tea has a wonderfully sweet tropical smell of mango.
This tea like so many other flavoured tea finds its roots in Ceylon black tea. Leaving
a pleasant delicate aftertaste of perfectly ripened mangoes and is just as
delicious served cold as iced tea. We also enjoyed this tea with a little milk
and sugar, or if you're counting the calories a little squeeze of honey.
Variety – Rooibos Tea
This tea has a delectable scent of warm vanilla cookies.
Caffeine free, this tea is perfect to enjoy in the evenings when snuggled up
with a good book. Delicious all ways, either black, with milk or even as iced
tea. This tea is certain to make all those around you hungry with its
enchanting scent.
Variety – Ceylon Black Tea
We were afraid that this tea would be overly sweet judging
just by the smell from the packet but while this tea was brewing we realised
this was not the case at all. This tea has a wonderfully pleasant fragrance of
summer strawberries. This variety of Adagio teas will have summer memories
flooding back to you. This tea is also amazing served as iced tea with a
squeeze of honey on a warm summers day, or just when you fancy it.
Variety – Herbal Tea
The first thing you will notice about this variety of tea is
its mouth-watering smell. This is another tea which is great hot or cold served
with ice. This tea is one of the most refreshing we have tried in quite some
time and it will certainly waken up your taste buds. The tea itself is caffeine
free and is blended with orange peel, hibiscus flowers and rose hips.
Delicious!
Variety – White Tea
This tea is very special indeed. The amount of work which
goes into making this tea taste as sophisticated and enchanting is incredible
which is why it is one of the most revered Chinese teas. Gathered over just a
few days in early spring this truly is special. The jasmine aroma is added to
the tea in a very precise way. When the silver needle tea is collected in the
spring it is stored until the summer when the jasmine blossoms begin to bloom
at night. Jasmine blossoms are collected and laid on a bed of the silver needle
tea which open during the night and infuse the tea with their delicate aroma.
The jasmine blossoms are then removed and the process repeated the next evening
and the next until the required level of jasmine infusion is obtained. It's
very satisfying to drink this tea knowing the amount of work which has went
into its production. A very special tea in our opinion.
Variety – Chai Tea
This is a delicious, smooth, lightly spiced tea. It has
every taste of autumn that you could want, from the warming notes of cinnamon
to the fragrant scents of ginger, cloves and apple. The perfect tea for the
cold nights starting to come in. We love this tea with a little drop of honey
and milk. So grab your favourite book and cosy up in front of the fire with a
cup of Spiced Apple Chai tea.
Variety – Black Tea
Earl Grey is one of the most well known traditional British
teas. The subtle notes of lavender compliment the delicate citrus flavour of
the Earl Grey. Tiny lavender buds are visible in the loose tea leaves. We were
at first worried that the lavender in this tea would be overpowering but the
flavours compliment each other and work together perfectly. Wake up your senses
with this fabulous variety of tea. This tea has quickly become one of our
favourite Adagio teas.
Variety – Ceylon Black Tea
With the delicate yet delicious tropical smell of coconut
wafting from your mug of coconut tea you are transported, albeit in mind to a
far off tropical paradise. The coconut is not overpowering but instead
maintains a refreshing aftertaste. This tea works fabulously well with milk and
a little honey or sugar, for that mind-afternoon lift which we all need. This
is an unusual tea but one which will be kept stocked in our house from now on.
Variety – Green Tea
This refreshing tea has a subtle taste of citrus. From the
moment you open the pack the scent of lemon and lime is very noticeable but
this I not as intense when brewing the tea. This tea maintains a wonderful
golden colour when brewed and has the perfect balance between grassy green tea
and wonderful citrus flavour. This tea truly awakens the senses and readies you
for the day ahead. With a touch of honey this teas flavour really comes alive.
Served cold it is the perfect alternative to lemonade.
Variety – Rooibos
This tea has a delicious homely aroma of vanilla cookies but
the flavour of which is mellow and not at all overpowering. The colour of this
tea is lovely bronze, almost of deep red. The rooibos vanilla tea inspires rest
and relaxation after a hard day in the office, perfect treat for any cold
evening. Serve cold with a little honey for a wonderful sweet refreshing drink.
Variety – Green Tea
This tea is very unique but you have to understand the work
which goes into making it to really appreciate its delicate floral flavours.
This tea is prepared by hand by a farmer called Lin Chui in Fujian Province,
China. Phoenix Pearls are hand rolled into tiny tight balls which slowly unfurl
in a wonderful way as the tea brews. This is why we love the IngenuiTEA teapot
from Adagio Teas as it allows you to watch how your tea behaves as it brews,
this might sound strange but nearly every tea acts slightly differently, almost
dancing in the water. This tea is as smooth as silk to drink and has a delicate
aftertaste which is so commonly associated with green teas.
Variety – Black Keemun Tea
This is the classic British tea. The fairly strong smoky
aroma may not be for everyone but is definitely worth trying. We have tried
many different companies adaptions of the English Breakfast tea and they all
vary greatly, but this is one of our favourites. The smoky flavour comes from
the Keemun tea leaves used in this blend, these are not usually used in other English
Breakfast teas as they are generally more expensive. This makes this Adagio
blend a little different and with a hint of luxury. We think this tea is best
served with just a little milk, as with conventional tea.
Variety – Black Tea
Black Dragon Pearls are very similar looking to Jasmine
Phoenix Pearls which we have reviewed and written about previously, with one
major difference, the flavour. Dragon Pearls release a subtle yet delicious
smell of cocoa as they unfurl while brewing. This tea has a wonderfully rich
and smooth taste which makes drinking this tea an absolute pleasure. You only
need 2-3 pearls per cup as these tiny balls of delight unfurl to reveal a
surprisingly large amount of tea leaves. This is definitely one of Adagio Teas 'show
teas' if you want to show off something to your friends of family which they
are unlikely to have seen or heard of before.
Variety – Herbal Tea
Chamomile has been known for its healing and calming
properties since the ancient Egyptian period, it is therefore not surprising
that the best chamomile flowers come from the Nile valley, Egypt. As always
Adagio Teas have ensured to get their chamomile tea blossoms from the best
source available, Sakaran Village, Egypt. This is a caffeine free tea so absolutely
perfect for a bedtime treat to promote calm and tranquillity. If you have tried
tea bag forms of chamomile tea you simply must try Adagio Teas loose chamomile
as in our opinion it is 100x better! This tea has a very subtle yet recognisable
and delicious apple aroma as it is brewing. Join the ancient Egyptians and
enjoy a cup of this wonderful tea to help you unwind.
Variety – White Tea
With the instant aroma of fresh peaches this tea is hard to
resist. This does have some natural sweetness but can be enhanced with a little
honey or sugar if desired. You will most likely have seen many peach flavoured
iced teas and this is for a very valid reason, it is both delicious and
refreshing. Adagio Teas White Peach teas is perfect to make iced tea with the
addition of a little honey and ice. White tea is absolutely packed with
important anti-oxidants including high levels of polyphends which are believed
to fight and kill off cancer causing cells, lower cholesterol and prevent heart
disease, not bad for a humble cup of tea!