With retro baking coming back into style you may find
yourself looking for your mums old baking tools and equipment sooner than you
think! People are even beginning to favour vintage recipe books for their
baking inspiration.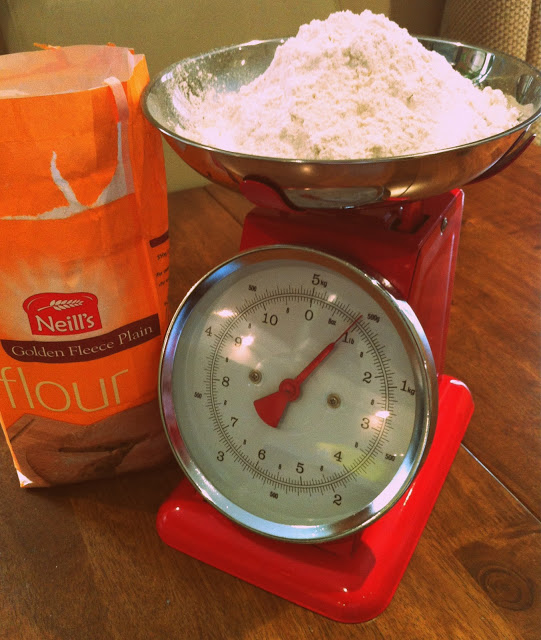 At BakingBar, as much as we love new innovation and products
developed to make our lives that little bit easier; we do prefer the look of
some retro kitchen accessories compared to their modern counterparts. Take for
example these beautiful retro kitchen scales from
Rex London
. Would you not
rather have these on your kitchen worktop in pride of place rather than a flat,
rather dull LCD screened set of scales? Vintage kitchen accessories were
designed with to be just as part of the kitchen decoration as they were
utilitarian.These scales from
Rex London
not only deliver in retro beauty and design but also accuracy and functionality for the busy baker. A fabulous gift idea for an enthusiastic baker.
We may not be prepared to go back to hand whisking our
ingredients together but we do love some of the vintage baking products coming
back on the market.
The Ingredients:
290g NEILL'S® Plain Flour
150g Caster Sugar
230g Butter
1 Egg Yolk
0.5tsp Salt
1tsp Strawberry Flavouring
100g Desiccated Coconut
~50g Strawberry Jam
The How-To:
Preheat oven to 180c
Cream the butter and sugar together until smooth.
Beat in the egg yolk and continue to mix until well combined.
Beat in the strawberry flavouring.
In a separate bowl sieve the flour and salt together. Mix in the coconut.
Add the dry mix to the wet mix and stir until all ingredients are combined and forms a stiff dough.
Take 1tbsp of the dough, roll between your hands to form a ball. Place on a baking tray and press down slightly.
Use the end of a spoon to make a dent in the centre of the dough.
Using a piping bag filled with jam fill the dent being careful not to overfill, as it will bubble over during cooking.
Bake in the centre of the oven for 15 mins.
Remove and allow to cool for at least 10 mins as the jam will be very hot!
You're Done!