Cherry & Lemon Drizzle Biscuits
These Cherry & Lemon Drizzle Biscuits are a modern twist on the traditional coconut ring biscuits. We hope you enjoy the sweetness of the cherries contrasted with the tangy lemon.
In this recipe we use Sasa Demarle's two fab products the SilPat and Roul'Pat. We cannot recommend these enough for their non stick, easy clean ability and usefulness in the kitchen.
Biscuits:
200g NEILL'S® Plain Four
120g Butter
90g Caster Sugar
1 Egg Yolk
15 Glacé Cherries
Lemon Zest from half a Lemon
Drizzle:
60g Icing Sugar
1.5tbsp Lemon Juice
Cream the butter and sugar together until light and fluffy.
Cut your cherries into quarters or smaller if you wish.
Mix the cherries into the biscuit mixture.
Roll the dough out to 0.5cm thick on a lightly floured worktop or we recommend using the
Roul'Pat
by Sasa Demarle Inc. These are fantastic non stick workstations perfect for rolling out your biscuits and making the mess a lot easier to tidy up after.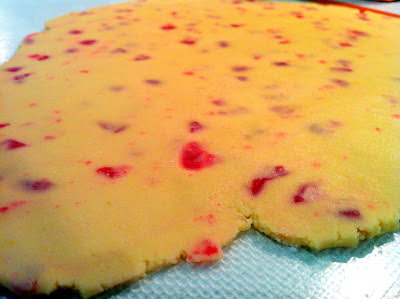 Using an approx 8cm cookie cutter cut biscuits out of the biscuit dough.
Using a palette knife or large flat knife carefully transfer the biscuits onto a baking sheet.
To bake your cookies we also recommend the
SilPat
non stick baking sheet also from Sasa Demarle Inc.
You will be able to fit between 6 and 8 cookies on the one sheet, they do not spread much during baking.
Using a lot smaller cookie cutter cut a small ring out of the centre of the cookies.
This is a lot easier to do once you have transferred the biscuits onto the baking sheet.
Bake in the centre of the oven for 12 mins or until lightly golden brown.
Remove and allow to cool slightly before removing to cool completely on a cooling rack.
Now we need to make the lemon drizzle. Simply mix together the sieved icing sugar and lemon juice to get an icing consistency which is easy to drizzle over the biscuits however you like.
Allow the icing to set on the biscuits before enjoying.