Christmas Chocolate Meringues
We first wrote this article for Zomppa International Food Magazine Christmas edition. You can view this here.
It's never long before
Halloween is long past and Christmas is on our doorstep so in this issue we're
going explore the Christmas traditions around baking. We have been thinking
hard for a Christmas influenced recipe which will leave you feeling less guilty
than indulging on some of the other less healthy Christmas treats on offer.
Although living in
Ireland, many of you will already know how we are completely in love with the
Netherlands and its traditions. We have decided to share with you some of those
Christmas traditions which stood out to us as being the most interesting.
In Holland the Dutch have a character known as Sinterklaas, who is believed to live in Spain during the rest of
the year. You may recognise him as looking like our Santa Claus. Sinterklaas has his very own day of celebrations in Holland which is
normally quite a while before Christmas day, in 2012 Sinterklaas arrives on 17th
November! During this celebration Sinterklaas arrives in Holland with his
helpers, known as Piets. Sinterklaas arrives on a white horse and don't be
surprised if you see his checking his little red book to see which children
have been naughty and which have been nice. Sinterklaas then travels through
the streets in a massive parade through Amsterdam dishing sweets out to all the
adoring children. This is a celebration which we would urge everyone to try and
experience if they are in the Netherlands during this time of year. A less well
known Dutch Christmas traditions is that in rural areas of the Netherlands,
Dutch farmers blow horns to celebrate the birth of Jesus, and said to ward off
evil spirits. Between when Sinterklaas arrives and normally 5th December, it is traditional for children to leave a shoe in front of the fireplace of their homes, if they are good Sinterklaas will leave them some gifts. It is traditional for most Dutch families to celebrate what we call Christmas Day on 5th December, including gift giving and opening of presents.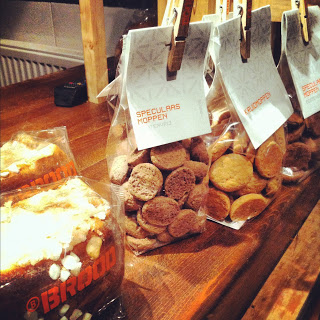 During our latest visit to the Netherlands we discovered more Dutch Christmas favourites, something we became addicted to while we were there was Kruidnoten which are basically mini ginger biscuits, about the size of 10p piece or smaller. These are the perfect combination of spice, crunch and deliciousness!
Candy Canes, which are
normally peppermint flavour, are now universally connected with the festive
period across the globe.  It is believed
that these first made their appearance in Cologne, Germany around the late
fifteenth century.  Thought to have been
the creative invention by a choirmaster of Cologne Cathedral, who was rather
fed up with the noise that children made during the cathedrals festive
celebrations. One year the choirmaster appointed a local candy business to make
a sweet treat that could be given to his congregation's children during the
Christmas service. In order to tie it in with religious teachings he asked the
candy maker to make the candy in the shape of a shepherd's crook, to remind the
children of the shepherds who visited Jesus in the stable on the night he was
born. And thus the candy cane was born. This Christmas treat quickly spread
across Europe and on to the rest of the world in time. We've since became
familiar with peppermint flavoured treats at Christmas. Inspired by this
wonderful festive flavour we have created a recipe which is light, chewy, minty
and chocolaty all in the same mouthful. Sounds great doesn't it!
Low Fat Christmas Chocolate Meringues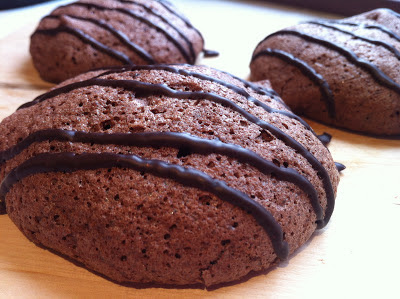 The Ingredients:
80g Caster Sugar
2 Egg Whites
3tbsp Cocoa Powder
0.5tsp Cream of Tartar
0.5tsp Peppermint
Extract
0.25tsp Salt
The How-To:
Preheat oven to 120c.
Line a large baking
tray with a piece of parchment baking paper.
Sieve the cocoa powder,
cream of tartar and salt together in a bowl and set to the side.
Pour the egg whites
into a large bowl and beat on medium/high speed until soft peaks form.
Slowly fold the caster
sugar into the egg whites, use a metal spoon and fold gently so as not to knock
too much air out of the egg whites.
Fold in the peppermint
extract.
Now slowly fold in the
cocoa powder mixture. Fold just enough to combine the cocoa powder throughout
the mixture. Don't worry if there are a few specks of white.
Place tablespoons of
this mixture on the baking sheet. Leave 1-2 inches between each to allow them
to expand a little during cooking.
Bake for 1 hour in the
middle of the oven. The low temperature and the long bake time give the
meringues a gooey chewy chocolate centre. So it's worth the wait!
Drizzle with some high
cocoa content dark chocolate for extra indulgence.
Allow to cool for 20-30
mins before removing from the baking sheet. You may need to use a palette knife
to ensure the bottoms do not stick and come apart.
You're Done!
Have a fab Christmas
from BakingBar!