Adagio Dr Who Fandom Teas
With the 100th episode of Dr Who scheduled to be shown later this year everyone has gone Dr Who mad! We are massive fans ourselves so were delighted to hear our favourite tea company have created several Fandom teas, and one of them happens to be Dr Who themed!
For those of you who do not know what Fandom is it best described as a subculture of fans who dedicate a lot of their time and enthusiasm into a particular interest such as Dr Who, Sherlock Holmes etc.
The Dr Who Fandom Teas from Adagio Teas come beautifully presented in a gift box and individually packaged in small metal tins, all of which I am positive we will keep long after the tea finishes!
There is no science behind how or why they choose to brew the different tea varieties to match each character but in a lot of cases you can understand some of their thinking.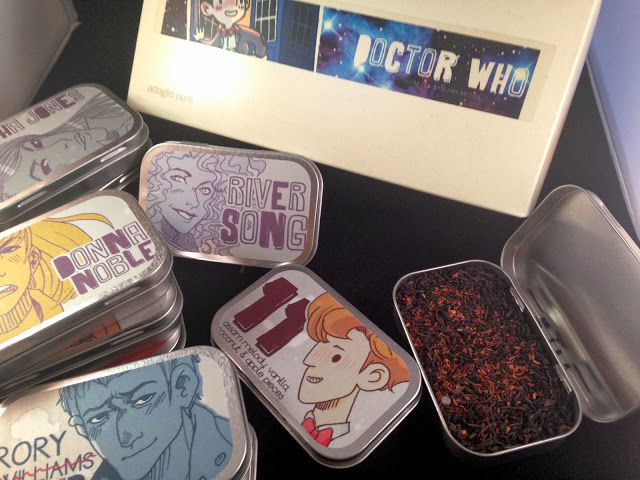 The 9th Dr
Blend – Gunpowder, Chestnut, Irish Breakfast.
The Tea – The best way to describe how this tea smells is strong and smokey, with a very delicate hint of spice. The taste of this tea is quite earthy with a subtle nutty flavour from the chestnut tea. It did actually remind us of the earthy taste of maple syrup, except without the sweetness. This tea has a real depth just like the character of the 9th Dr. The flavour of chestnut is also present but the strength of the gunpowder tea and Irish breakfast causes the aniseed and cinnamon flavours to become a little lost.
The 10th Dr
Blend – Guanabana, Chocolate, Irish Breakfast.
The Tea – This is a fantastic dessert tea. The aroma of this tea is quite confusing when you first smell it out of the tin, as it is difficult to pick out each of the components of  this blend, however do not let this put you off the tea at all. When you brew this tea the instantly recognisable scent is that of the chocolate with a hint of banana from the Guanabana tea. As a fan of the chocolate banana sweets this tea is something which I could only have dreamed existed. With a tiny splash of milk and a little sugar the flavours in this tea really come alive.
The 11th Dr
Blend – Assam Melody, Vanilla Tea, Coconut Tea.
The Tea – A deliciously refreshing coconut flavoured tea which is excellent as another dessert tea. You can add milk or sugar to this tea too but it isn't strictly necessary. The taste (and smell) of coconut is very prominent but it is not overpowering due to the inclusion of the vanilla tea which adds a natural sweetness. The only caution we need to give is to be careful not to over brew this tea as it becomes very bitter and completely ruins the wonderful flavours.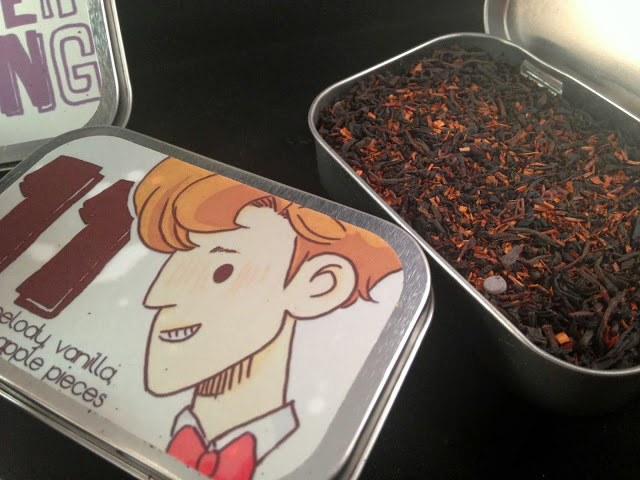 River Song
Blend – Earl Grey Moonlight, Coconut, Rooibos Lemon Cloud.
The Tea – A beautiful delicate tea with a floral scent. The dominant flavour of this tea is the Earl Grey moonlight but this is beautifully accompanied by a warming vanilla fragrance. The coconut tea is certainly noticeable in this blend but is not the prominent flavour here. This tea packs a very pleasant surprise just like the character River Song. This tea has a wonderful sweet aroma in both the tin and the teapot and perfectly match what you would expect to taste like. This is one of our favourite teas to date.
Captain Jack Harkness
Blend – Ceylon Sonata, Rooibos Almond, Chocolate Chip.
The Tea – This tea just oozes a wonderful decadent aroma of chocolate chips with vanilla. Quite a bold smell for a tea but this does match the character of Captain Jack very well. Even though there are some small chocolate chip pieces in the tea blend we feel that it does lack some sweetness which we feel this tea needs, even just the addition of half a teaspoon of sugar really brings out the flavours. This wont become our everyday tea but it certainly on the list of our favourite dessert teas.
Amy Pond
Blend – Orange, Cranberry, Rooibos Vanilla Chai.
The Tea – From the loose tea you can clearly see orange pieces and you can certainly smell the spices from the rooibos vanilla chai in there, but dont worry these spices are not too strong once brewed. You certainly taste the cinnamon, ginger and cloves but this contrasts unusually well with the subtle note of vanilla. This is the perfect tea for someone wanting something a little bit different but something warming and comforting too. A tea I know I will enjoy on cold winter nights in front of the fire or on those cold December mornings.
Rory Williams / Pond
Blend – Irish Breakfast, Sweet Potato Tea, Vanilla Green Tea.
The Tea – This is a sweet and comforting tea. The addition of sweet potato in this blend might seem a bit bizarre especially to our UK readers but it combines its sweetness with the vanilla flavour of the green tea to produce a wonderful blend which evokes thoughts of toasted marshmallows, especially the smell. Add a tiny bit of milk to make this tea even more smooth and delicious.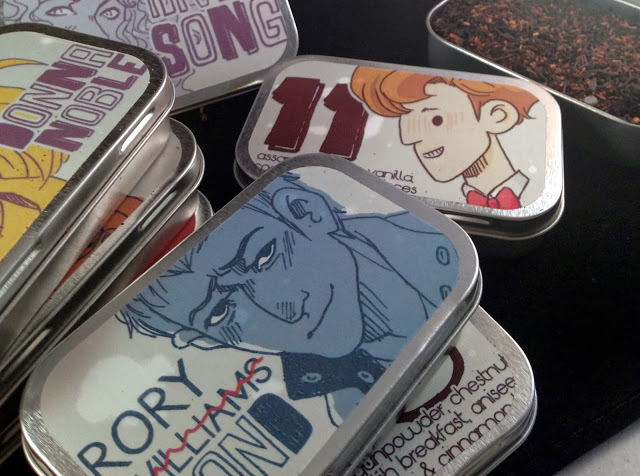 Rose Tyler
Blend – Ceylon Sonata, Raspberry Patch, Earl Grey Lavender.
The Tea – The instant effect this tea seems to bestow is relaxation and tranquillity. Between the raspberry smell with a hint of lavender evident this tea is light and fragrant. If you like fruit teas you will absolutely love this tea. As well as the raspberry and lavender flavours, pieces of dried apple are also evident in the loose tea leaves and this adds a little bit of a tart taste which works very well with the other flavours.
Martha Jones
Blend – Assam Melody, Sesame, Rooibos Caramel.
The Tea – This tea has a wonderful aroma of caramel while brewing. The dominant flavour is that of the Rooibos caramel, but combined with the Assam melody makes quite a bitter tea. However with the addition of a little milk and sugar we feel that this brings the flavours together and highlights the caramel flavour, you can also  use a little honey.
Donna Noble
Blend – Irish Breakfast, Cinnamon, Orange.
The Tea – The smell of this tea is very reminiscent of Christmas in a tin, however the flavour does change quite a bit when it is brewed. Once brewed the cinnamon flavour is still present but is no longer as overpowering as it smelt in the tin and reminds you more of cinnamon biscuits. The cinnamon also evokes a warming feeling so is perfect for the winter days coming up. The Irish breakfast tea in this blend helps give the tea a strong body so that id does not taste like weak tea with cinnamon flavour. Highly recommended to try.