National Chocolate Week 14th – 20th October
Some of you may already know it is National Chocolate Week from 14th – 20th October, if you weren't aware then here is a new date for your calendar!
We wanted to share with you what we will be eating to celebrate this week, so we've put together a list of chocolates we think you should try.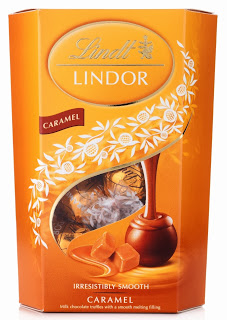 Lindt
Lindt have released a lot of new bars in their ranges this year, especially the excellence range which we reviewed earlier in the year. Our favourite from this range has to be the Strawberry Intense bar. However when most people think of Lindt they picture their famously good, melt in your mouth chocolate truffles. Well if you are one of these people we have some excellent news. Lindt have just released a new variety of truffle called Caramel Milk Truffles. As like all the other truffles these are silky smooth and melt effortlessly in your mouth but the caramel flavour filling makes these extra indulgent and a must try for National Chocolate Week! The new caramel truffles along with all other chocolate treats are available to order online on their website here.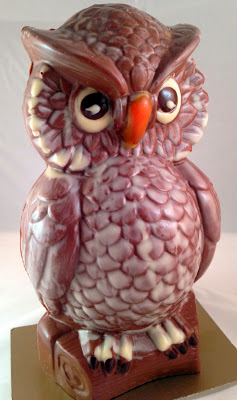 Bettys Chocolate
With it nearly being Halloween we decided to go with something along this theme from Bettys. We love companies who have long, established and illustrious histories and Bettys is one of those companies. There is a lot of history behind the business and even a little mystery around where the name Betty actually came from! Its far too much to explain here so grab a tea or coffee and pop over to Bettys website to read 'The Bettys Story' about where this fabulous company came from here . The item we chose really captures Bettys rich history as this wonderful Milk Chocolate Owl with Dark and White Chocolate Decorations is actually made from an original mould from Bettys own archives! What a piece of chocolate history. Whether it is for a Halloween treat or just an autumn themed gift we love this cute little owl.






CocoaLoco
Cocoaloco is one of those special chocolate companies where you know a lot of love and passion goes into the crafting of their chocolates. All Cocoaloco's chocolate is organic; they even use packaging which makes minimal impact on the environment. Sarah and Rory of Cocoaloco set out to make their company "build a premium treat reputation around words like approachable, affordable and genuine choice" and they have certainly done that! With so much to choose from we had to try a few items from the new ranges. Just in time for Halloween some delicious solid chocolate Bitable Eyeballs made of milk chocolate with dark and white chocolate decoration or be well prepared for Christmas with some cute Chocolate Penguins, Santa Chocolate Lolly's or Christmas Pudding Truffles. If you're after something a bit more classic you cant go wrong with Cocoaloco's Dark Chocolate Brownies which are decadent to say the least! Or our ultimate favourite Milk Chocolate Zesty Thins! There's so much to choose from, what will you try?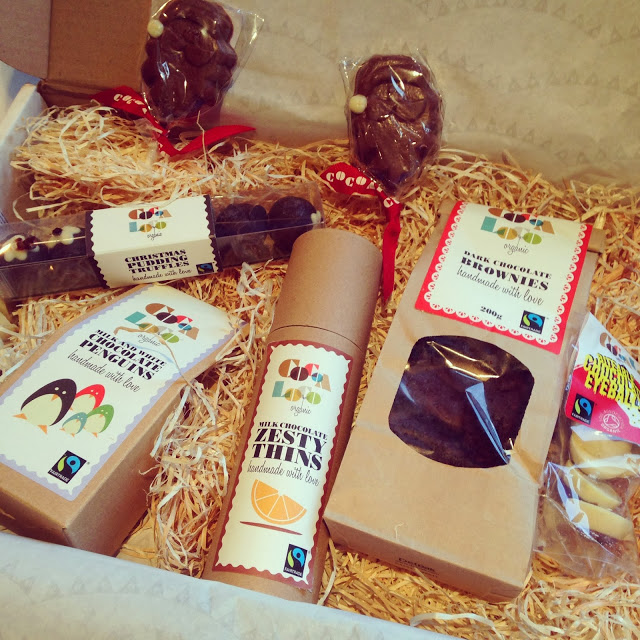 Marks and Spencer's
Marks and Spencer's
never fail on quality and that goes for their chocolate too. The thing we love about Marks and Spencer's chocolates are they are quality classics made right. We choose a few boxes available in most stores to enjoy this year for National Chocolate Week. The first box we choose was the Milk, Dark and White Truffles which come in a delightful box and made out of chocolate which just melts as soon as it enters your mouth. The Toffee Caramel Fudge box was our second choice as its hard to beat some nice fudge, as with all of these boxes of chocolates they are a delight to eat not only for their taste but their wonderful presentation. If you are a fan of nuts then the Milk Chocolate Brazils are a must try for National Chocolate Week. If you're a real fan  of the classics then why not go for the Milk Milk Milk Chocolate Box, theres nothing complicated about this box of chocolates, its all the classics in wonderful smooth milk chocolate.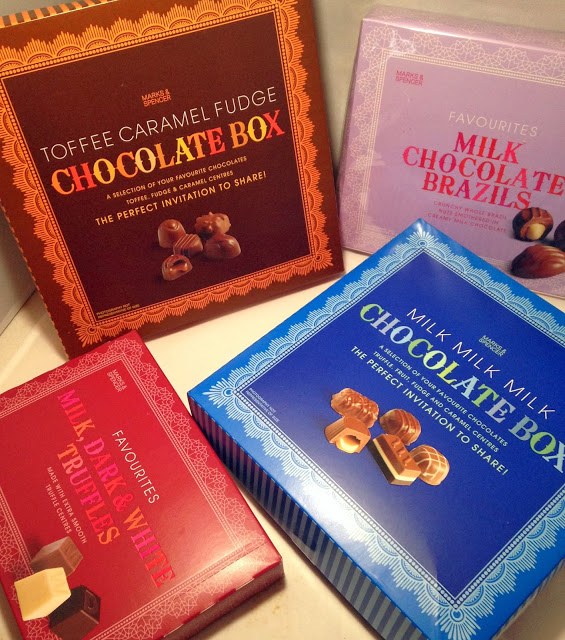 Butlers Chocolates
With so many bars and boxes of chocolate it can be easy to overlook other chocolate products. So, as we love Butlers chocolates so much and know their quality is exceptional we decided to try their range of hot chocolates! We realised we hadn't covered any chocolate drinks and what better thing to accompany your box of chocolates than a big mug of hot chocolate, it will be National Chocolate Week after all! Butlers hot chocolate range is available in three different varieties
Milk, Dark Orange and White
. We had never come across hot chocolate like this actually so it was a novelty to us. Inside each box you receive 10 individual mug shaped chocolate pieces. To make the hot chocolate you need to gently warm some milk in a saucepan and stir in one of these chocolate pieces per cup of hot chocolate. The chocolate is of such high quality is begins to melt instantly and effortlessly. It is hard to remain patient while waiting to enjoy your drink but it is truly worth the wait.