National Chocolate Week – Thorntons Continental Chocolatiers Tasting Collection
As you all know it is National Chocolate Week from 14th – 20th
and we put together a guide of what we'll be eating during the week, you can
find that
here
.
However there is a late comer to the party! We passed a Thorntons in Belfast
earlier today and spotted this wonderful box of Thorntons Continental
Chocolatiers Tasting Collection and couldn't get over the price! Only £19.99
for this huge box of top quality chocolates, obviously we paid straight away.
For a box of top quality chocolates this price is exceptional. We knew it would
contain a lot of the favourites and most popular chocolates because it is a
tasting collection rather than a certain themed box.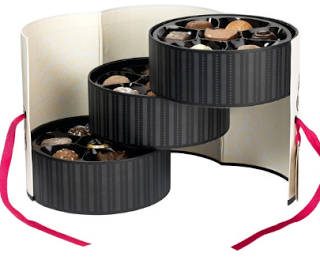 When we got home we started to examine the box, which is
unusual in itself. The box is almost like a hat box but with layers or shelves
which open out to reveal all the wonderful chocolates. Good packaging is a sign
of the quality which is contained inside.
There are three deep layers of chocolates in the box, each
one containing Thorntons favourites such as Panna Cotta, Viennese Truffle and
Alpini. We're not going to list every variety in the box or go into detail
about the flavours as that would just spoil the surprise for you. But we highly
recommend this box of chocolates whether its for a gift or yourself for
National Chocolate Week. You can view a large range of Thorntons boxed
chocolates as well as hampers here.
We also noticed on Thorntons website that they are actually
running their own competition especially for National Chocolate Week! The prize
is one nights stay and afternoon tea in The Park Lane Hotel in London., you can
enter here.