Rhubarb Crumble has such a wonderful sweet flavour combined with the crunchy topping, it reminds me so much of grandmas house when I was younger. Combined with custard this dessert is so simple but mind-blowing. Forget the famous retro rhubarb and custard boiled sweets, make the real dessert.
The Ingredients: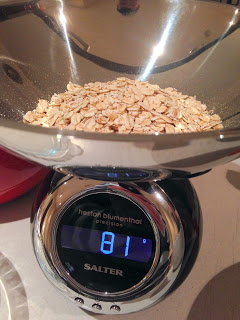 380g Rhubard (This can be tinned if Rhubarb is out of season)
210g Silver Spoon® Caster Sugar
30g Neills® Plain Flour
210g Light Brown Sugar
150g Butter
220g Neills® Plain Flour
80g Rolled Oats
Recommended Equipment:
Pyrex Mixing Bowls
Pyrex Cake Dish with Handles
Heston Blumenthal Orb Digital Scale
The How-To:
Preheat oven to 190c.
Mix together the chopped rhubarb, 210g caster sugar and 30g plain flour until just combined. If you are using tinned rhubarb mix very gently so you do not break up the rhubarb too much. Tinned rhubarb is completely fine to use and is very flavourful if you do not have access to fresh rhubarb. Set this mixture aside.
In a separate large bowl mix together the butter, oats, 210g light brown sugar and 220g plain flour.
Rub this mixture together until a chunky breadcrumb consistency is achieved.
If the crumble mixture is too wet (this can happen if the kitchen is very warm when the butter and sugar are softer than normal) add 1tbsp of flour at a time until the mixture crumbles into chunky breadcrumb consistency.
Evenly spread the rhubarb mixture into a shallow baking dish, we use the Pyrex cake dish with handles as its absolutely perfect for crumbles.
Top the rhubarb with the crumble mixture and spread out evenly, being careful not to upset the rhubarb mixture below too much.
Bake in the centre of the oven for 45 mins until the crumble is nice and golden.
Allow to cool for 5-10 mins before serving.
Our recommended serving method is with warm custard.
Enjoy!