We thought we would post a recipe for something which you can make for Christmas and also give as a gift to your friends or family. These wonderful Christmas Shortbread biscuits can be made a few days in advance and stored in an air tight container. We recently discovered the cake tin and carrier with handles from Premier Housewares a few weeks ago and found this perfect for storing a nice large batch of shortbread. The thing we loved about the carrier is that the bottom is actually a baking tin, so you can bake your treats, remove from the oven and then store the treats all in the same container. Brilliant idea!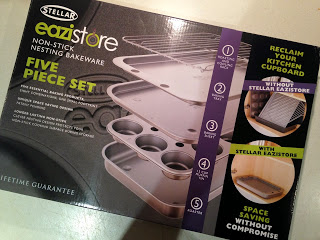 We also used another new toy in the creation of this recipe. The Stellar Eazistore bakeware set. This is probably the best thing we've got in a long time, especially since we have quite limited kitchen space with the amount of kitchen equipment we accumulate. The Stellar Eazistore is a 5 piece non stick nesting bakeware set, meaning that every piece fits neatly into the other. The 5 separate pieces would normally take up a lot of cupboard space but this has really freed up some of ours. Included is a roasting pan, muffin tin, two different sized baking trays and a cooling rack. Normal in store price for this is £48 which we think is a bargain!
This shortbread is melt in your mouth and with the subtle but noticeable taste of Christmas spices Cinnamon and Ginger.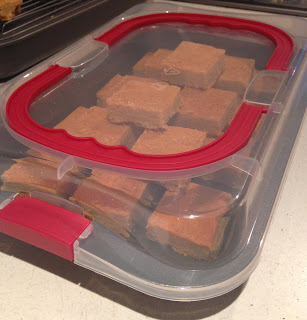 Ingredients:
455g Butter
220g Billington's Light Brown Sugar
590g Neills® Plain Flour
3tsp Ground Cinnamon
2tsp Ground Ginger
0.5tsp Ground Cloves (optional)
The How-To:
Preheat oven to 160c.
Add the butter and light brown sugar into a mixer bowl.
Cream butter and sugar together until light and creamy.
Add most of the flour leaving just enough to dust a bench to roll it out or dust your hands.
Add the ground cinnamon and ground ginger.
Use your hands to mix in the flour, kneading it until it becomes a ball of dough.
Knead the dough on a worktop coated in flour so it doesn't stick, kneed for about 5 mins to ensure all the ingredients are evenly spread throughout the dough.
Prepare baking tin around the size 35cm x 20cm and line the bottom with baking paper.
Either roll out to about 1/2 inch thick or gently push the dough into the lined baking tin. Depending on how thick you want your shortbread you may get two batches out of this recipe.
Bake for 18-20 mins for thin thickness or 25-30 mins if you are baking thicker shortbread
Leave to cool for 20 mins before gently turning out onto a wire cooling rack. Shortbread stays quite soft and brittle until it completely cools when it becomes crisp and crumbly.
Slice up when still slightly warm for a neater finish.
Your done!