Degustabox was founded in 2012 by Jürgen Schnatterer and
Oriol Blasco in Barcelona. They then expanded into the UK late in 2013. Since
then Degustabox has went from strength to strength. This is our Degustabox Review.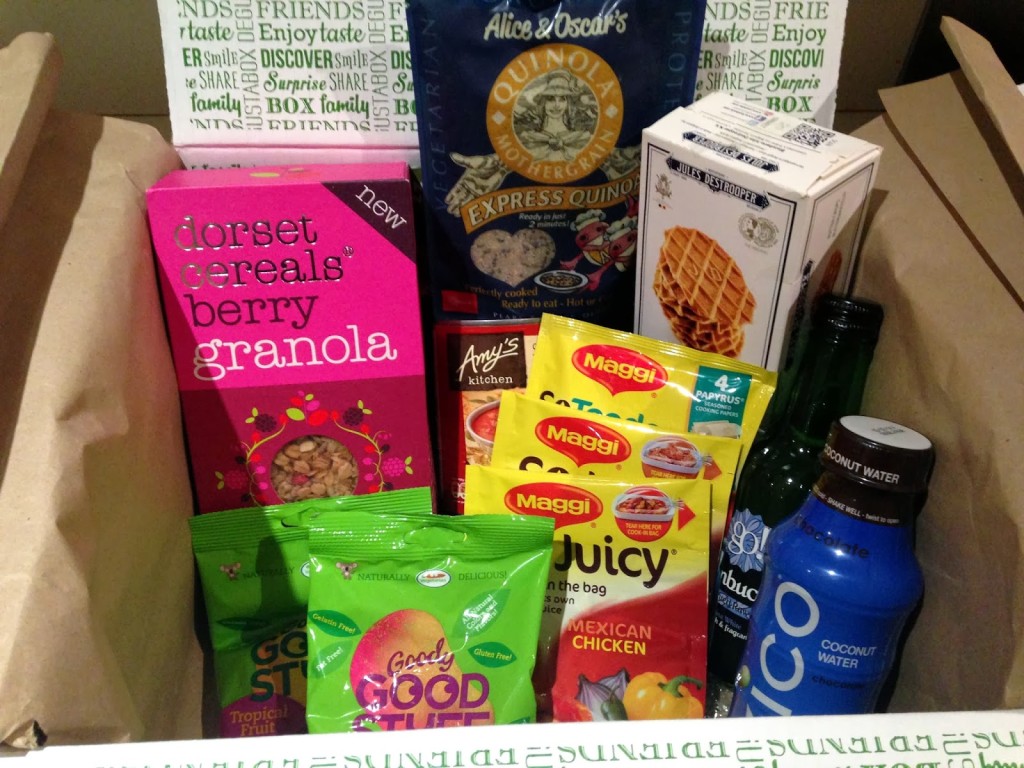 We love the concept of this product and think it is a great
idea to discover new products. Each DegustaBox costs £9.99 (excluding postage)
and you receive one per month. You can cancel anytime before the 10th of each
month so no long term commitment is needed. However if you purchase 6 month's
worth you do get a discount! Contained in each box is between 8-12 new, special
or innovative food products from well-known brands. It's always hard to keep up
with new food ideas and concepts when they first get released so why not let
DegustaBox choose what to show you and have it delivered to your door each
month. We've signed up ourselves and this is the second box we have received.
You can subscribe yourself or give a box as a gift via the gift option on the
website.
As an amazing bonus we are offering all our readers £3 off their first
box upon registering with DegustaBox. Just enter the code 4PWXJ
. You can 
subscribe
 yourself
or give a box as a gift via the gift option on the website.
We decided to do a brief review of this box to give you an
example of what we got this month so you can see how fantastic these boxes are.
We'll start with the sweet stuff first, after-all it's the
first things we grabbed when we opened the box. In our box we got Dorset
Cereals Berry Granola which we think a lot of people will love. Its deliciously
crunchy with sweet berry pieces mixed throughout, a treat any morning! The next
thing we spotted in the box was the Goody Good Stuff Tropical Fruit and Sour
Mix and Match jelly sweets. These are all natural, meat free alternative to the
traditional gummy sweets which normally include gelatine. We loved these! In
our box we also received a box of Jules Destrooper Butter Crisp Belgium
biscuits which we found to be a delicious treat with a cup of tea!
Now on to the non-sweet items which were just as good and
completely practical for day to day use. In our box we got a pack of Quinola
Quinoa. Quinoa is becoming quite a trendy food to be eating! It's a super food
which is high in nutrients and super quick to prepare, especially these packs
of ready-made quinoa. We also got a tin of Amy's Kitchen Chunky Tomato Soup
which is delicious and reminds us very much of home-made tomato soup.  We also found several sachets of MAGGI sauces
such as the MAGGI So Juicy BBQ for Chicken and MAGGI So Tender Italian Herbs
Chicken, we cant wait to try these out after seeing them advertised on TV.
We also got two different drinks in our box. The first one
is ZICO Chocolate Flavour Coconut Water. This is extremely low calorie at only
20 kcal per 100ml, gluten free and provides a source of electrolytes including
magnesium and potassium. We also got a bottle of GO! KOMBUCHA which is raw
kombucha tea. We had never tried this before and were not too keen, however a
friend tried it and loved it so perhaps just an acquired taste like so many
things.
Overall we loved our box and it ensures some exciting dinner
time meals to come over the next few weeks.