Our worktop dilemma solved
Having the right work surfaces in our kitchen is extremely
important to us. Not only does it change the look and feel of a kitchen but it
provides the perfect natural kitchen backdrop for our food photography.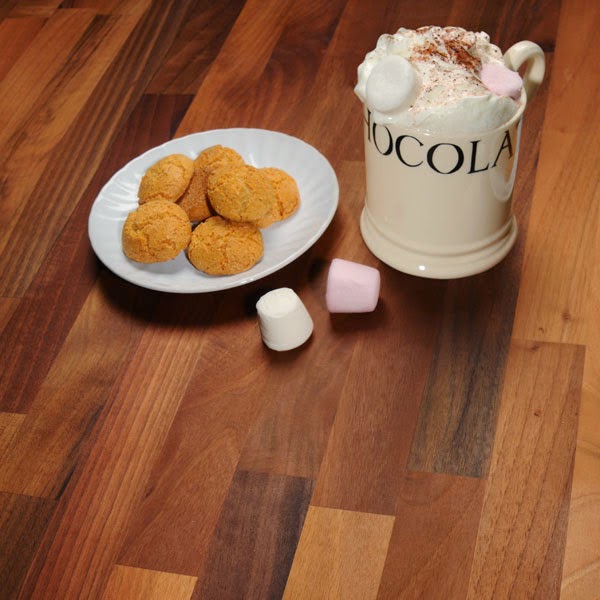 Choosing our worktop style was not an easy decision, in fact
I would go as far to call it a dilemma. My sister got her worktop from
Topsco's Unistone Range
but we wanted wood rather than granite and marble etc. The only thing we knew was that the
natural wood look and feel was the only way to go, no horrible laminate
surfaces which mark easily and look cheap. We ended up choosing
Worktop Express
to help us in our
dilemma. We were amazed to see that Worktop Express offered samples of each of
the different types of wood available for worktops for only £5 each. To some
people that might seem like a waste of money but when you are completely stuck
between two or three different types of wood splashing out on £15 for three of
the samples is a huge relief. To be able to see, feel and handle each of the
different types makes the decision immensely easier. In the day and age where
getting a new kitchen doesn't necessarily mean nipping down to the nearest
kitchen showroom to choose your kitchen, the internet provides an ever growing
selection of companies like Worktop Express and being able to read the positive
reviews of other customers really reassured us we had chosen the right company
to go with. In the end we decided to go for the walnut worktop for our island
unit as this is what we were replacing.
I must say that replacing just a
worktop really renews a kitchen. As long as your units are relatively practical
and suit all your needs there is really no need to replace a whole kitchen,
just give it a tidy up with some paint, new worktops and maybe a new appliance
here and there and you will have people fooled by your 'new' kitchen!