Cheltenham Food and Drink Festival preview
Whilst we all enjoy making our own nutritious delicacies, it's always good to keep an eye out for the latest culinary innovations.
And that's why we're keen to check out the upcoming
Cheltenham Food and Drink Festival
that promises an amazing array of tempting
treats, along with some inspiring interactive workshops.
Here are a few teasers of what to expect from the festival.
The basics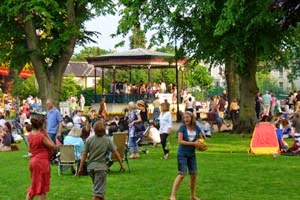 Image from the http://www.cheltenham.gov.uk/ wbesite
The festival takes
place between 12 and 14 June in the luxurious surroundings of the historic
Montpellier Gardens in Cheltenham. The gardens will feature a huge variety of
local and national food producers all keen to show off their wares. Many will undoubtedly bring with them a mobile
cold room
to keep their produce fresh for the festival-goers.
A big theme this
year will be keeping food green. And there will be a particular emphasis on
locally sourced food produce, along with many discussions over organic
production methods.
The Chef's Kitchen
The Chef's Kitchen
is likely to be one of the main attractions as it's here that an interesting
series of workshops will take place. Celebrity chefs such as Jean-Christophe
Novelli and award-winning chefs from local restaurants and hotels will all take
to the stage to instruct us in a few tricks of the trade.
Other workshops to
look forward to include one by Cheltenham's premier Caribbean restaurant Turtle
Bay, and our personal highlight,
Contemporary Cake Designs
that will features works by the highly regarded Swiss
pastry chef Xavier Pelloux.
Something to drink?
Whilst we might be
salivating over the great selection of food producers promised at the festival,
there are some seriously indulgent drink options too.
The International
Wine Theatre aims to increase the appreciation and understanding of global
wines with many wine experts congregating to share their knowledge through a
series of informative 45 minute workshops.
And the famous
Beehive
pub will be bringing the very best in cider to the festival with its
own cider garden offering a friendly welcome to all.
Something for the kids
Of course, if you
have young ones with you, then fear not as there's also a great range of
children's entertainment including a Junior Chef Competition on the Friday, as
well as an endless supply of street entertainment with musicians, jugglers and
cabaret artists all contributing to the carnival atmosphere.
Other attractions
Away from the
festival there's a great range of activities going on in Cheltenham. Most
notably Cheltenham racecourse has some of the
best horse racing action
on offer, including the Cheltenham Festival in March.
And there is a
whole host of other important annual festivals taking place in this spa town
including comedy, jazz and fashion festivals throughout the year.