Each year we put together seasonal gift guides to help you
in those difficult decisions. At BakingBar we take these guides very seriously,
only recommending the best products we have tried and would happily purchase
ourselves as gifts. This is our Easter 2015 gift guide. We have some great
gifts to tell you all about. So grab a coffee and enjoy the read.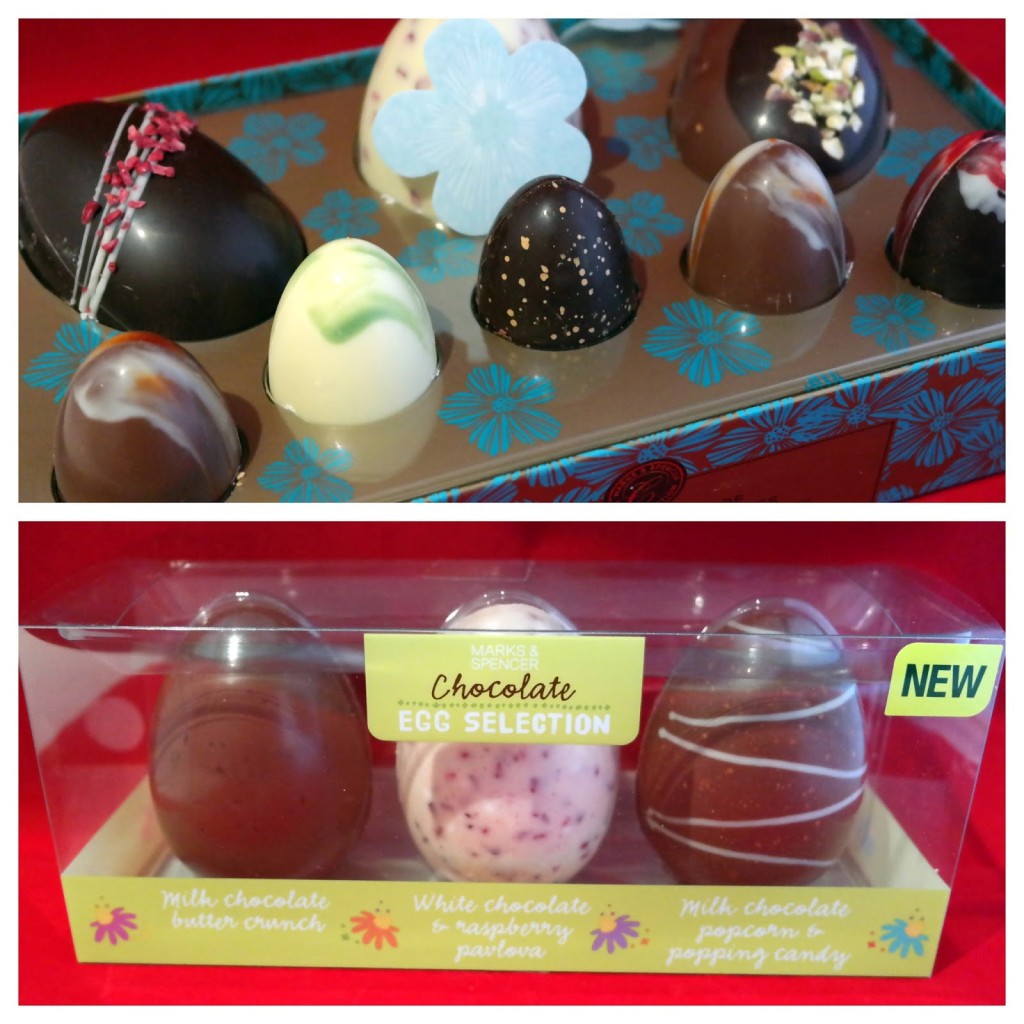 Marks and Spencer's
Marksand Spencers
 never fail to come up with great gifts at Easter and this
year has been no exception. There are simply so many incredible items in this
years selection from 
Marks and Spencer's
 we have chosen just a few to share
with you to give you an idea. You can find a full selection in all stores right
now. The first item we chose to feature was the beautiful Spring Garden of Assorted Chocolate Eggs which is a selection of milk, dark and white chocolate eggs beautifully presented in a gift box. Similarly the new Chocolate Egg Selection box features three eggs each with a different flavour. The box contains a milk chocolate butter crunch egg, white chocolate and raspberry pavlova and milk chocolate popcorn and popping candy egg. A great combination of different flavours. Marks and Spencer's have a great range of eggs for kids this year, or adults alike! We love their new character eggs including the Coco Panda and Nancy Hen. Both wonderfully crafted into egg characters. Kids will love this! Not to mention Colin the Caterpillar egg which is the Easter Egg variation of the Colin the Caterpillar cake! A great idea. We love this. Marks and Spencer's also released some great mini treat this year for Easter including a pack of 9 Bunny Biscuits which are decorated with vanilla and raspberry fondant. This year they also released a bag of Popping Candy Chocolate Eggs and individually wrapped Caramel Crunch Easter Egg bars. We also love the carrot shaped bag of orange flavoured Jelly Carrots. So cute.
Lindt
Lindt always knows how to do Easter well and in our opinion
no Easter is complete without receiving some Lindt chocolate. This year Lindt
released a wonderful
Lindor Shell Egg
which is made with decadent milk chocolate and includes 8 mini
Lindor egg truffles which contain the traditional irresistibly smooth Lindor
filling. If you just fancy a box full of wonderful Lindor truffles then the
Lindor Mini Eggs Assorted Canister
is the perfect gift for you, filled with a
mixture of your favourites including Milk, Stracciatella, Coconut and
Strawberries & Cream. Easter simply wouldn't be Easter without receiving a
Easter Bunny from Lindt. This year they have released a
Milk Chocolate Lindt Gold Bunny
as well as a
Dark Chocolate Lindt Gold Bunny
and a
White Chocolate Lindt Gold Bunny
.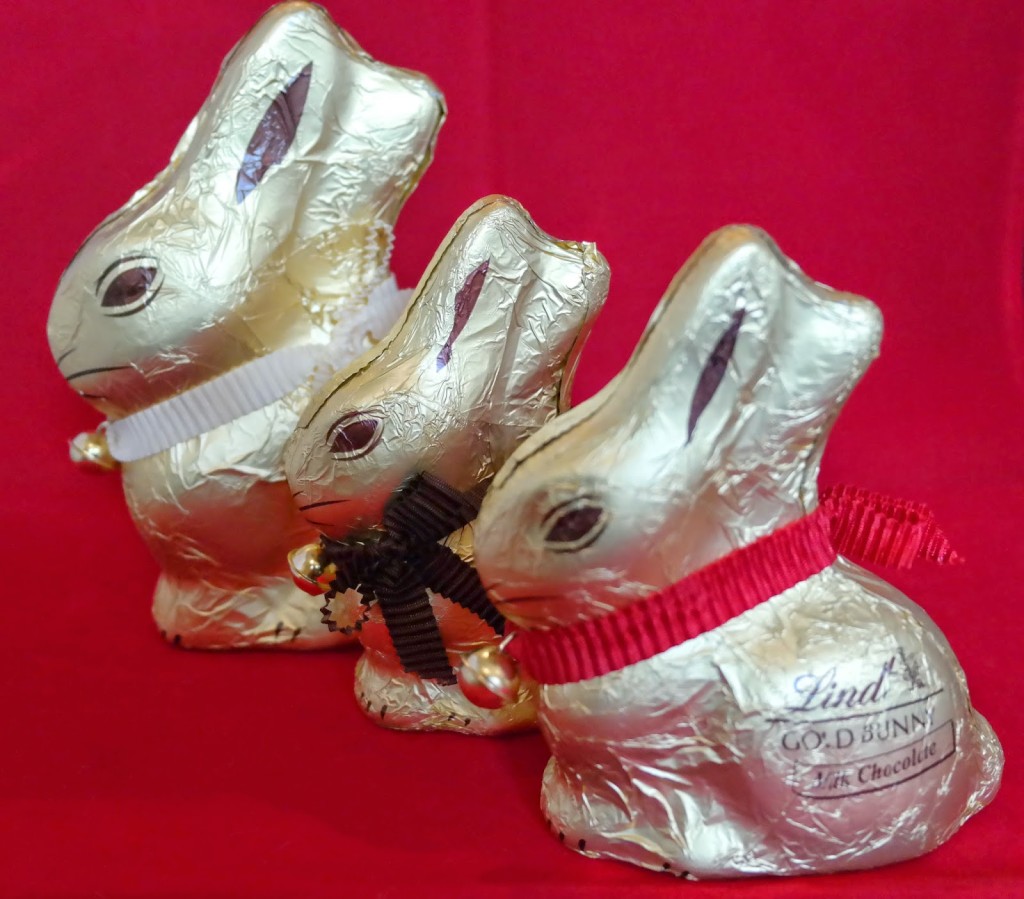 Thorntons
Thorntons is another well-known and reputable brand known by
children and adults alike for decades! Thorntons was set up by Joseph William
Thornton in 1911 who then handed the business to his two sons who made it into
what it is today. Thorntons have released a wonderful Easter range this year
and we found it difficult to pick what we wanted to feature in our gift
guide. We eventually settled on their new
Caramel Cheesecake Easter Egg
. This is surely an Easter egg we conjure up in our
dreams. Embedded in this Easter egg are thick fudge pieces combined with cruncy
biscuit. Oh and the egg itself is made of caramel milk chocolate. Incredible.
If you're after a more simple traditional Easter egg look no further than their
White Chocolate Harry Hopalot Easter Egg
which is made of white chocolate with a
milk chocolate imprint of Harry Hopalot on the front of the egg.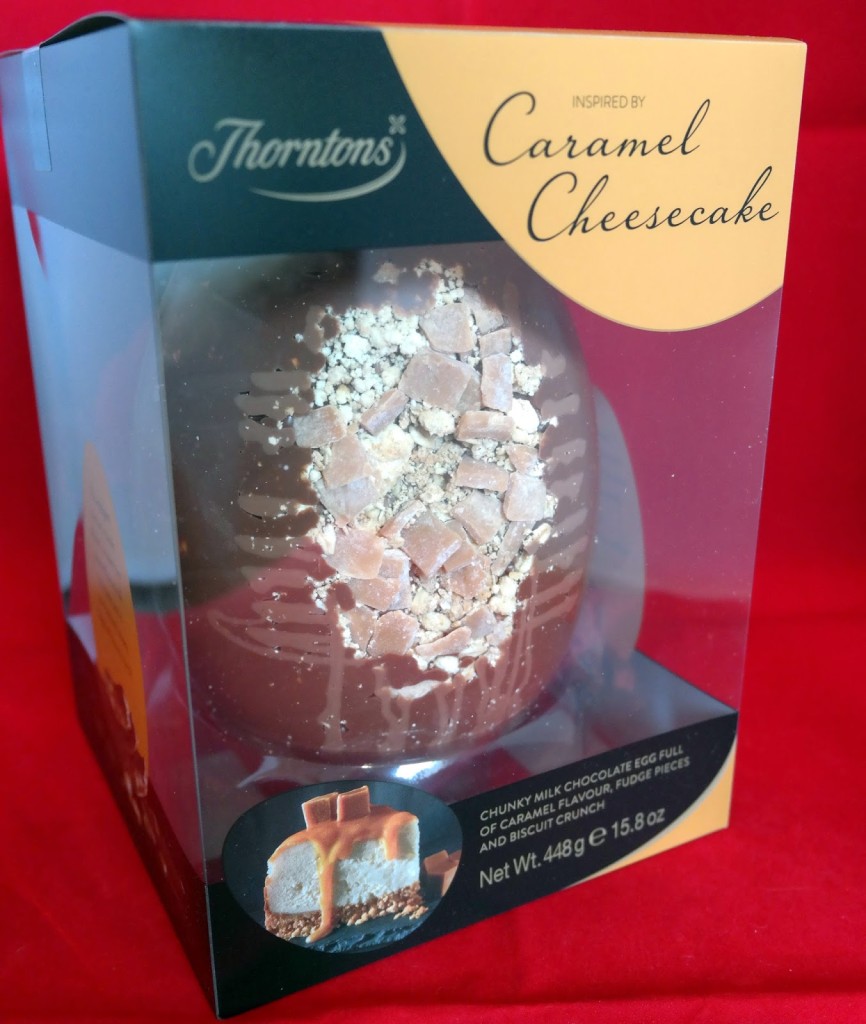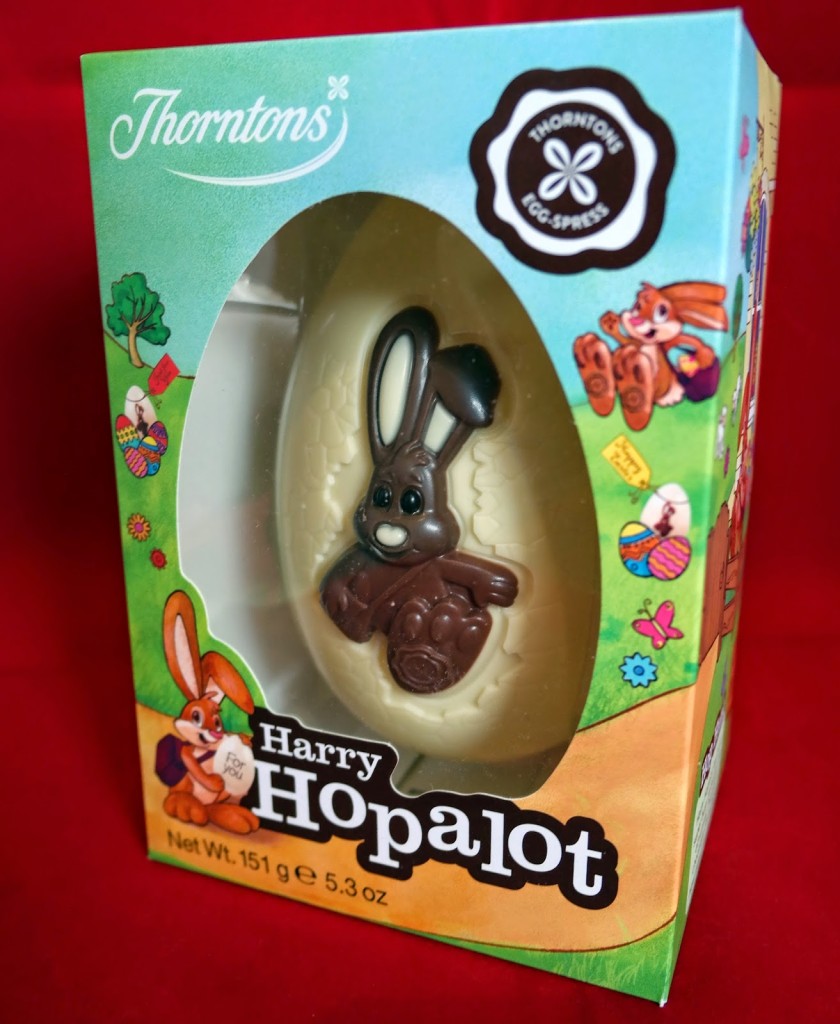 Bettys
We love companies who have long, established and illustrious
histories and Bettys is one of those companies. There is a lot of history
behind the business and even a little mystery around where the name Betty
actually came from! Its far too much to explain here so grab a tea or coffee
and pop over to Bettys website to read 'The Bettys Story' about where this
fabulous company came from
 here
. Bettys always produce wonderful seasonal ranges
and this Easter they have not failed to disappoint. We made the difficult
decision and chose to feature two of our favourite items. We have browsed their
fabulous selection of Easter treats and decided to feature. The first item is
something we consider essential in our house at Easter, a
Simnel Cake
.
Last year we showed you how to make one yourself but if you don't feel up to it
this year Bettys is the next best alternative! Wonderfully moist and packed
full of juicy fruit topped with soft delicious marzipan. Easter wouldn't be
complete without some white bunnies and Bettys have created a wonderful
White Chocolate Easter Bunny
made with some of the finest white chocolate.  If you're after a finishing touch for an
Easter gift these
Hand Painted Ganache Eggs
are the perfect gift. Beautifully finished and filled with
luxurious chocolate ganache. Delicious!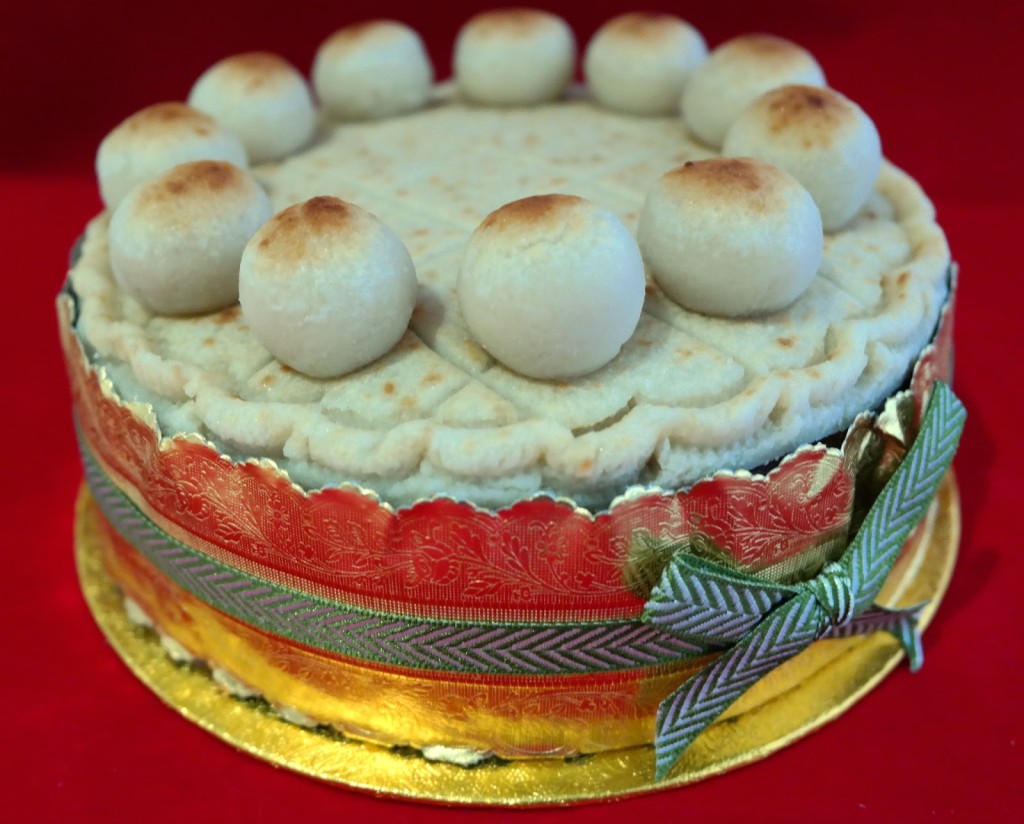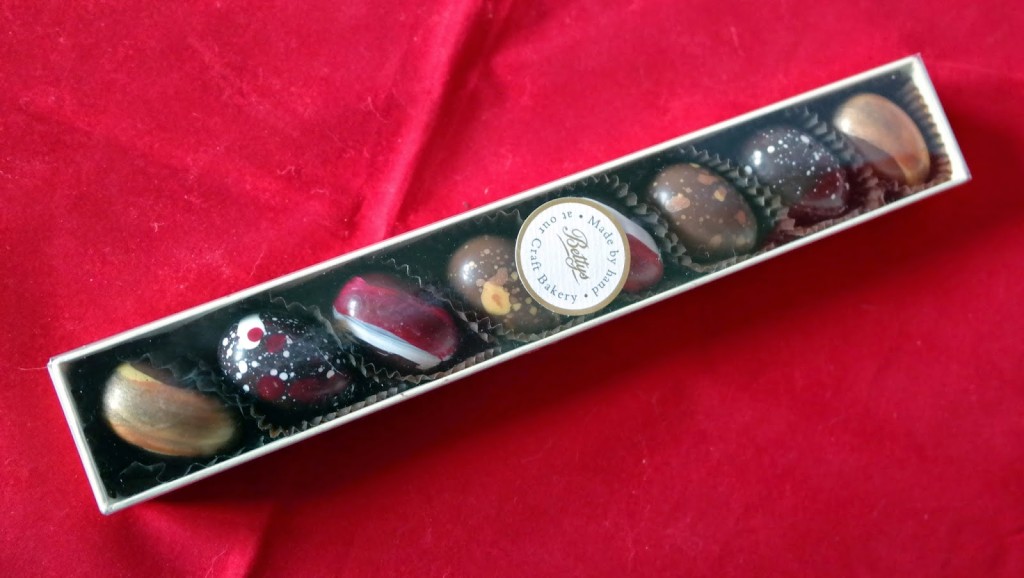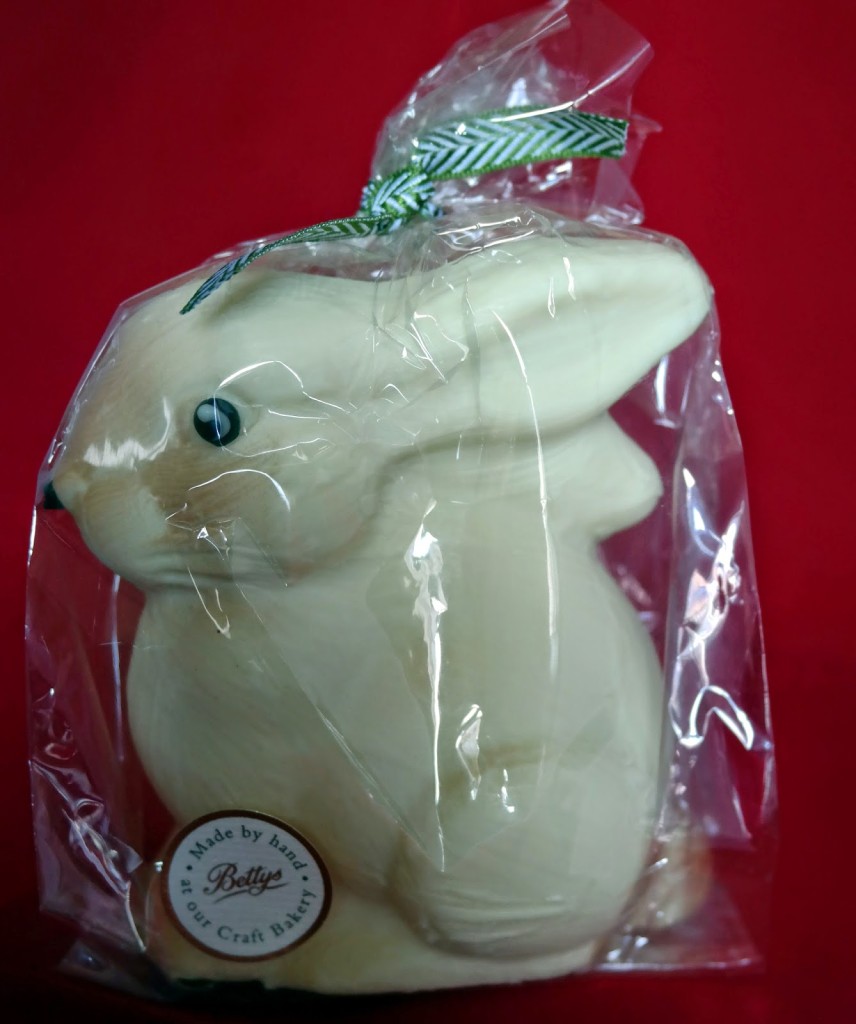 Butlers Chocolate
Butlers Chocolate is Ireland's favourite luxury chocolatier
for over 80 years, being originally founded in Dublin in 1932 by Marion Butler
and then bought in 1959 by the Irish Sorensen family who still own 100% of the
business today. Butlers Chocolate takes pride in their heritage, even offering
the 'Butlers Chocolate Experience' which allows you to see behind those secret
chocolate factory doors. This years Christmas range contains a lot of classics,
but classics done exceptionally well. This Easter we picked some key items to
feature which caught our eye. The first is the beautifully presented
Large Green Wrapped Egg, With Mini Eggs
, this is a wonderful milk chocolate egg
filled with a selection of mini eggs which are themselves filled with caramel,
dark truffle or vanilla truffle fillings. We just love the
Large Boxed Milk Chocolate Easter Egg With Two 100g Bars
which is another milk
chocolate egg in a box with two 100g bars of dark chocolate, almond and orange
and a bar of milk chocolate honeycomb crisp. We also spotted the wonderful
Egg Tin
which is filled with an assortment of filled chocolate eggs in milk,
dark and white chocolate with a range of fillings including Caramel, Lemon
Truffle and Praline.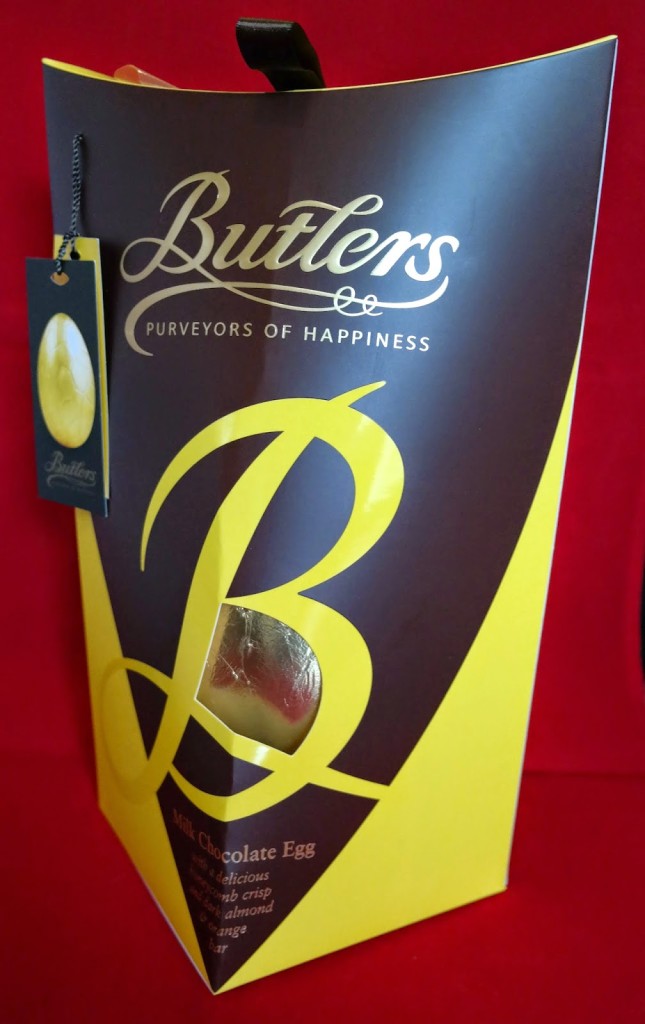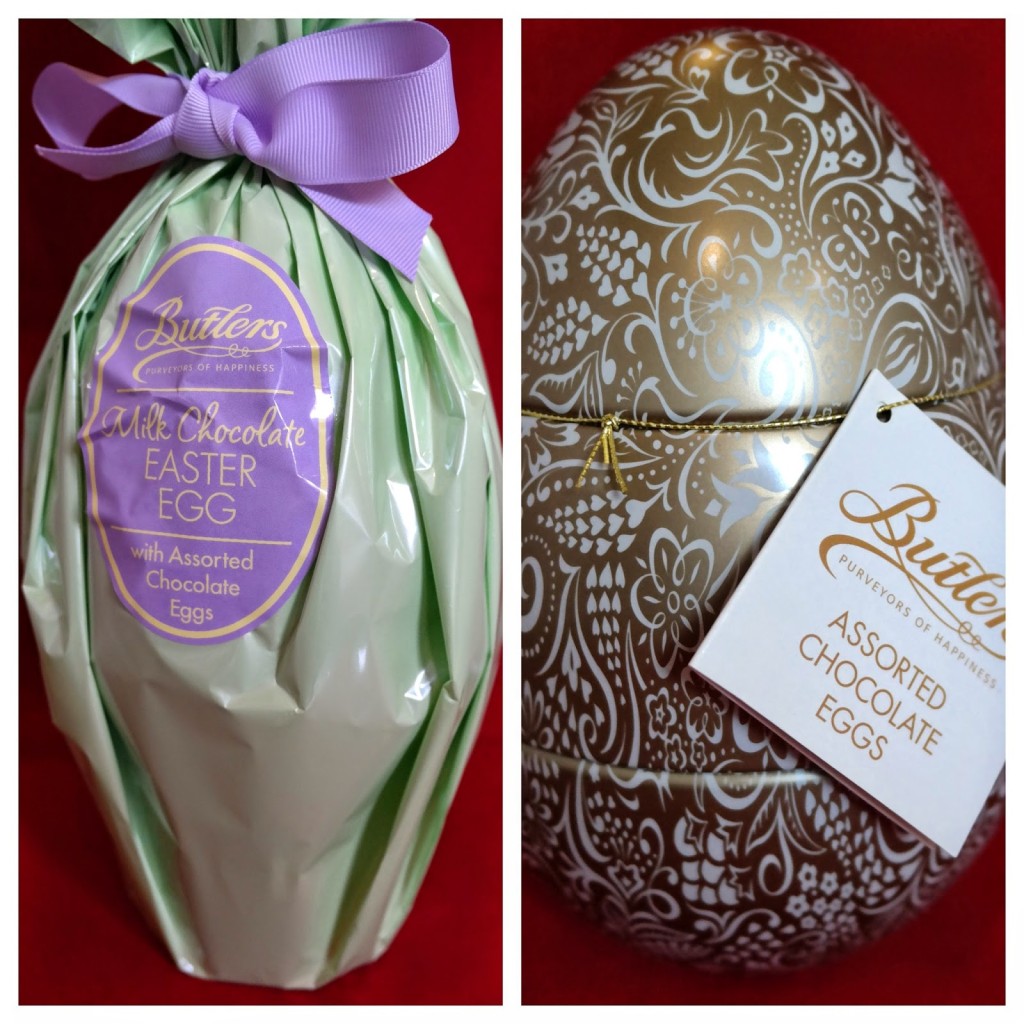 Whittard of Chelsea
We love Whittard of Chelsea's illustrious and long history
as one of the most prestigious suppliers of tea and coffee products. We have
selected three of our favourite products which are also in their Easter Gift
section this year. Chocolate is of course the theme of our selection. We
absolutely love the new luxury
60% Cocoa Flaked Drinking Chocolate
. This hot chocolate is pure gold.
Incredibly indulgent but perfectly balanced between the richness of dark
chocolate yet still allowing the rich fruity notes to come through. Why not
have some more chocolate with your hot chocolate. Whittard have launched a
fantastic range of luxury chocolate bars. Our favourite is the
Vanuatu44 Milk
Chocolate which has beautiful hints of hazelnut and coffee with
notes of milky caramel. To finish things off why not try Whittard's
Dark Chocoalte Flavoured Black Tea
. Yep tea! This loose leaf tea has chunks of
dark chocolate throughout and creates a wonderfully smooth and rich cup of tea.
Worth a try if you're a chocolate fan.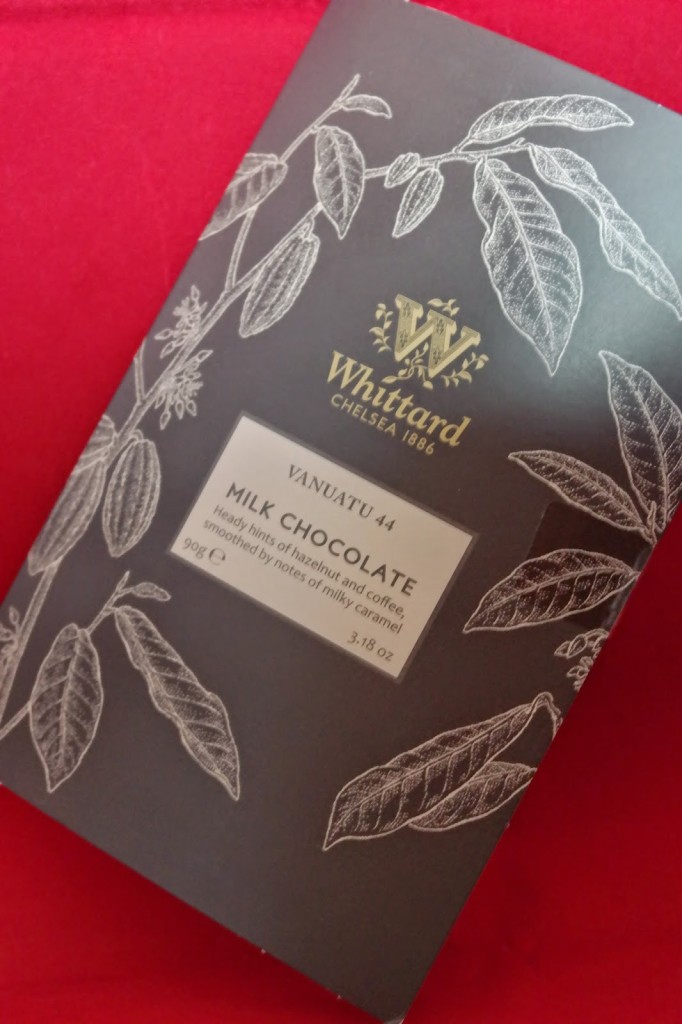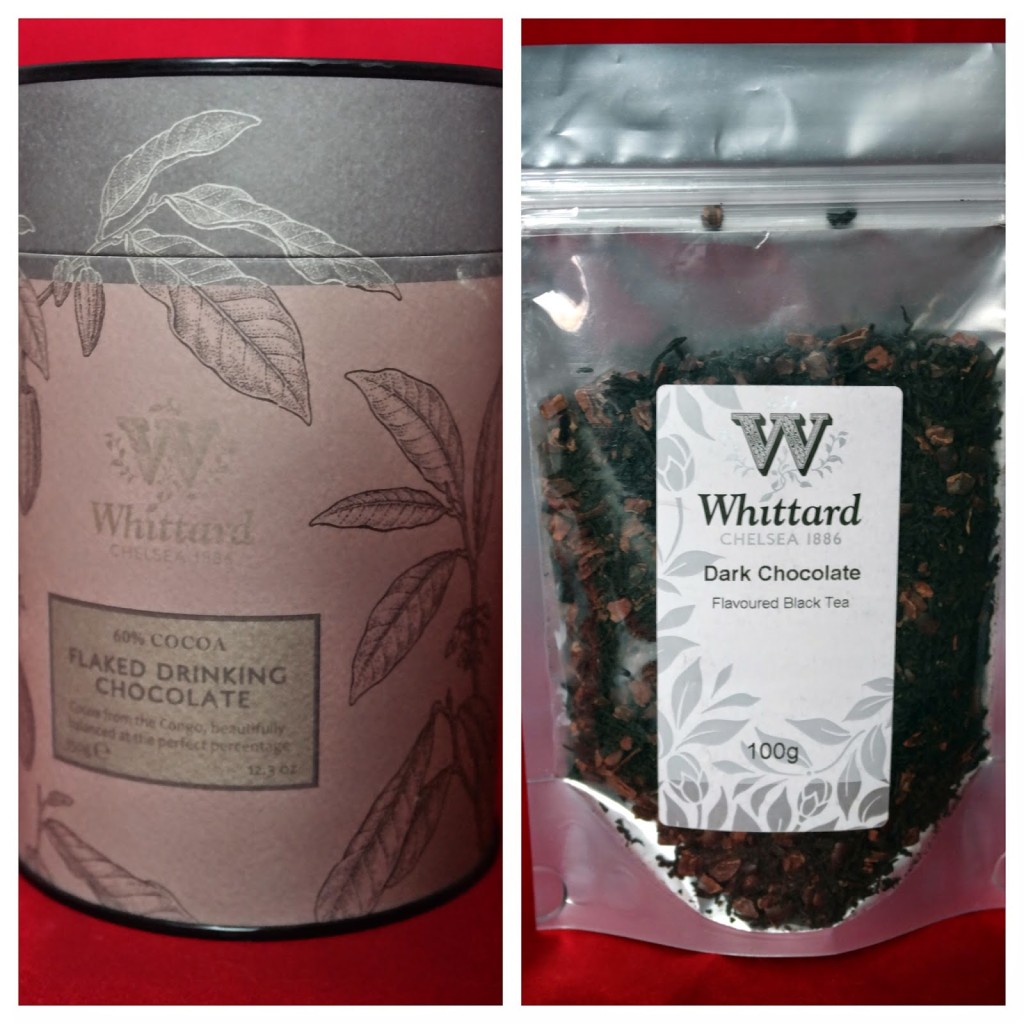 Aldi
This is the first time we have featured
Aldi
in one of our gift guides. When we
seen what they had in store for Easter we just had to share this wonderful
idea.  Aldi has combined two of three of
life's pleasures, wine, cocktails and of course chocolate. Aldi has guided us on
pairing three different award winning Moser Roth chocolate bars with each a
wine or cocktail to complement their flavours. First of all we paired the
Exquisite Collection Australian Shiraz
(£5.99) with Moser Roth 70% Cocoa (£1.19). This
pairing works exceptionally well. Why? The supple texture and relatively low
levels of mouth drying tannins smooth out the cocoa solids in the chocolate and
the red and black fruit flavours refresh the palate. Secondly we paired the
Old Hopking Dark Rum
or
Chevalier Cognac
with the Moser Roth Mousse au Chocolat.
This works exceptionally well together as Cognac with a little addition of some
orange zest cut through the chocolates richness yet compliment the airy orange
mousse chocolate. Truly an adult treat at Easter!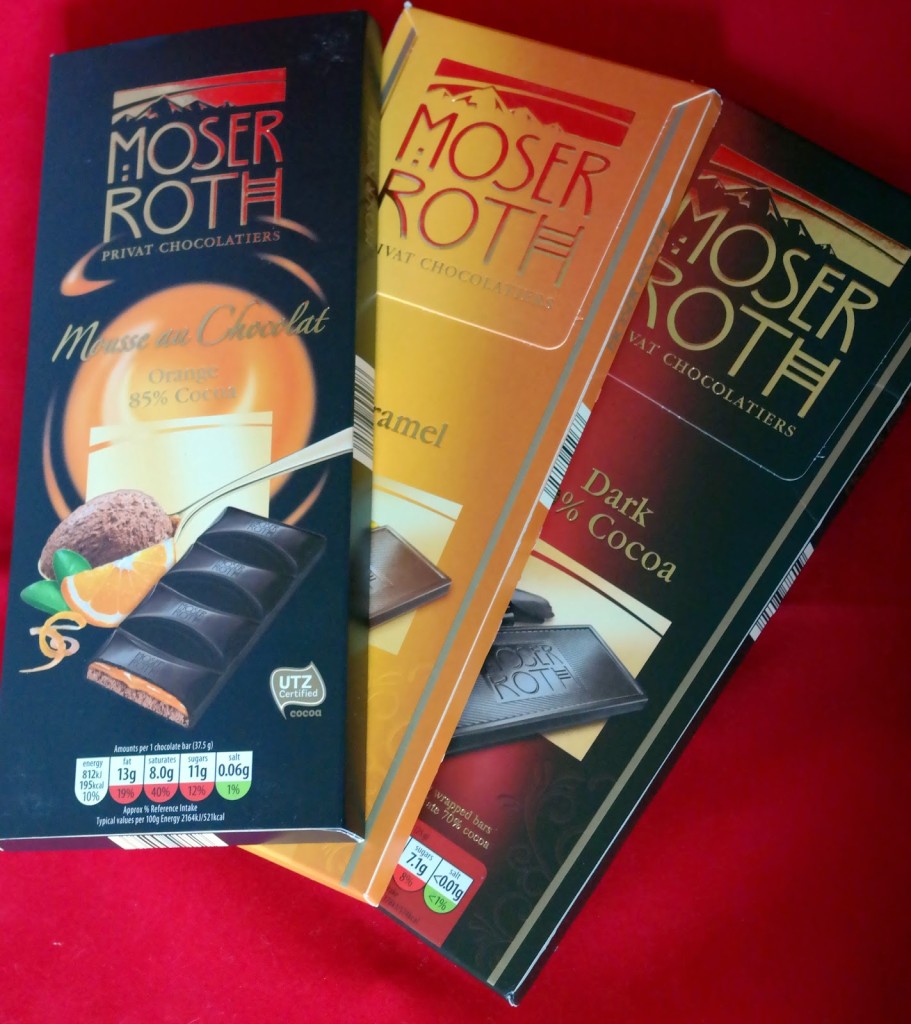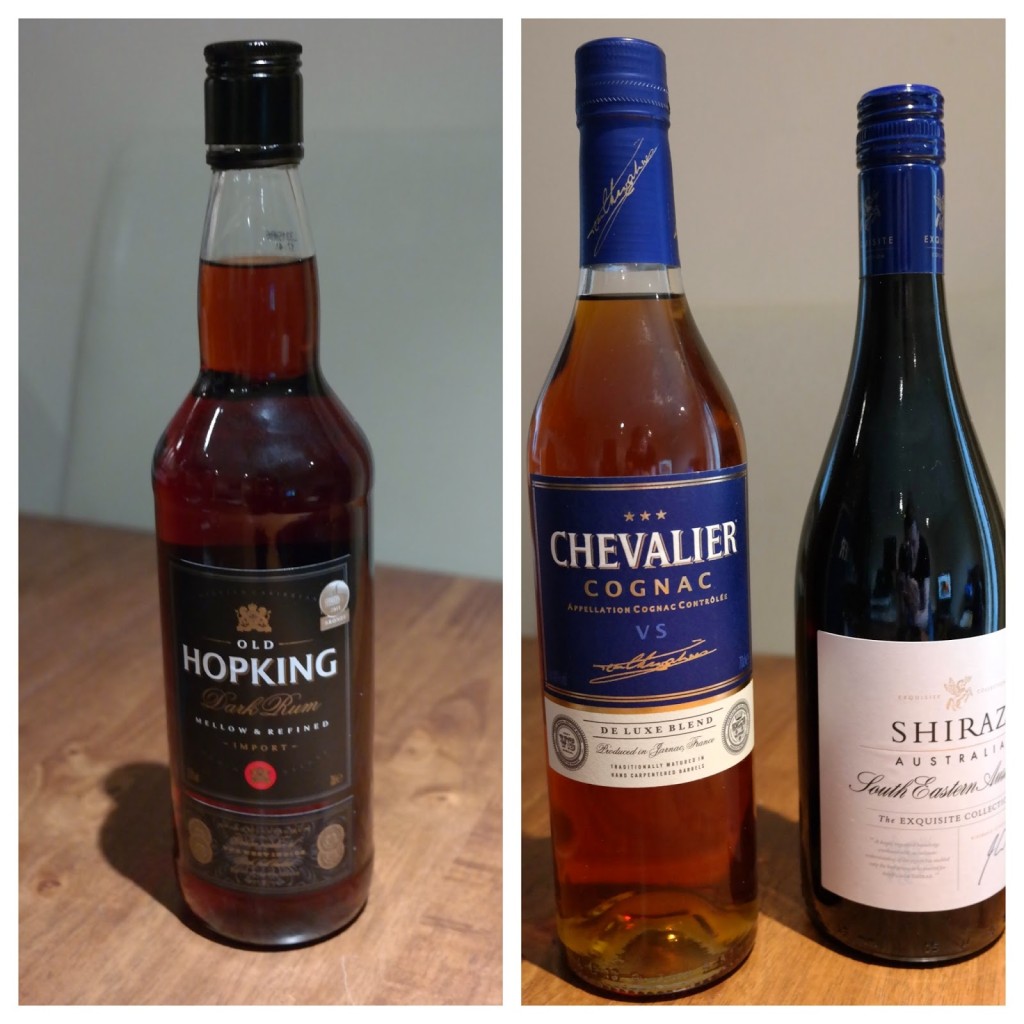 Rococo Chocolates
We first discovered Rococo Chocolates just before
Valentine's Day last year and we haven't looked back. Their passion and drive
to create the best chocolate delights time and time again is inspiring. This
year they have a wonderful selection of chocolate rabbits all themed as part of
a Rococo Bunny Band! The bunny quartet is made up of a saxophone player, a
drummer, an accordion player and a banjo player. Which one will you choose?
These bunnies are wonderfully moulded using the finest milk chocolate with dark
and white chocolate used for some finishing touches. All bunnies available via
the
Rococo Chocolates
website
closer to Easter.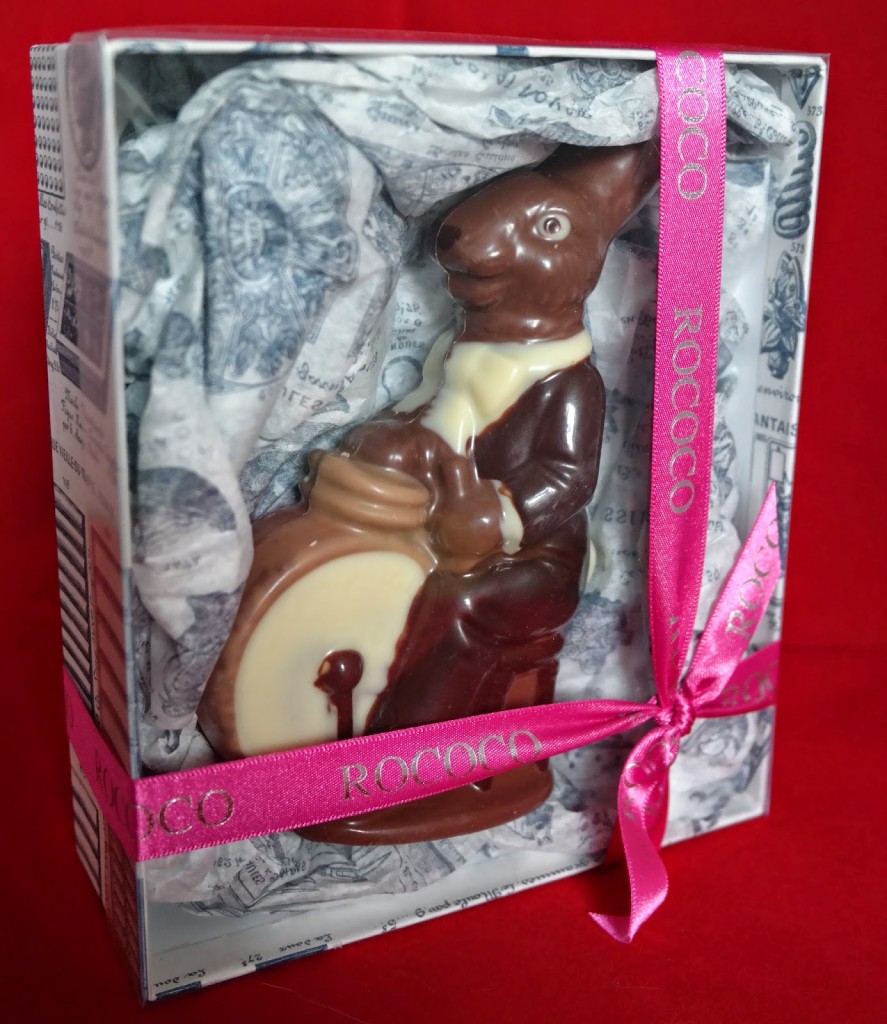 Joe and Seph's Popcorn
Remember
the days when you only really ate popcorn and it was always the same generic
bland flavour, well 
Joe and Seph
 decided to change all that and
it's been a massive success! They air-pop their
corn opposed to the normal traditional British method of oil and sugar mix.
They have also developed a wide range of different flavours. In a quirky
alternative to normal Easter gifts Joe and Seph have decided to release two
special flavours for Easter. These are Trio of Chocolate and Gingerbread. The
trio of chocolate popcorn has flavours of white, milk and dark chocolate
creating a mouth-watering illusion that you're having chocolate. The
gingerbread flavour is wonderful and combines the flavours of caramel, ginger
spice finished off with stem ginger, creating a great flavour for a popcorn.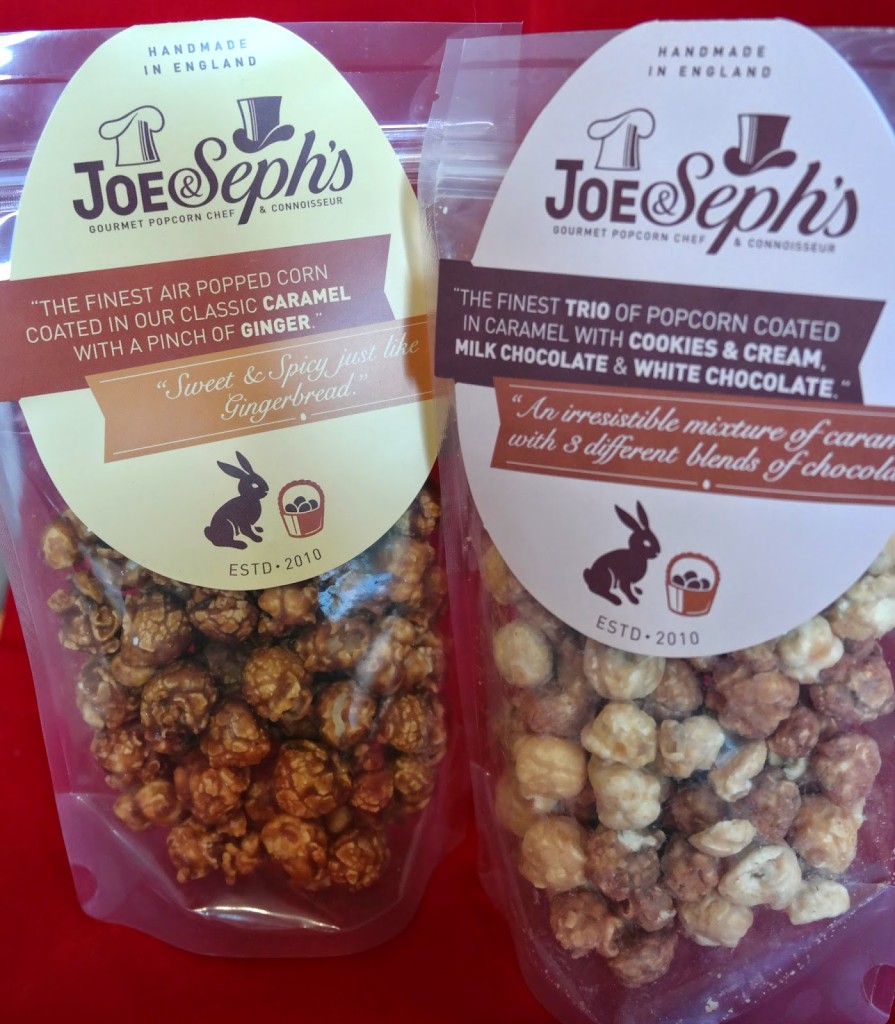 Cocoaloco
Cocoaloco is one of those special chocolate companies where
you know a lot of love and passion goes into the crafting of their chocolates.
All Cocoaloco's chocolate is organic; they even use packaging which makes
minimal impact on the environment. Sarah and Rory of Cocoaloco set out to make
their company "build a premium treat reputation around words like approachable,
affordable and genuine choice" and they have certainly done that! With a new
website this year Cocoaloco's range is even easier to order and browse through.
We selected just a few items from the Easter range. The first item is a
beautiful traditional
Marbled Chocolate Easter Egg
which is made from the finest dark, white and milk
chocolate and filled with chocolate buttons. The other items we selected are
all a bit of a twist on the traditional selection. The cute
White Chocolate Raspberry Pigs
are adorable and a great surprise gift for Easter.
With Similar flavour but different design idea are the equally cute
White Chocolate and Raspberry Mini Eggs
which come in their own egg box style
packaging. We also spotted the
Easter Chicken in a Nest
which is a quirky alternative Easter gift made with milk
chocolate with dark and white chocolate decoration.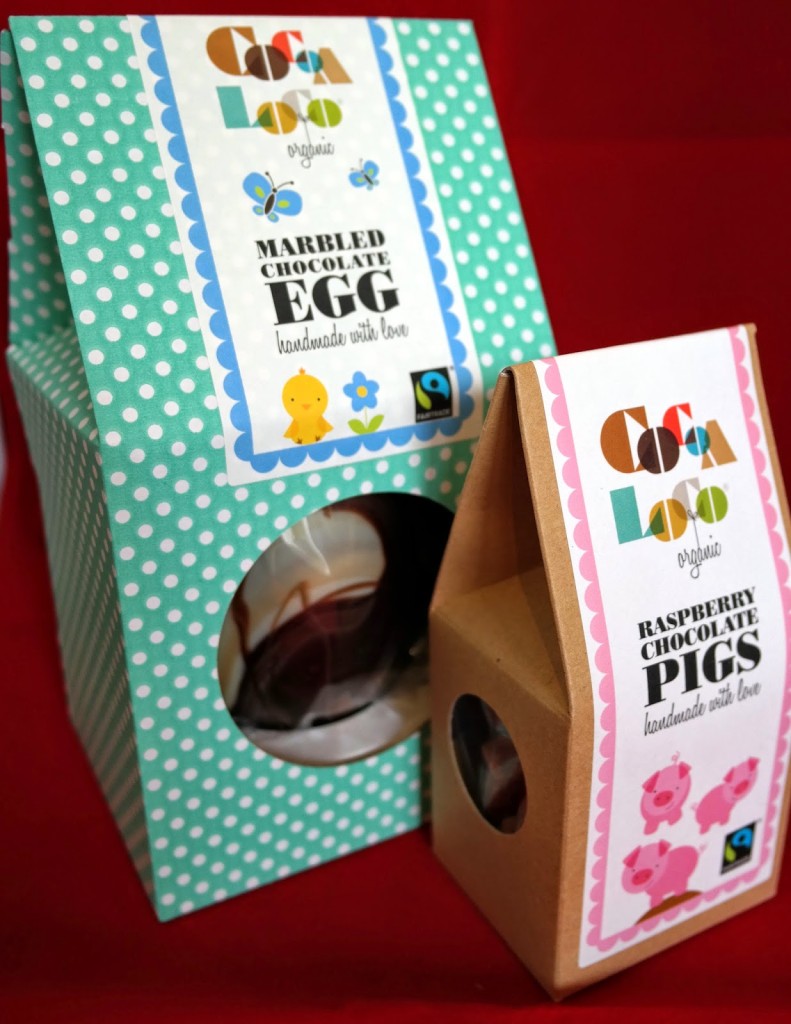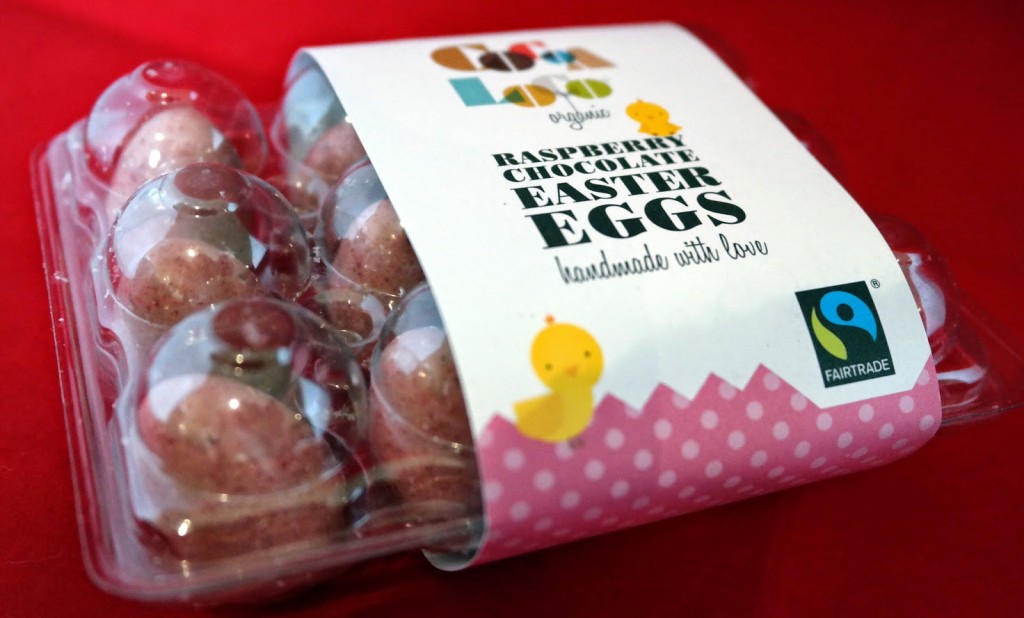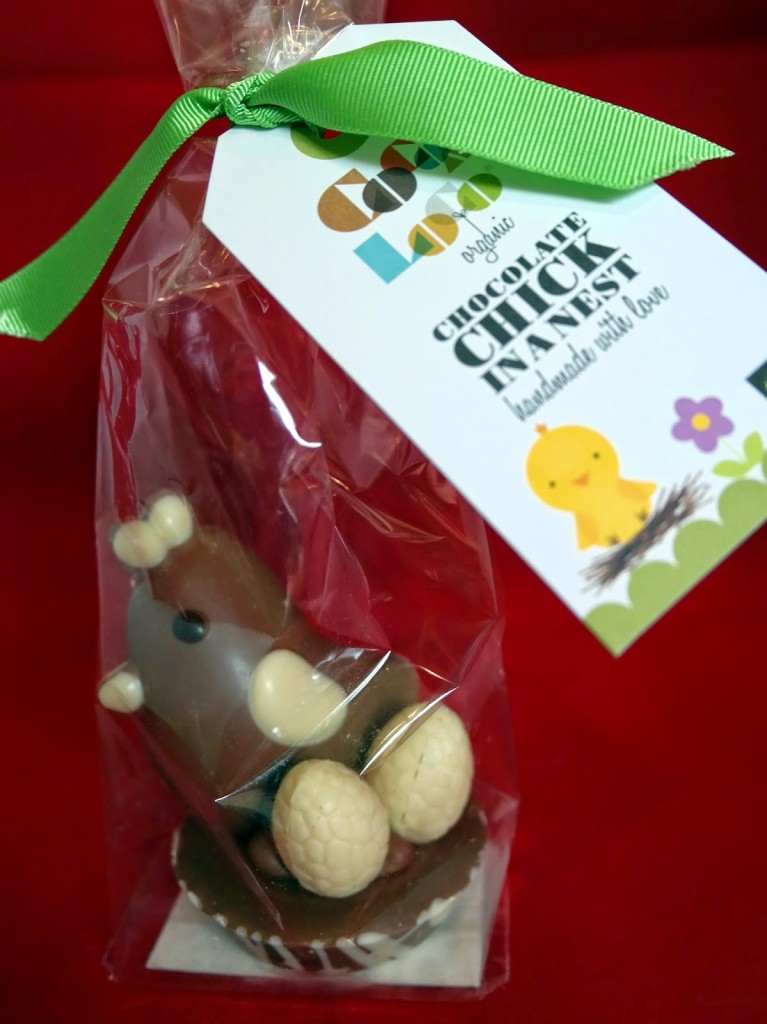 MyProtein
Easter doesn't have to be all about indulging in chocolate.
And we know not all of you can if you are on a specialised fitness plan or
regime. But thanks to MyProtein there are alternatives which are not as
calorific and will count towards some of your fitness nutrition needs. Keeping
along the theme of chocolate of course, why not try their delicious
Chocolate Protein Balls
or
Chocolate Protein Cluster
. Both amazingly tasty. We're also massive fans of their
Protein Cookies
which come in a variety of flavours which obviously includes
chocolate mint, chocolate orange, double chocolate and white chocolate almond.
We find it hard to choose our favourite. If you're after something warm for a
cold frosty night then their
Protein Hot Chocolate
is the choice for you.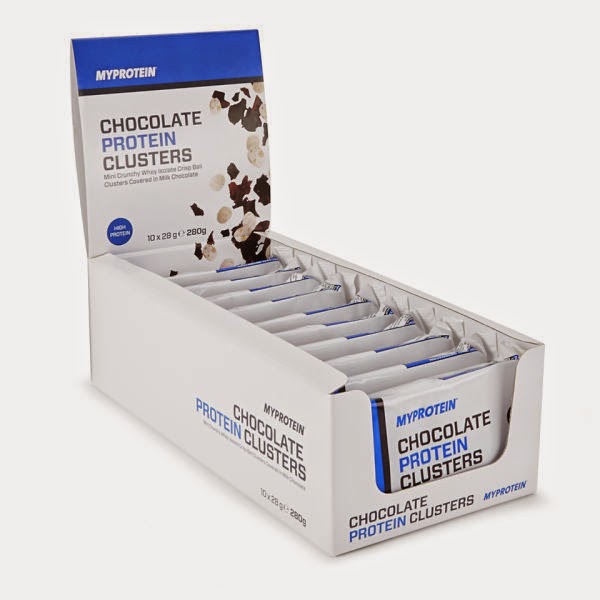 Hotel Chocolat
Hotel Chocolat are well known for their luxury chocolates
and innovative flavours and they certainly have not failed to impress this
Easter! There is a huge selection of gifts suitable for Easter on the Hotel
Chocolat website, whether in the Easter range or not. We have chosen several of
our favourite items this year to suggest to you. We absolutely love the
Egglet Sleekster Box
which contains 30 delicious egglets with fillings such as
pecan praline, 65% cocoa raspberry supermilk and some other new flavours from
Hotel Chocolat. The other item from the Easter range which really caught our
eye and made us laugh at the same time is the
Caramel Easter Egg Sandwich
which is not only designed to look like a sandwich but
is packaged like one too! This Easter egg alternative is made from decadently
smooth caramel chocolate.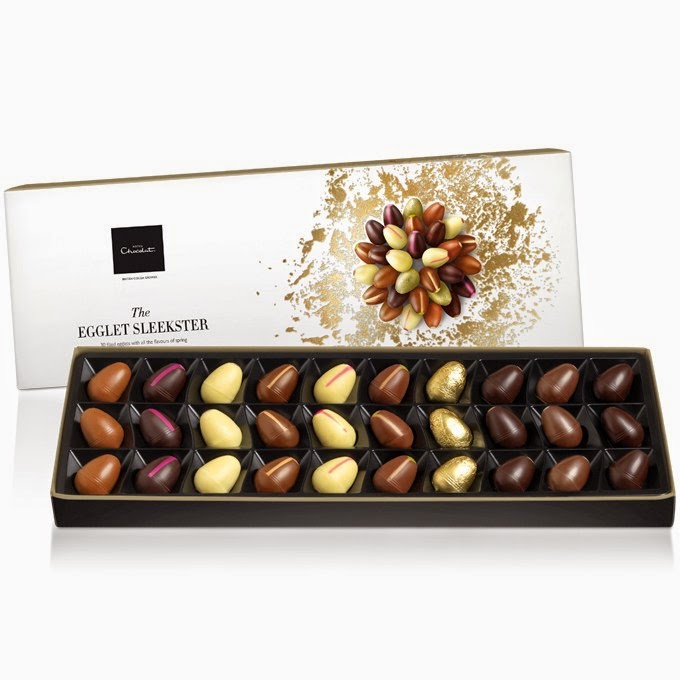 Prestat with Chocolate Trading Company
Prestat is one of London's oldest chocolate shops and has
been awarded not one but two Royal warrants over the years it has been serving
the people of London and beyond. Prestat pride themselves on the very best
quality and craftsmanship creating chocolates of incredibly quality and
flavour. It would be a shame not to include such an illustrious company in our
Easter Gift Guide so we choose three of their incredibly Easter Eggs this year
available through Chocolate Trading Company.
The
Prestat Marc de Champagne Truffle Egg
consists of a beautifully packaged and
presented chocolate egg filled with delicious Marc de Champagne truffles.
Similar in design and of course quality is the
Prestat Milk Chocolate Truffle Egg
and
Prestat Dark Chocolate Truffle Egg
which both come filled with wonderful Prestat
truffles. Sure to bring a smile to anyone this Easter. If you're looking for
quality you can find it with Prestat.