We first spotted HelloFresh on a TV advert a few months ago. Then we seen it in a newspaper, then a magazine, then started spotting people talking about it online. So what is HelloFresh?
https://www.youtube.com/watch?v=kvBxmEXTsOU&feature=youtu.be
HelloFresh is convenience in a box. Have you ever got home from work and realised that you have everything but one vital ingredient needed to make the meal you had planned and then end up ordering a takeaway? We'll put our hands up, we're guilty of this sometimes as much as once a week! Its because we're all tired when it comes to dinner time which makes convenience really important.
Convenience doesn't have to be frozen meals you put in the microwave! It just means as little effort needed as possible. The fact that there is nothing 'ready meal' about HelloFresh is what makes us love it so much. Each week you will receive a box of ingredients (There's a vegetarian box option too!). These ingredients are all specially measured out to make three or five set meals. You receive the recipe cards for these meals with brilliantly written instructions. Trust us, we made some things for the very first time and were amazed! We may be good bakers but we're not up to the same scratch with cooking. Cooking is always a learning curve, even for the professionals.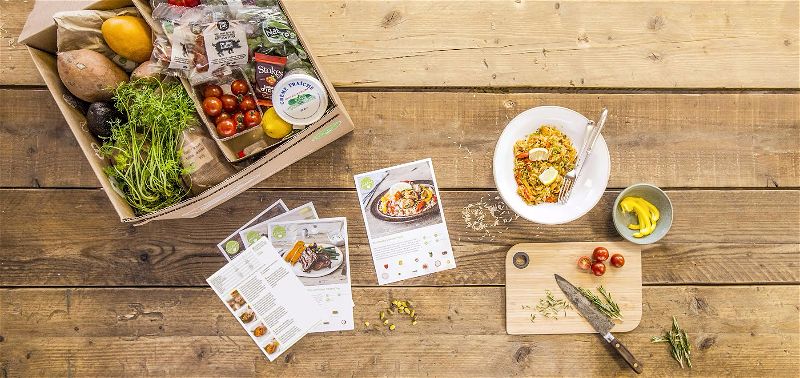 We have to mention that the amazing Jamie Oliver is now onboard with HelloFresh and is helping them create some of their recipes. This is amazing news and can only mean that HelloFresh will grow even further and become even better than it already is.
So in your box you receive the meat (all chilled using special chill packs. Not frozen!). The meat products are all held within a padded envelope with the chill packs and lined with some sort of natural insulation product. There are then several other compartments within the box containing the vegetables and then the cupboard goods such as tins, rice and pasta etc. We have found that the outer walls of the box seem thick enough that the whole box remains a nice cool temperature. Even living in Northern Ireland our boxes have always arrived perfectly chilled.
We don't find there is any need to freeze anything from the box as everything is designed to eat this week. Which makes the whole thing even more convenient. When we say there is everything you need in the box to make the three set meals we truly mean everything. We were shocked ourselves when we first looked in our boxes. A little brown bag full of miscellaneous bits and pieces. If a recipe called for 2tbsp of flour, there in a little container was 2tbsp of flour. This is amazing! We know that not everyone is going to have a bag of flour handy, or a pack of sesame seeds, or the right herbs, olive oil etc etc.
So we got two boxes to test out the meals and how easy they were to make. We got a meat box and a vegetarian box. We're not going to share all the meals with you in details but we'll give you the titles.
In the meat box:
Jamie's Grilled Pork Chops With Broccoli, Zingy Bulgar & Spicy Beans
Ultimate HelloFresh Chilli Con Carne (The Sequel!)
Mexican Tomato Jumble with Spiced Citrus Chicken
In the vegetarian box:
Grilled Artichoke, Chestnut Mushroom and Zesty Thyme Risotto
South Indian Channa Masala with Brown Rice and Raita
Tabbouleh With Grilled Halloumi and Pomegranate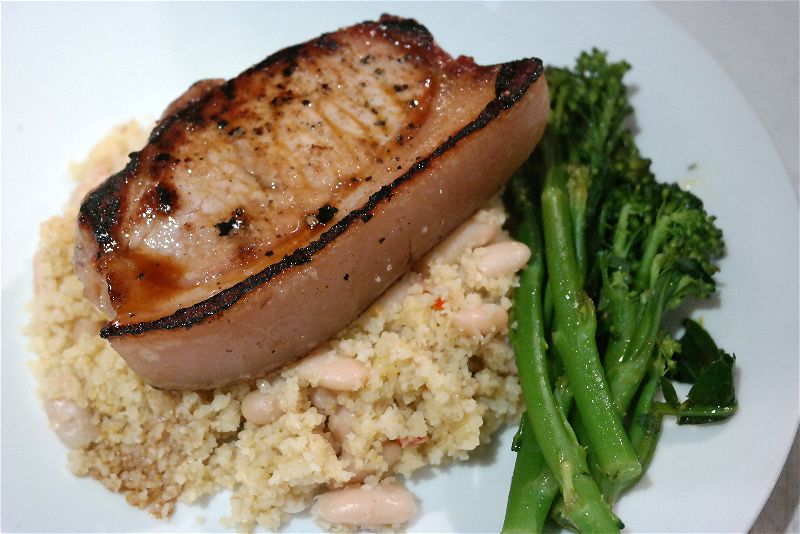 First we made Jamie's Grilled Pork Chops With Broccoli, Zingy Bulgar & Spicy Beans. We couldn't resist from trying Jamie's recipe first. Everything is laid out in 11 easy to follow steps. Nothing difficult at all. The most difficult thing, opening and draining the can of cannellini beans, we're not joking! So anyone can make this recipe. We were delighted with how the meal turned out.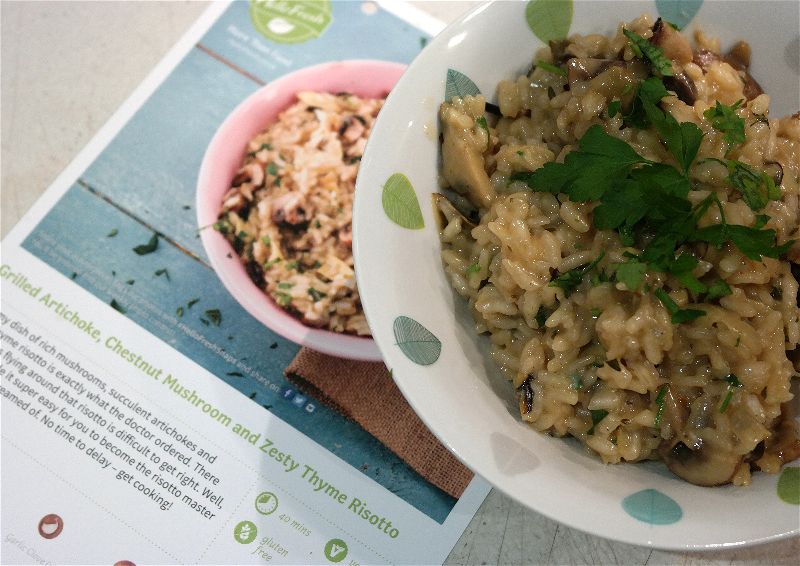 The second meal we tried (admittedly the same day for dinner) was the  Grilled Artichoke, Chestnut Mushroom and Zesty Thyme Risotto from the vegetarian box. We have to admit, we love meat. We're by no means fully fledged vegetarians but we do appreciate vegetarian food. The problem is that it can be bland. Not this beauty! This Risotto was so packed with flavour, and so easy to make we went out and bought all the ingredients the next day so we could make it again later in the week. The great thing about these recipes is that you learn a skill. In this case making risotto. What you add to it in the future is completely your choice, add some chicken perhaps if you're not vegetarian, add more mushrooms, whatever you like. That is the beauty of this whole process. You've learnt the method to make a certain meal.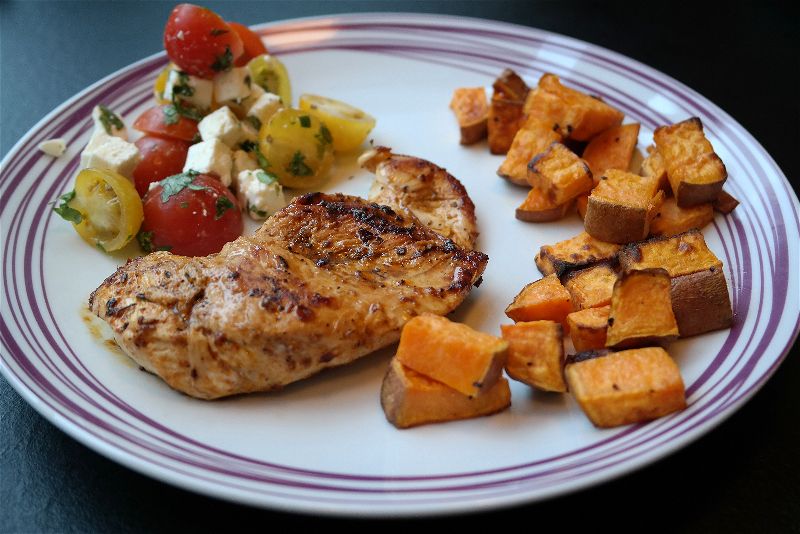 The third meal we made was the Mexican Tomato Jumble with Spiced Citrus Chicken. This recipe called for only 7 ingredients. We had to read that twice! And two of those were a lime and some spices from the little brown bag we were sent with the box. So really only 5 main ingredients! The hardest part of this recipe was preparing the chicken, and thats not difficult at all. We've all done this at some stage. This meal was so packed with flavour that we've already vowed to make it for some guests the next time we have a dinner party. It's certainly a crowd pleaser!
All the other meals we have made so far from our boxes have been utterly delicious. It has forced us to try some ingredients which unbelievably we had never tried before such as grilled artichoke. It just hasn't been on a menu anywhere we have eaten, and its not something we knew what to add into. So now we do.
HelloFresh is such a wonderful, personal feeling service. The custom service is great and there's always someone to ask your question to. Getting the deliveries each week couldn't be simpler either.  Oh, and you can see the recipes coming up too, if you don't like a little surprise.