Smarter Wifi Kettle – Review
If you're one of our regular readers you will remember that we have featured the Smarter Wifi Kettle in some of our previous gift guides, including last years Christmas Gift Guide. We have used the Wifi Kettle for about a year already and have never had any complaints. It works perfectly, especially from your bed in the dark mornings of winter. We hope you enjoy our Smarter Wifi Kettle – Review. Make sure your WIFI is in perfect order so that you make the most of this awesome product. An EATEL internet provider might be of use to you.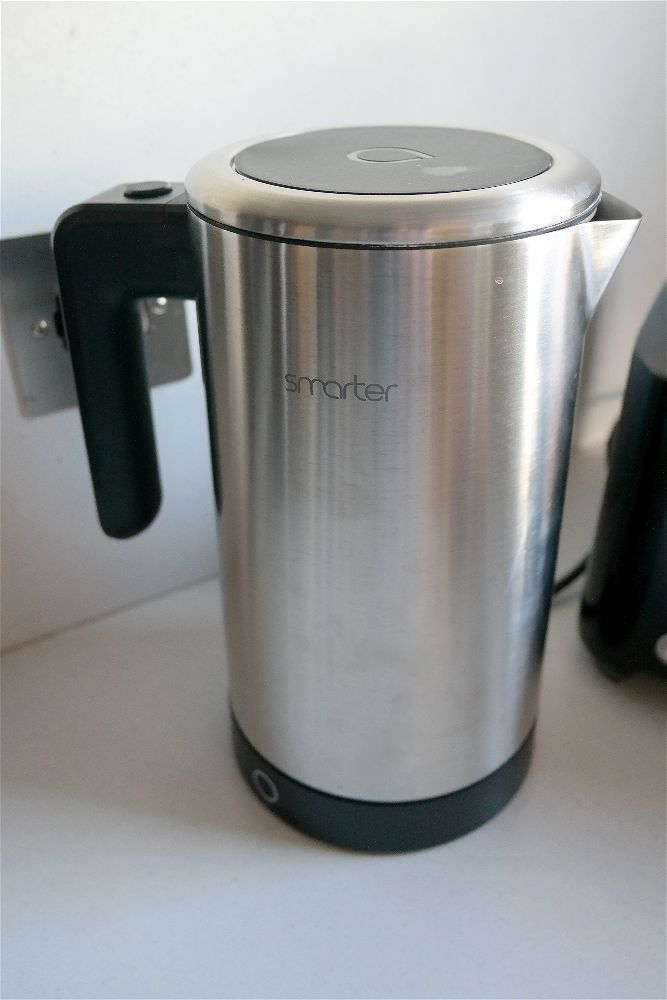 So what is a Smarter Wifi Kettle? Does it add Wifi to the water? Do you end up with Wifi Tea? Not yet anyway… But the Wifi Kettle is truly a magical kitchen gadget that is certainly living up to the Jetson's image of the future we got when we were kids. Boiling the kettle without even being in the same room! Of course, this relies on you having a strong internet connection, which is why making sure you have a solid provider is essential. For example, the providers of internet Nebraska have are wide and varied so make sure that you have chosen the most suitable one for you.
We thought the original Smarter Wifi Kettle was perfect in every way. That was until Smarter released the Wifi Kettle 2.0 (no better a name for such a gadget!). It seems that Smarter have taken onboard every comment and criticism about the first version of the kettle, going on to create the best possible experience in the Wifi Kettle 2.0.
So what actually is a Wifi Kettle?
The key word here is going to be 'Connected'. This is how technology is going and we predict this will continue and even increase. Essentially this is a kettle which is connected to your home Wifi network. So you can remotely boil the kettle from the Smarter Wifi Kettle app from anywhere in the connected wifi zone (your home). The Wifi Kettle 2.0 has been redesigned from the ground up. Compared with the older model the 2.0 is much more modern and sleek. The materials used seem far superior and it truly feels like a designer kettle rather than just a kitchen gadget. Made form high grade stainless steel this is a kettle which will last years! You can tell the design quality even from the lid itself. This sounds ridiculous but when you see it you will understand. Even the click of the closing mechanism and how flush the lid sits with the top of the kettle says quality engineering. Even the base of the kettle has been scaled back to include just one button, on and off. No clutter, perfect minimalism.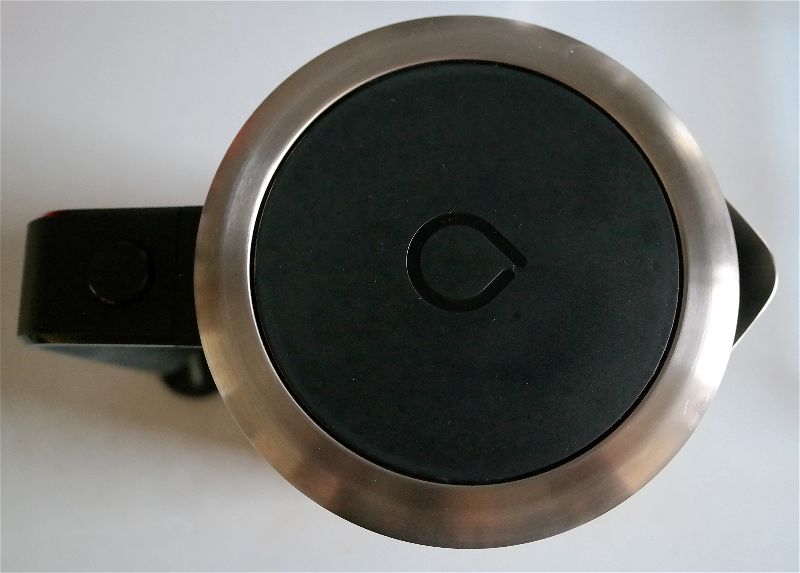 So what all does it do?
The setup is extremely easy. Simply download the Smarter App from the Apple or Android App Store and follow the simple setup instructions and you'll soon be closer connected to your kettle than some of us are with some of your friends.
This is where we get excited. If there was simply an on/off button on the app to allow you to remotely boil the kettle from your phone we would be impressed. But there is now so much more that this kettle can do! The Smarter app has been redesigned from the ground up adding new features and improving old ones. When you open the app you are immediately taken to the kettles control panel (you can also toggle between the kettle and the coffee machine (yes they do a coffee machine too!!!) at the top of the screen). From this control panel you can choose the desired temperature using a central dial. The previous kettle allowed only pre-selected temperatures but version 2.0 allows you to choose the EXACT temperature you want. This is really important for certain types of tea which we will explain later.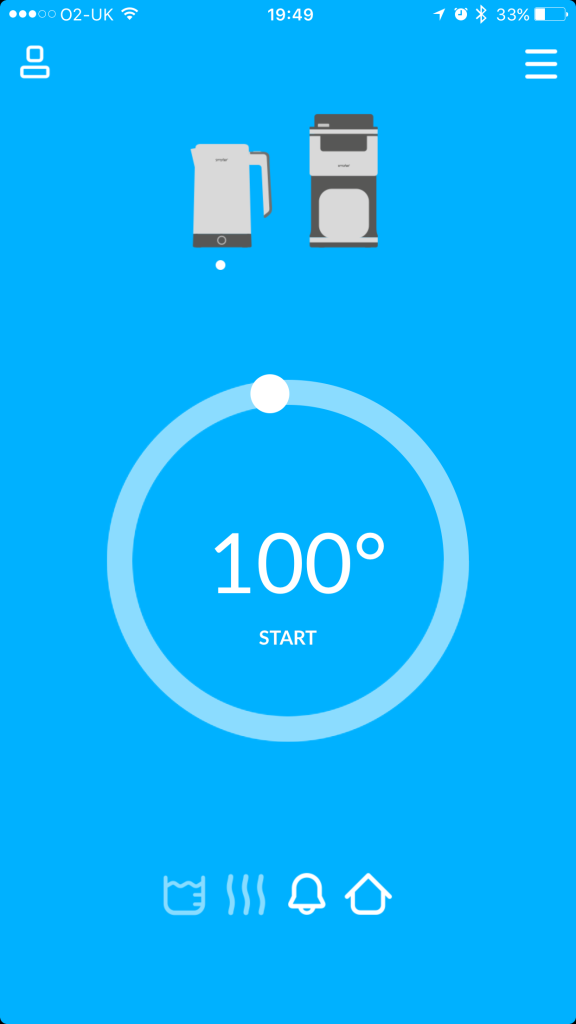 Once you choose your temperature you can press start. The kettle will beep and immediately start to heat up. Our inner geeks love the fact you can watch the temperature rise on the app as the water heats. Something they do not mention much on the website, but we love this feature. Our second favourite feature is the water level indicator. This was a big problem with older version as you never knew how much water was in the kettle before you told it to boil. But that is no longer a problem. There is now a water level indicator built into the kettle which connects remotely to the app allowing you to check the water level at any time. Extremely useful!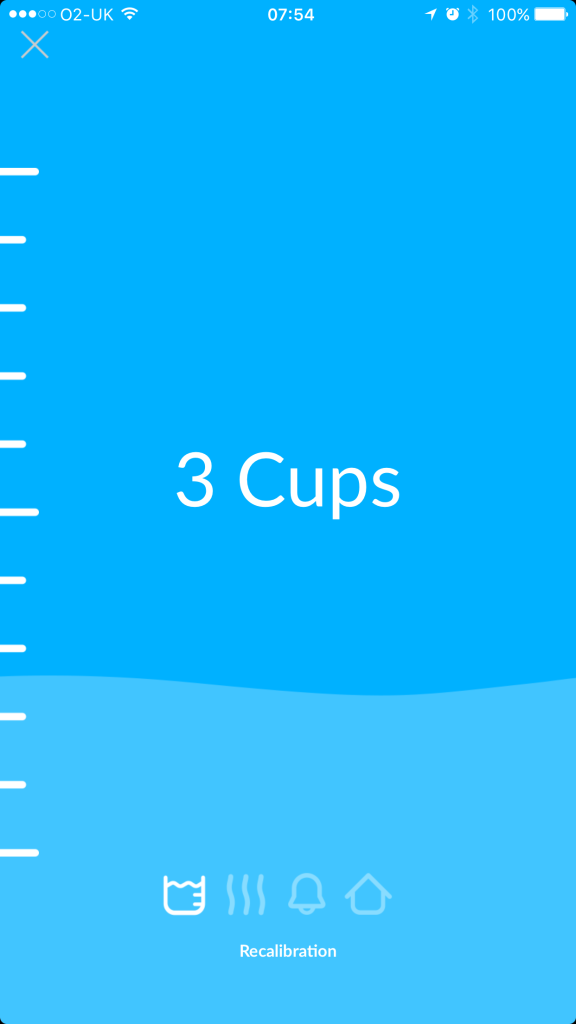 You can also set the kettle to keep the water warm for a set duration of time as well. Another two features which we use daily is the Alarm Mode and Home Mode. Firstly the Alarm mode, once set will pop up on your phone when you wake up asking you if you want to pop the kettle on. I use to think you had to have a butler to get that sort of service! You simply set this alarm time yourself from within the app. The second mode is Home Mode, this as it suggests relates to you arriving home. The kettle will automatically know when you enter your home's wifi network, therefore must be just arriving home and will prompt you if you want to pop the kettle on. Again, something I thought was reserved for those with staff! Another feature which we thankfully do not need to test is the Formula Mode. This mode will boil the kettle and then cool it to the required temperature for baby formula, perfect for those midnight feeding times. (Horror!).
If you happen to be standing beside the kettle, and heaven forbid do not have your phone in your hand you can simply manually press the button on the base of the kettle and it will boil. Very old school we know!
So who is it for?
This is going to be a simple answer. Anyone who can use a mobile phone app can master this Smarter Wifi kettle. From young to old this kettle can provide convenience. From teenagers who want to hide in their bedroom and still be able to pop the kettle on, the busy student, the busy mum, the busy husband, the mobility impaired and even the elderly. We could go on and on. I love the idea of the elderly being able to use this kettle without having to get up out of their chair or bed to have to wait for the kettle to boil. The app handily notifies you once the kettle has boiled too!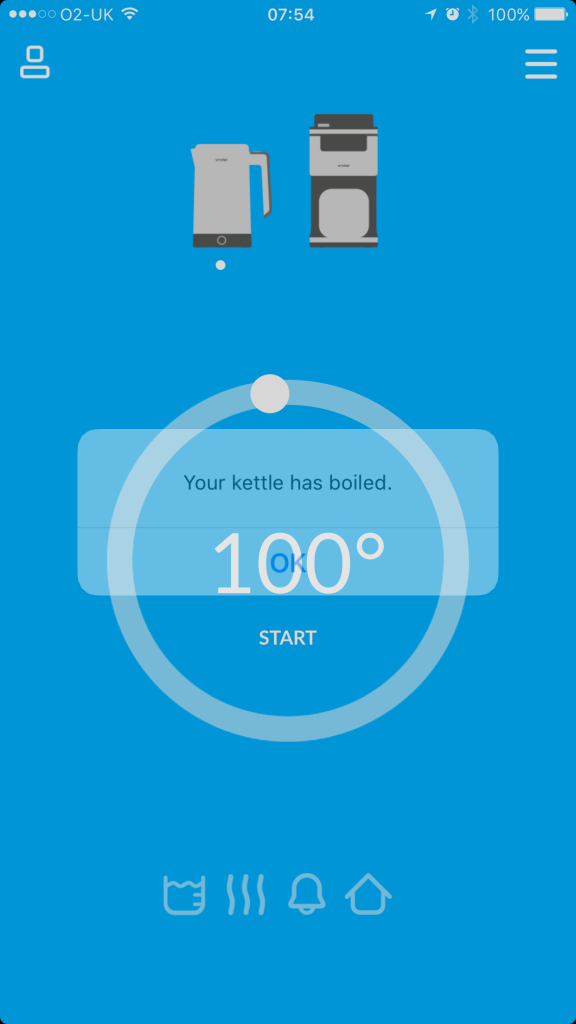 We simply cannot rate this Smarter Wifi kettle enough. And like everything we review we can give you a 100% honest opinion as we use this multiple times every single day. It is rigorously tested (and gawked at in awe by any visitors to the house!).
Teas
So we mentioned tea near the beginning of this review. We haven't forgotten. If you're as big a tea drinker as we are you will know that various different teas require different temperatures to get the most flavour out of them and also not to destroy some of the more delicate flavours.
We work very closely with Adagio Teas. We highly admire their operational beliefs, especially their Roots Campaign. Their Roots Campaign connects their customers with the rich stories and the farmers behind some of their most popular teas. The always ensure the best quality of tea at a great value price. This goes through rigorous testing to choose only the best. They import their teas directly from the countries where they are grown, working closely with the farmers who tend them. There is no middle men, Adagio takes great pride in knowing each of their tea farmers. You can read lots of their stories on their website.
Each of Adagio Tea's packages has brewing instructions. Generally the best ratio of tea per cup is 1tsp for standard tea and around 2tsp for the light and voluminous teas. Generally when you are brewing black, dark oolong and herbal tea the temperature of the water should be 100c. When you are choosing green, light oolong or white tea the best temperature is around 80c. The other important factor is not to overstep the tea. This will make the tea taste bitter and might even destroy some of its benefits. Each pack contains exact instructions but as a general rule 5mins steeping time for black tea, 7 mins for dark oolong and white tea and only 3 mins for light oolong and green tea. This is where the Smarter Wifi Kettle 2.0 comes in. You can be so exact about your temperature you are guaranteed to be able to make the best tasting cups of tea. As tea drinkers (and we mean around 10 cups a day!) this is extremely important to us.
So we'll look at some of our favourite teas and the temperature you need to use for each of them.
Jasmine Phoenix Pearls
This tea is very unique but you have to understand the work which goes into making it
to really appreciate its delicate floral flavours. This tea is prepared by hand by a farmer called Lin Chui in Fujian Province, China. Phoenix Pearls are hand rolled into tiny tight balls which slowly unfurl in a wonderful way as the tea brews. This tea is as smooth as silk to drink and has a delicate aftertaste which is so commonly associated with green teas. This particular tea should be brewed at 90c for best results. So you can choose this exact temperature on the dial within the Smarter App!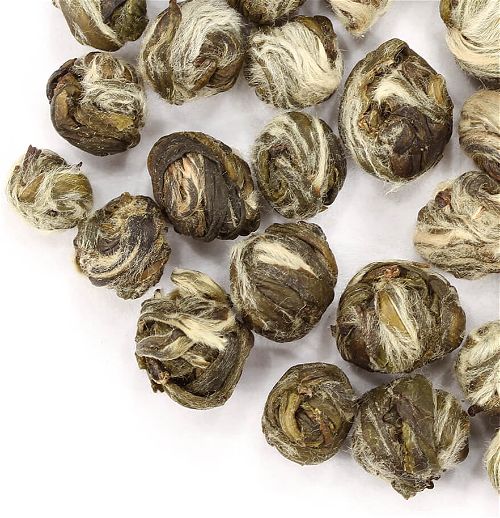 Jasmine Silver Needle Tea
This tea is very special indeed. The amount of work which goes into making this tea taste as sophisticated and enchanting is incredible which is why it is one of the most revered Chinese teas. Gathered over just a few days in early spring this truly is special. The jasmine aroma is added to the tea in a very precise way. When the silver needle tea is collected in the spring it is stored until the summer when the jasmine blossoms begin to bloom at night. Jasmine blossoms are collected and laid on a bed of the silver needle tea which open during the night and infuse the tea with their delicate aroma. The jasmine blossoms are then removed and the process repeated the next evening and the next until the required level of jasmine infusion is obtained. It's very satisfying to drink this tea knowing the amount of work which has went into its production. A very special tea in our opinion. This tea should be brewed at 80-85c for best results. Again you can choose this exact temperature within the app.
Earl Grey Lavender
Earl Grey is one of the most well known traditional British teas. The subtle notes of lavender compliment the delicate citrus flavour of the Earl Grey. Tiny lavender buds are visible in the loose tea leaves. We were at first worried that the lavender in this tea would be overpowering but the flavours compliment each other and work together perfectly. Wake up your senses with this fabulous variety of tea. This tea has quickly become one of our favourite Adagio teas. This is a black tea so should be brewed with water at 100c.