Easter is one of our favourite times of year. We get very excited putting together our gift guides and this is our Easter Gift Guide 2016. We hope this helps you make the decision on what gifts to buy your loved ones. There are some amazing ranges out there this year so we're highlighting the ones we love the most.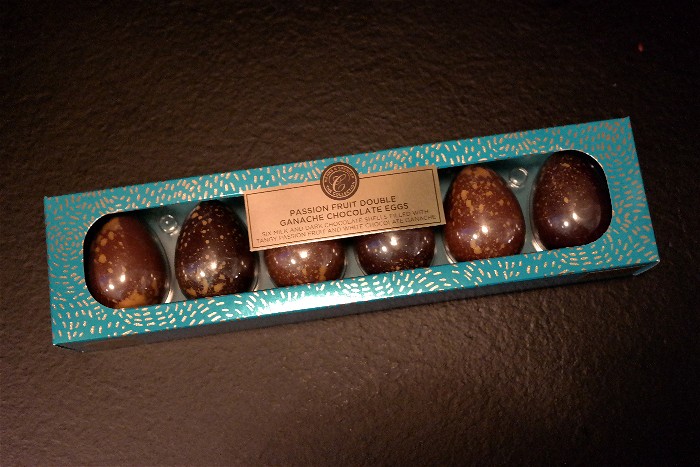 Marks and Spencer
Marks and Spencer never fail to come up with great gifts at Easter and this year has been no exception. There are simply so many incredible items in this years selection from Marks and Spencer's we have chosen just a few to share with you to give you an idea. You can find a full selection in all stores right now. The first item we chose to feature is what we think their highlight Easter egg this year. The Percy, Penny and Piglets Easter egg comprises of two separate eggs in the shape of Percy and Penny Pig. This also includes some mini piglet sweets. We think this egg is a great buy for a couple who love Percy Pigs as much as we do.  The second egg which you will also instantly recognise from Marks and Spencer is the Colin the Caterpillar egg. You'll remember the review we wrote of the Anniversary Edition of Colin the Caterpillar Cake earlier in the year. This egg is great fun. It consists of an egg in the shape of an apple with some Colin the Caterpillar jelly sweets coming out of holes in the egg. A genius design.  Marks and Spencer have also released a beautifully designed Hello Kitty Easter Egg this year. This is a hand decorated hollow white chocolate Hello Kitty shape. Great fun! Marks and Spencer, along with complex and wonderful design always include basic minimalist designs in their ranges. Not everyone loves frills, so they have also included some wonderfully minimalist Made Without Dairy Dark Chocolate Eggs which include felt ears for effect. This is part of their new Made Without Range.  If you want a smaller token gift Marks and Spencer also released a small box of 6 Milk Chocolate Eggs filed with Soft and Fluffy Mallow. These come in a cute egg box shaped container. If you love hide and seek Easter Egg Hunts as much as we do Marks and Spencer have released bags of delicious foil wrapped eggs, the perfect size for Easter Egg Hunts. Also great fun for kids are the Chicky Choccy Speckled Eggs. Not forgetting the jelly sweets Marks and Spencer have again this year included the wonderful Jelly Carrots in their Easter range. If you've had enough of chocolate already this year there is a wonderfully presented and designed cylinder tin of Easter Biscuits. These are all butter fruity biscuits with warming spice flavours.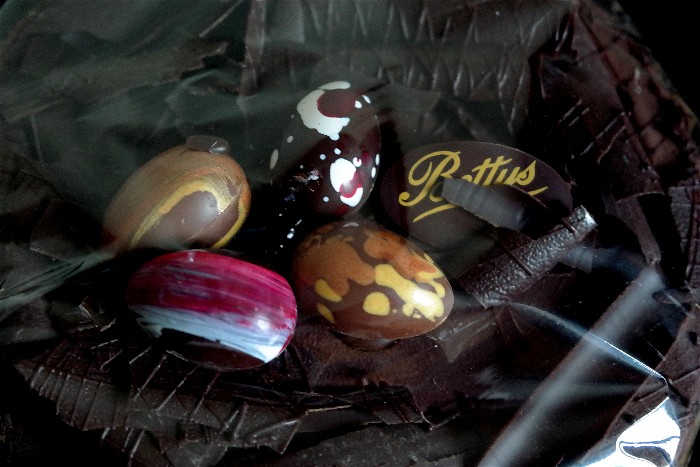 Bettys
We love companies who have long, established and illustrious histories and Bettys is one of those companies. There is a lot of history behind the business and even a little mystery around where the name Betty actually came from! Its far too much to explain here so grab a tea or coffee and pop over to Bettys website to read 'The Bettys Story' about where this fabulous company came from here. Bettys always produce wonderful seasonal ranges and this Easter they have not failed to disappoint. We made the difficult decision and chose to feature two of our favourite items. We have browsed their fabulous selection of Easter treats and decided to feature. The first item is something we consider essential in our house at Easter, a cake. Normally we feature a cake like our Simnel Cake Recipe but we know some people don't like marzipan. So this year we are featuring Bettys New Chocolate Easter Nest Cake which as the name suggests is a wonderfully dense, intensely rich chocolate cake with chocolate ganache and raspberry preserve, decorated with a nest of dark chocolate curls and colourful ganache-filled chocolate eggs. Bettys also always have a wonderful range of Easter Eggs and this year is no exception. We love the Bettys New Brazilian Single Origin Dark Chocolate Easter Egg for its modern and minimalist design. Crafted from cocoa beans grown sustainably by family businesses in the coastal rainforest of south-eastern Brazil, this 72% cocoa chocolate offers a unique flavour with intense coffee and bittersweet orange notes. If you're looking something a little more traditional why not try Bettys Milk Chocolate Chick Egg. Children will love this handmade Swiss milk chocolate egg, decorated with an enchanting white chocolate chick. If you're looking for a smaller gift why not consider the New Little Chocolate Lambs. A quartet of loveable spring lambs, each handmade from milk and white chocolate with milk and dark chocolate faces.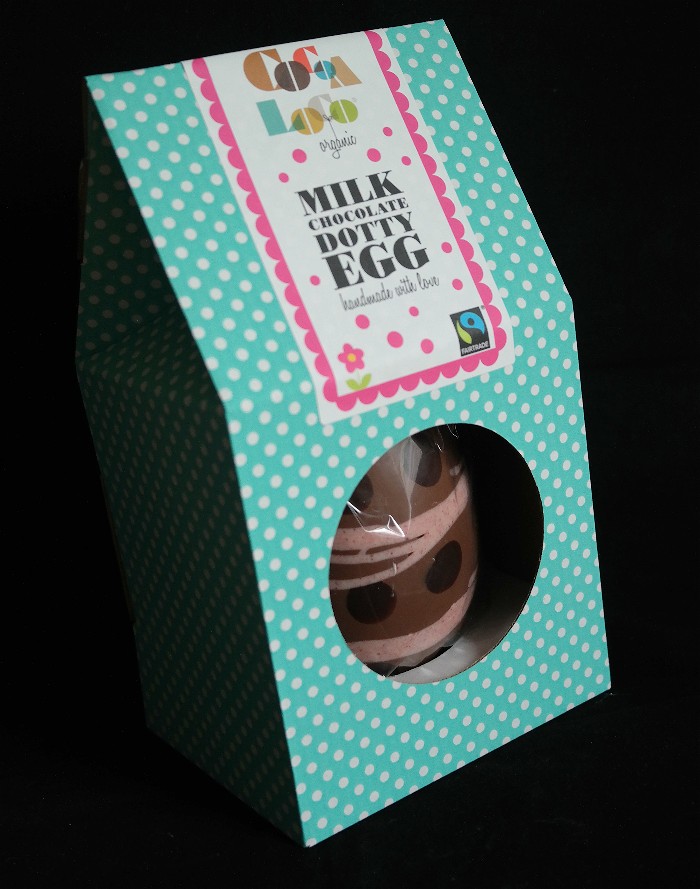 Cocoaloco
Cocoaloco is one of those special chocolate companies where you know a lot of love and passion goes into the crafting of their chocolates. All Cocoaloco's chocolate is organic; they even use packaging which makes minimal impact on the environment. Sarah and Rory of Cocoaloco set out to make their company "build a premium treat reputation around words like approachable, affordable and genuine choice" and they have certainly done that! With a new website this year Cocoaloco's range is even easier to order and browse through. We selected just a few items from the Easter range. The first item is the Raspberry Spot Easter Egg. This is a great handmade egg made with milk and raspberry chocolate and filled with chocolate buttons. We always love Cocoaloco's solid chocolate animals which they create every year. This year we have chosen to feature the Marbled Chocolate Chicken which has a new appearance this year. Made with organic and fair trade chocolate mixed together to create a marbled effect. If you're looking for something a little smaller why not consider the Dark Chocolate Easter Mini Eggs which come in a cute transparent egg box shaped container. Containing 12 handmade rich, 'oh so solid' 73% dark chocolate mini eggs are perfect for sharing.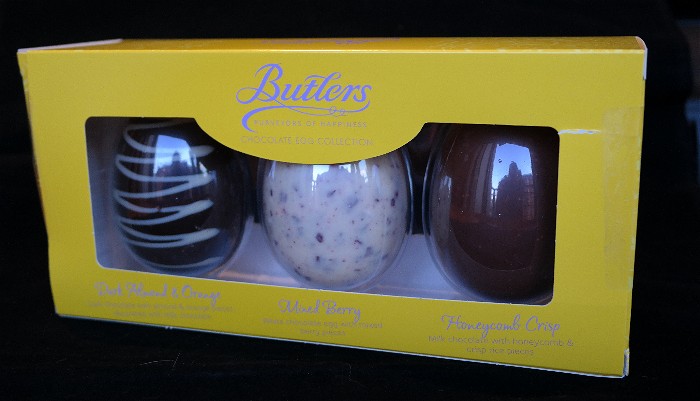 Butlers Chocolate
Butlers Chocolate is Ireland's favourite luxury chocolatier for over 80 years, being originally founded in Dublin in 1932 by Marion Butler and then bought in 1959 by the Irish Sorensen family who still own 100% of the business today. Butlers Chocolate takes pride in their heritage, even offering
the 'Butlers Chocolate Experience' which allows you to see behind those secret chocolate factory doors. This years Christmas range contains a lot of classics, but classics done exceptionally well. This Easter we picked some key items to feature which caught our eye. The first is the beautifully presented Large Green Wrapped Egg, With Mini Eggs, this is a wonderful milk chocolate egg filled with a selection of mini eggs which are themselves filled with caramel, dark truffle or vanilla truffle fillings. There is also a Dark Chocolate Medium Wrapped Egg with Mini Eggs for those dark chocolate fans out there. We're always fans of a bunny or two at Easter and we absolutely love Butlers Milk Chocolate Rabbit with rather cheeky expression on its face! Very cute! If you simply cannot make up your mind on what egg you like, or you simply love chocolate so much why not try Butlers 5 Chocolate Egg Box which contains 5 different eggs to try including honeycomb crisp and dark chocolate and almond eggs. If you're looking for a smaller Easter gift Butlers have got you covered too. Why not try their very cute Egg Tin which is full to the brim with assorted truffles or their Large Assorted Chocolate Eggs Stick, a long tube filled with 20 filled chocolate egg truffles.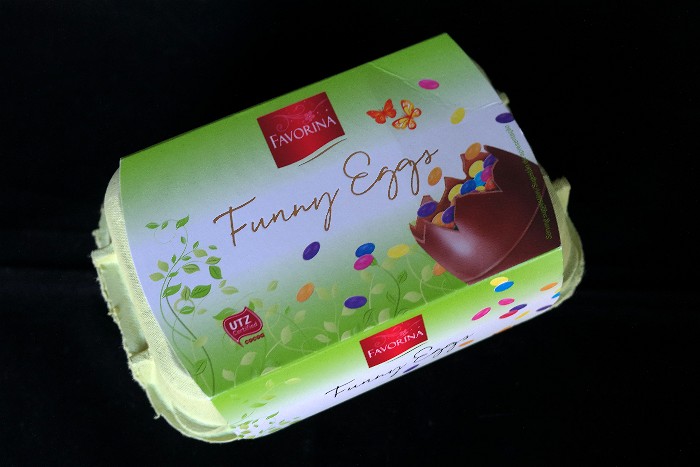 Lidl
We're always excited to see what treats Lidl release for holidays and Easter is no exception. We first spotted two of their Deluxe range of Easter Eggs. The two being showcased this year are the absolutely delicious Eton Mess, a luxurious Belgian white chocolate Easter egg. This egg is loaded with tangy strawberry and crunchy meringue pieces and their Fudge Feast Easter Egg. We also love their Chocolate Easter Hen and very cute Chocolate Easter Bunny. We also spotted a real egg box filled with Funny Eggs. These are delicious milk chocolate eggs filled with chocolate pieces in sugar coatings. Great fun for kids and perfect for Easter Egg hunts. Lidl are great at coming up with unique holiday treats and this easter is no different. We absolutely adore their Chocolate Lamb which is made with melt in your mouth white chocolate and finished off with a ribbon and bell around its neck. Not forgetting the smaller items too, we spotted a wonderful selection of Jelly Sweets in various forms as well as a cute little box of ladybird sweets.