Fitbit Charge HR Activity Tracker Competition
Fitbit Charge HR Activity Tracker Competition
EUROPE Only
Its competition time again at BakingBar! With the summer fast approaching and people getting back into their running and fitness schedules after the long winter we thought this would be the perfect opportunity to collaborate again with our friends at Fitbit. So we're giving you the chance to win one of their amazing Fitbit Charge HR activity trackers! We featured this amazing tracker in our Christmas Gift Guide 2015. The Charge HR effortlessly syncs with your smartphone via Bluetooth so you can always see at any given time how many steps you have taken towards your daily goal. Or for a constant update you can simply give the device a quick tap and it will show the number of steps you have taken, another quick tap to see miles, another to see flights of stairs climbed, fitbit calorie tracking etc. all customisable via the app. The Fitbit Charge HR activity tracker also of course acts as a watch, with a gentle wrist movement to look at your wrist automatically showing you the time. Charge HR uses motion detection to detect how much you move during the night, so come the morning you can look at a graph and see how much of the night you were restless and how much you were sleeping like a baby. Maybe it's just us but we love statistics! Unlike earlier devices, the Charge HR has automatic sleep detection so you don't need to tell it you're going to bed. Charge HR has a continuous heart rate monitor built in. We actually saw them being used on Ghost Adventures a few weeks ago too, to measure how nervous the investigators were getting. Of course the main purpose for this is for tracking health and fitness. The Charge HR also tracks the number of flights of stairs you climb (which is more than you think to count!). Oh and of course the Charge HR also has caller ID built in as well so you can see who is ringing you. If you're not lucky enough to win a Fitbit Charge HR Activity Tracker in our competition don't worry this guide to the best budget activity tracker will help you find the right fitness tracker for you.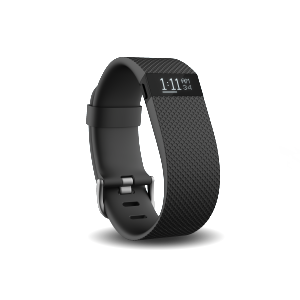 The prize consists of : 1 x Fitbit Charge HR (RRP £119.99) (colour may vary)
Competition open from : 12th April – 17th May 2016 (Midnight)
How to enter:
There are two steps which must be completed –
Step 1 – Either Simply Like both Fitbit UK and BakingBar's Facebook pages to enter.
Step 2 – Enter your contact details below to complete your entry and acknowledge you have completed step 1. The selected winner's entry will be validated by checking they have completed step 1.
***BONUS ENTRY FOR FOLLOWING INSTAGRAM, PINTEREST or SNAPCHAT!***
[promosimple id="9666″]
The boring bit (T and C's):
One winner will be selected at random from all correct entries received. Anonymous entries will be exempt from the competition. The winner will be announced within 7 days of the closing date. The prize consists of : 1 x Fitbit Charge HR Activity Tracker (RRP £119.99) (colour may vary) as detailed above, supplied directly from BakingBar. There is no cash alternative. This competition is open to European residents only. The winner has 2 weeks from when they receive the acknowledgement email to supply their contact details or the prize will be forfeited and an alternate winner will be chosen. Delivery will be within 28 days of BakingBar receiving the winner's address. Any details collected by competition entry are kept private and not shared with any third parties except where entrant have consented to subscribing to both BakingBar and Fitbit UK newsletters, where name and email information is shared only with Fitbit UK and BakingBar. Entrants consent to the storage of their personal data for ascertaining the identity of the respective winner.