BakingBar Top Chefs Interview – Tom Aikens
As part of the series of Baking Bar Top Chefs Interview – Tom Aikens – We had the opportunity to interview the wonderful Tom Aikens about his experiences with cooking and what makes him tick.
Tom has always been passionate about cooking from a young age and has seen him travelling to various countries as well as appearing on TV programs such as The Great British Menu and the Good Food Channel. Tom is also the owner of a series of restaurants, Tom's Kitchen located at Chelsea, Somerset House, Canary Wharf , St Katharine Docks and Istanbul !!
You can find Tom on Facebook and Twitter. You can also find Tom's Kitchen on Twitter.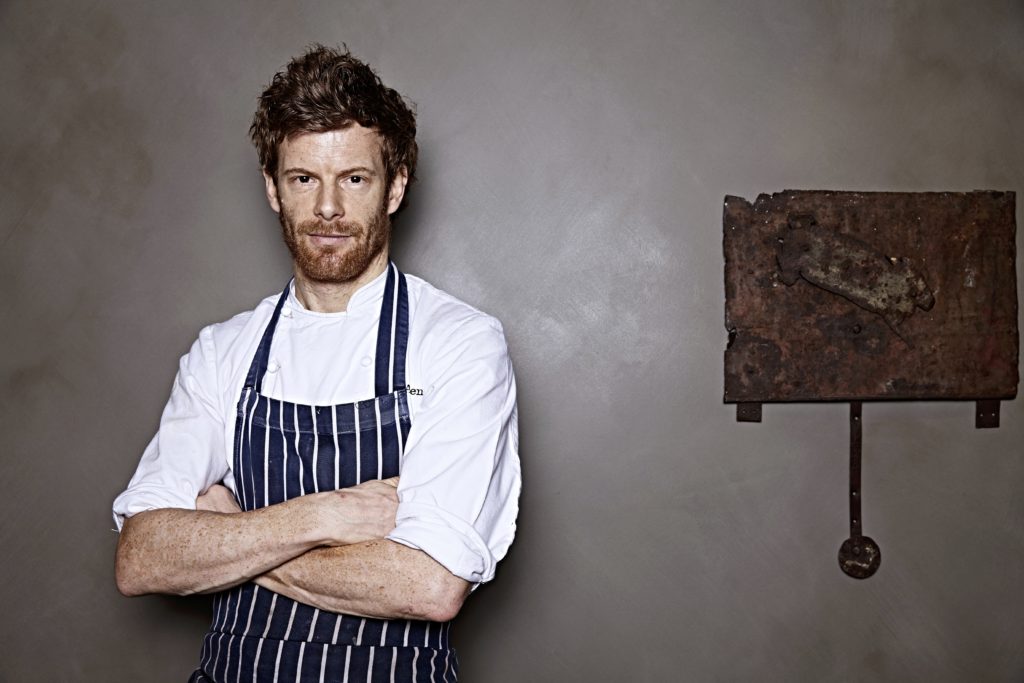 When and from whom did you learn about cooking? Do you have any early memories of something you enjoyed cooking?
My mother was definitely a key element in my decision to become a chef. In fact, for as long as I can remember – probably the age of 8 or so – my twin brother and I were helping her out in the kitchen. She would involve us in making cakes and home baking, or just weighing things out, but we were always on hand to help to lick out the occasional sticky raw cake mix that was left in the bottom of the bowl. I have a very vivid memory of her making milk bread on the weekends and always home roasts, which were always delicious, then finished off with a nice homemade apple pie.
Where did it all begin? What was your first job in a professional kitchen and how do you think this helped get you where you are today?
I  must  have  been  approximately  13  years  old  when  I  seriously  decided  to  become  a  chef.  I was terrible at school and knew that I did not want to be stuck in an office behind a desk. As a result, I left school at 16 and enrolled at Norwich City College Hotel School, one of the best catering college in the UK.  An Advanced Catering Diploma  later, I went straight to London and  sent  my  (small)  CV  to  about  30  different  hotels  and  restaurants.  Everyone came back with the same answer "sorry not enough experience, try again in three years' time!" David  Cavalier  was  the  first  one  to  give  me  a  commis  position  in  his  Michelin-starred restaurant in Battersea, London. I had to work for free for the first 6 months before he would give  me a  job so I had to prove that I was good and  hungry  enough  for  it. I then went onto work with a whole host of different chefs in London and France, including Pierre Koffmann in London, Joel Robuchon in Paris and Gerard Boyers in Reims.  At the age of 26 I had the great honour to become the youngest British chef to be awarded two Michelin stars.
What is one of your favourite ingredients to use in your dishes and why?
I'm passionate about cooking with fresh seasonal produce, I love going to markets and meeting with our suppliers to see what is on offer. I also like baking bread at the moment, at home I'm always baking sour dough – practise makes perfect!
What is your favourite dish to cook? Do you have a favourite that you like to eat yourself?
My favourite thing to make is making bread, well sour dough infact, I find it very relaxing and rewarding. The favourite thing I like to eat is Probably a charred Steak med rare with béarnaise sauce and triple cooked chips.
What regional dish stands out to you and should represent your country? What do you think makes dishes in your region unique from others?
Well there are some classics like fish and chips, Shepherds pie, Lancashire hot pot, Apple crumble, sticky toffee pudding. We have many so its very hard to just stick with one.
I would say that it's the produce in each region that makes the dishes unique, also  we are very lucky to have the ever changing seasons in the UK that gives us such a varied and interesting array of produce to choose from.
Have you ever cooked for any celebrities or famous faces?
We have had a few in Toms Kitchen and Tom Aikens over the year to name but a few, Prince William & Harry with Kate, Christian Bale, Dennis Hopper, Matt Damon, Sacha Baron Coen. Then Bill Clinton, Eric Schmidt ect ect
Do you have any funny or embarrassing kitchen stories to tell?
Plenty but they remain secret
Is there a celebrity chef who inspires you or has inspired you from the beginning of your career? Why does this person inspire you so much?
The two chefs that really shaped my career were Pierre Koffmann and Joel Robuchon, both very different chefs, one was all about the flavours and tastes on the plate and the other was really about the precision and details, and of course tastes as well. They both also had amazing produce. So my style is a bit of both of them to be honest. I love the intricacy but it has to have the good flavour as well.
Do you have any final advice for someone just starting to cook?
They must be passionate, caring, hardworking, dedicated and most importantly they must have the ability to look, watch, listen carefully and follow orders. You will be surprised at how difficult listening is for some. Always dress smartly, work cleanly & in an organised environment as then you will create top quality results. It takes a lot of determination, hard work and self-belief. You have to have a game plan and set goals for the future. Be patient and persevere – sometimes working as a chef involves taking steps backwards and forwards to get to where you want to be.