Freakshakes and Coffee at Ground Espresso Bar Belfast
We heard rumours that absolute monsters of milkshakes appearing in Belfast so we investigated more. We found that Ground Espresso Bar in Belfast had added them to their menu recently. OhhSocial arranged for us to visit the coffee shop to experience these for ourselves.
Join up to OhhSocial with us and you'll get a years membership for £10! How can you beat that!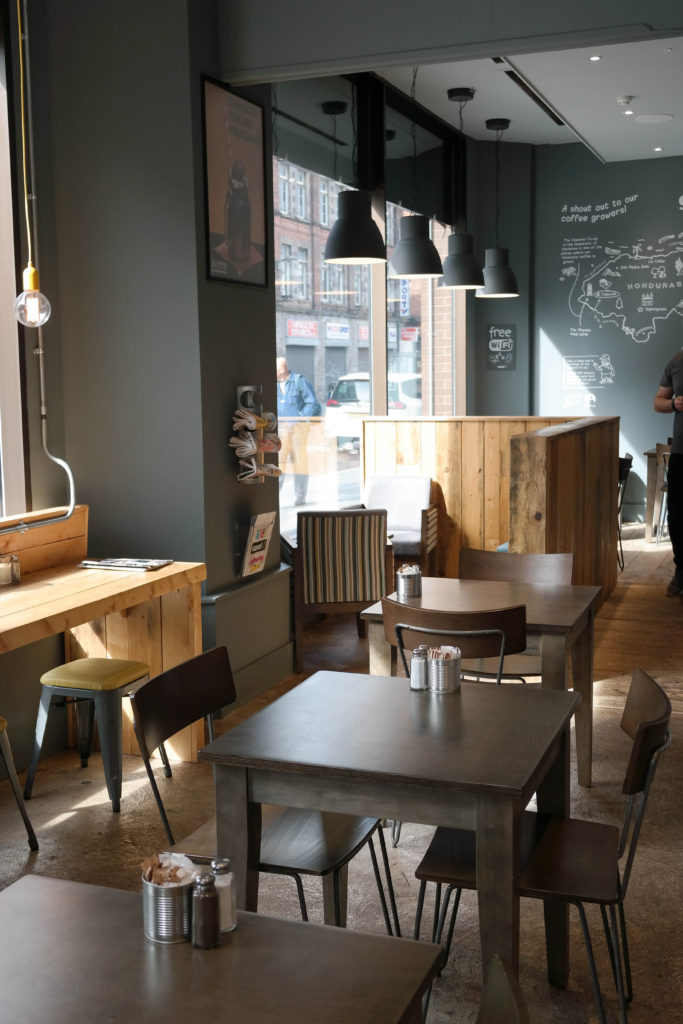 For anyone who has not heard of OhhSocial before this is a great new app which has arrived in Northern Ireland. Offering great discounts on Wine & Dine, Health & Beauty, Leisure & Attractions and Kids Activities. The selection is really huge. All their exclusive offers are buy one get one free on a multitude of different things in each location. All this for a simple fee of £18.99 for the rest of 2016. What a bargain! We've used it loads ourselves already, and saved more than the app cost on in one use and we'll be showcasing some of the restaurants and locations over the next few weeks.
Are you ready to start saving? Download the app today.
iTunes: http://apple.co/2b98nFF
Google Play: http://bit.ly/2aceI2e
So back to our visit to Ground Espresso Bar. We were sent to the new coffee shop in the chain on 42 Queens Street, Belfast.  This branch has not long opened so its all shiny and new still. Don't you just love that! Located near the front of City Hall it is in the perfect location for those quick coffee runs when your caffeine levels are running a little low. Ground is a family run business established in 2001. Their goal was to provide a haven for our customers where comfort, friendship, happiness, quality and ethics become synonymous with our name. byJove, I think they've done it!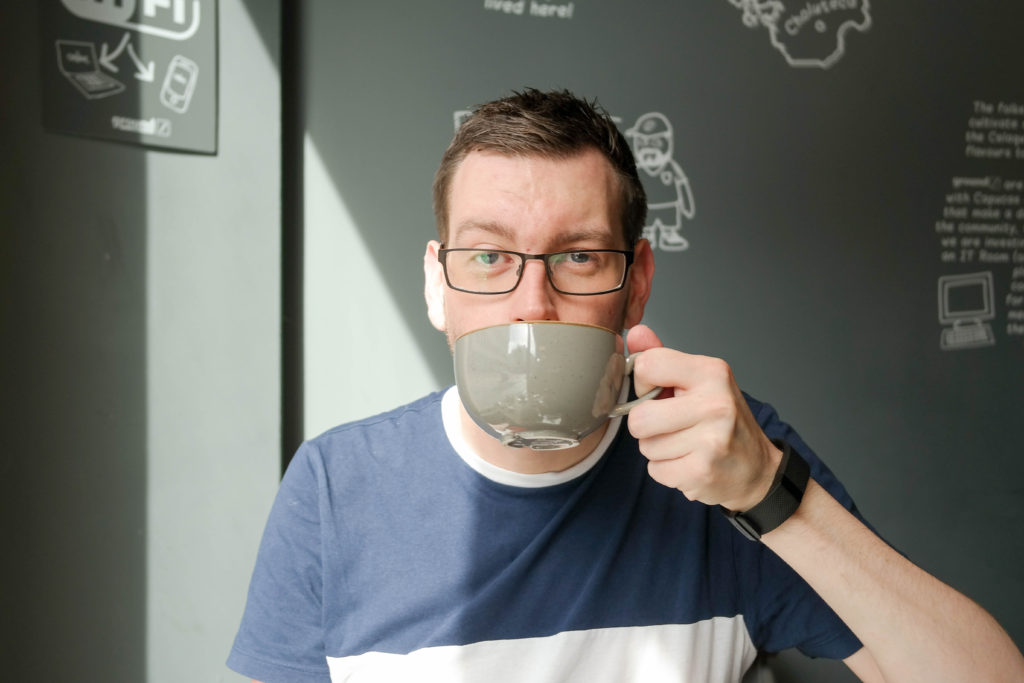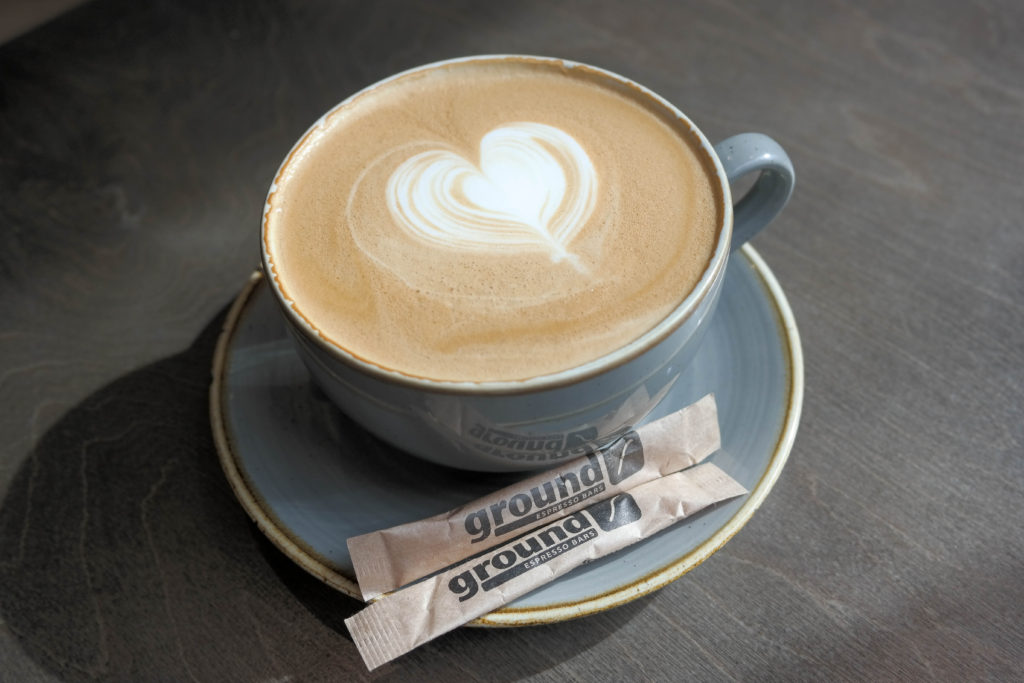 We'll lead up to the legendary Freakshakes, don't want to blow your minds too soon!
We decided to do what everyone should do in a coffee shop, start with a coffee. Our excellent barista Caolan severed us a wonderfully arty Cappuccino. Lots of froth, just how we like it. The barista's were very keen for me to know about their very special brew bars. They're hugely proud of them! A state-of-the-art Brew Bar using the new Marco SP9 Brew Stations and bespoke custom-made espresso machines from Synesso in Seattle. The only one in Northern Ireland we're told!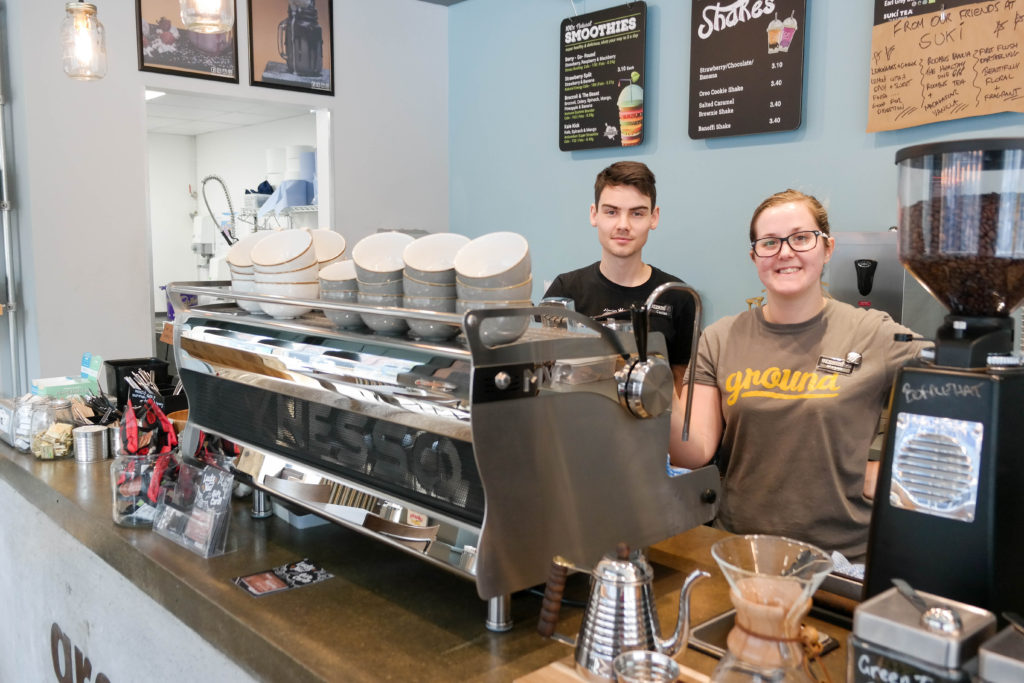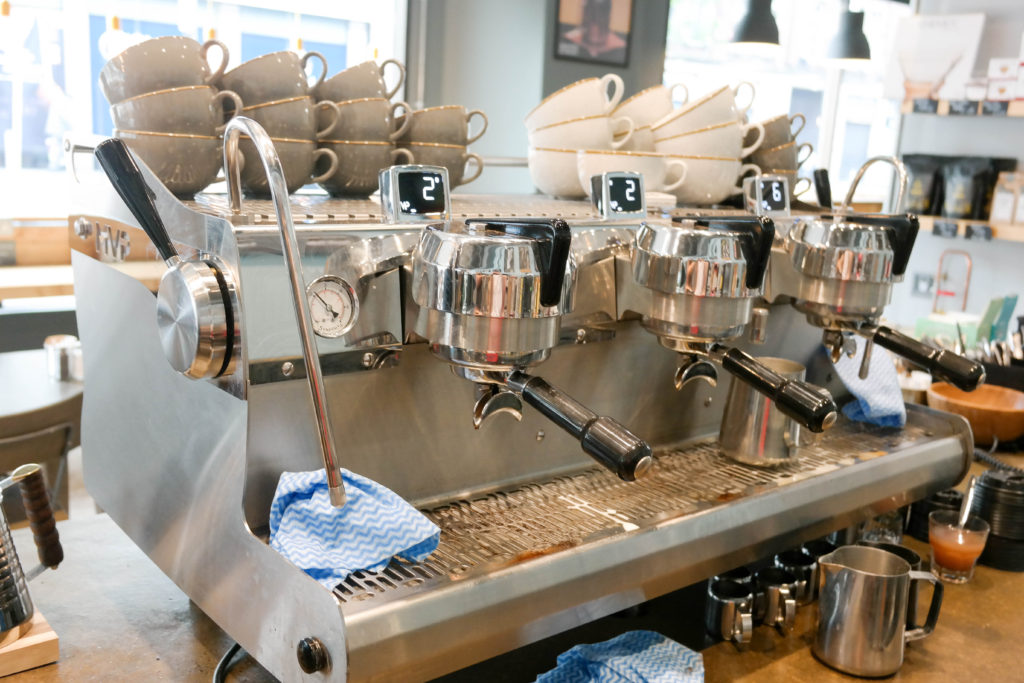 Ground Espresso Bars recently launch their exclusive Bobble Hat brew to add to their range of signature blends. Co-Founder of Ground, Darren Gardiner described some of the coffee's characteristics: "We've knitted together a blend of three individual coffees from Brazil, Honduras and Indonesia in our unique, new, one of a kind espresso blend. It's got an aroma that hints at freshly baked bread with doughy wholemeal notes and the cereal theme continues in the taste, leading to fruit and citrus on the finish, and a pom-pom on top!"
Karen, the director of Ground added: "We're committed to improving the quality of life in our coffees' country of origin, so it was very special that our coffee farmer Omar joined us on the day that we release the new blend, Bobble Hat, which originates from Brazil, Honduras and Indonesia."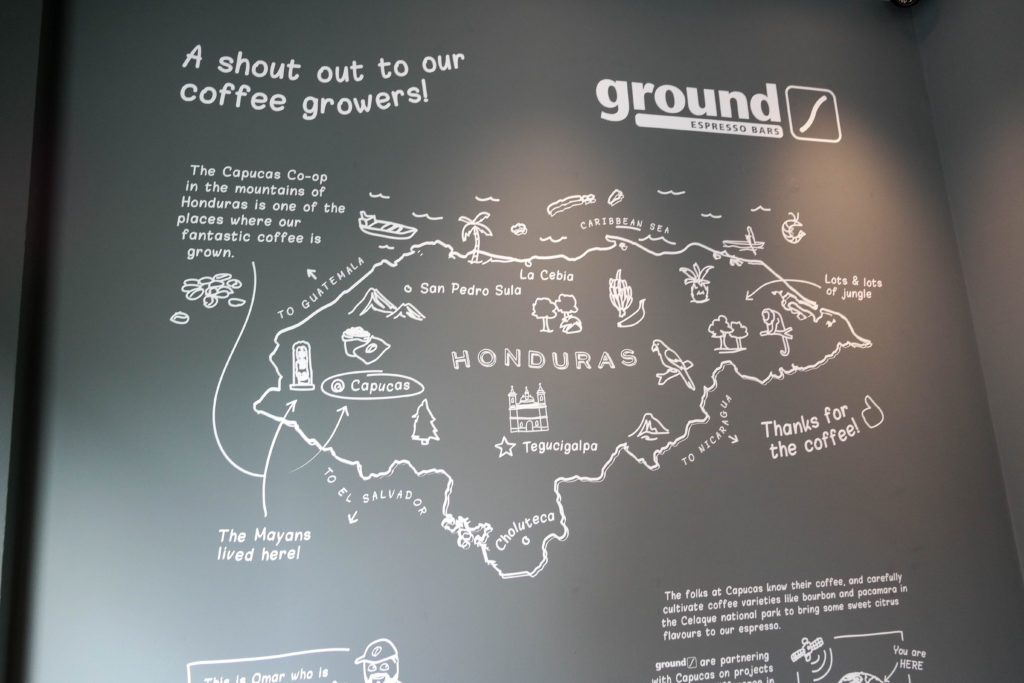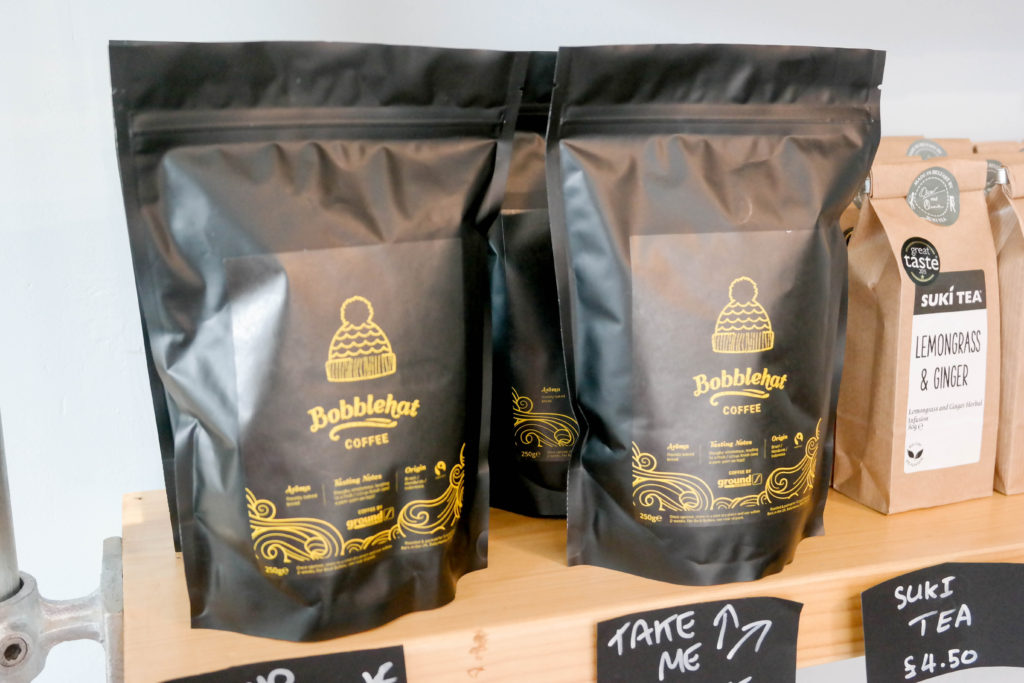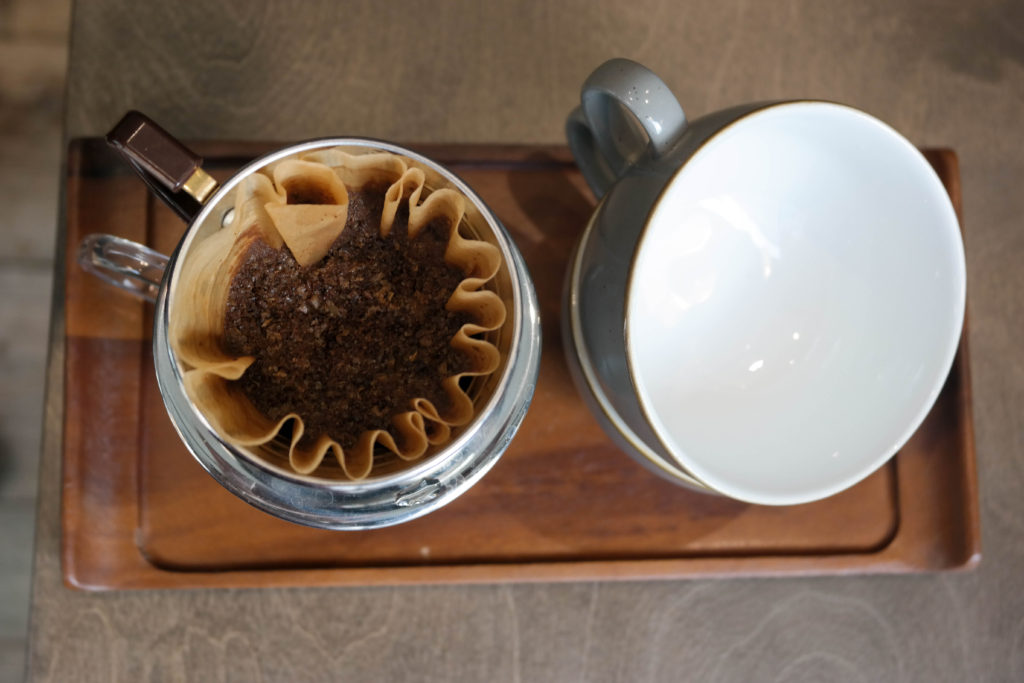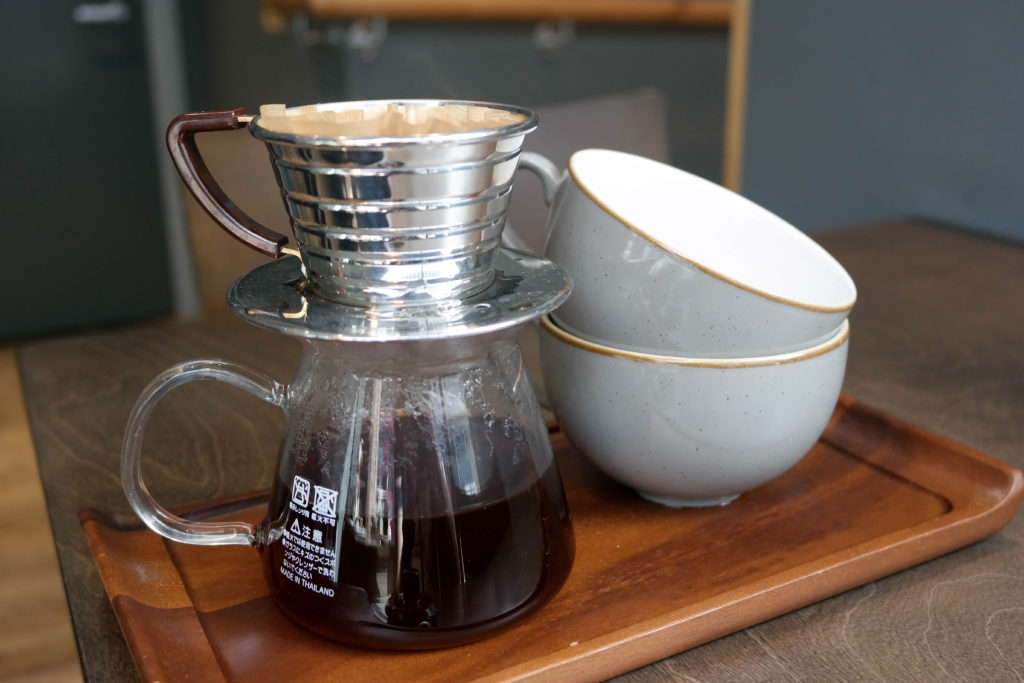 Moving on swiftly to the sweet snacks! We almost move swiftly towards anything with cake! Ground have a great selection of sweet treats. But after recommendations from the wonderful barista Megan we opted for their famed Salted Caramel Brownies. These are mmmmmmmm inducing brownies. No really, its a little embarrassing to make mmmmm noises when you're sitting in a coffee shop but you can't help it with these!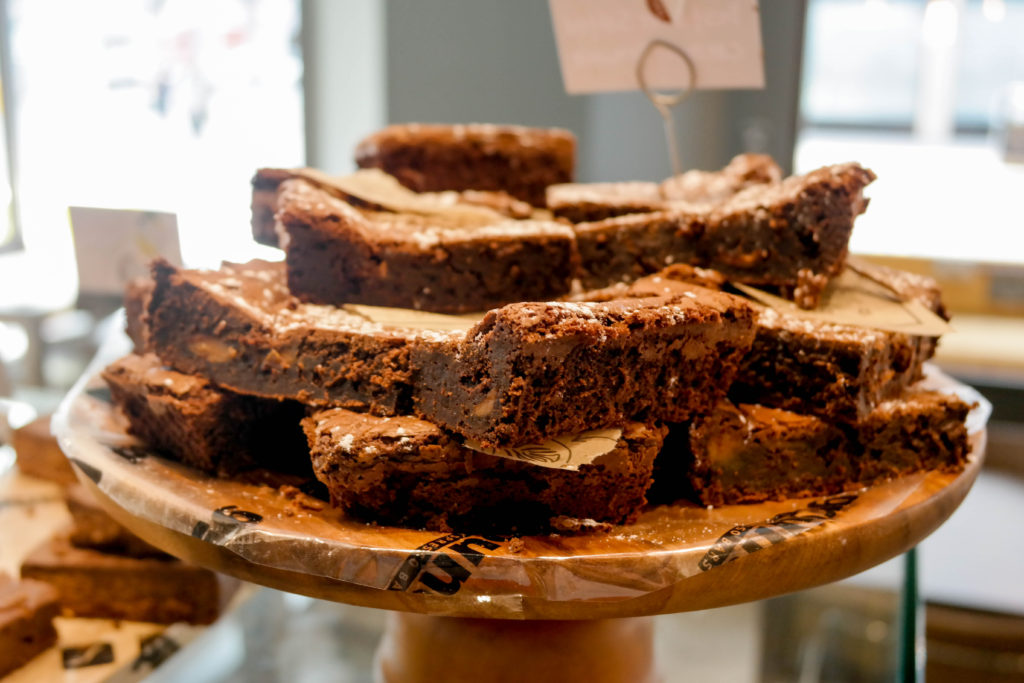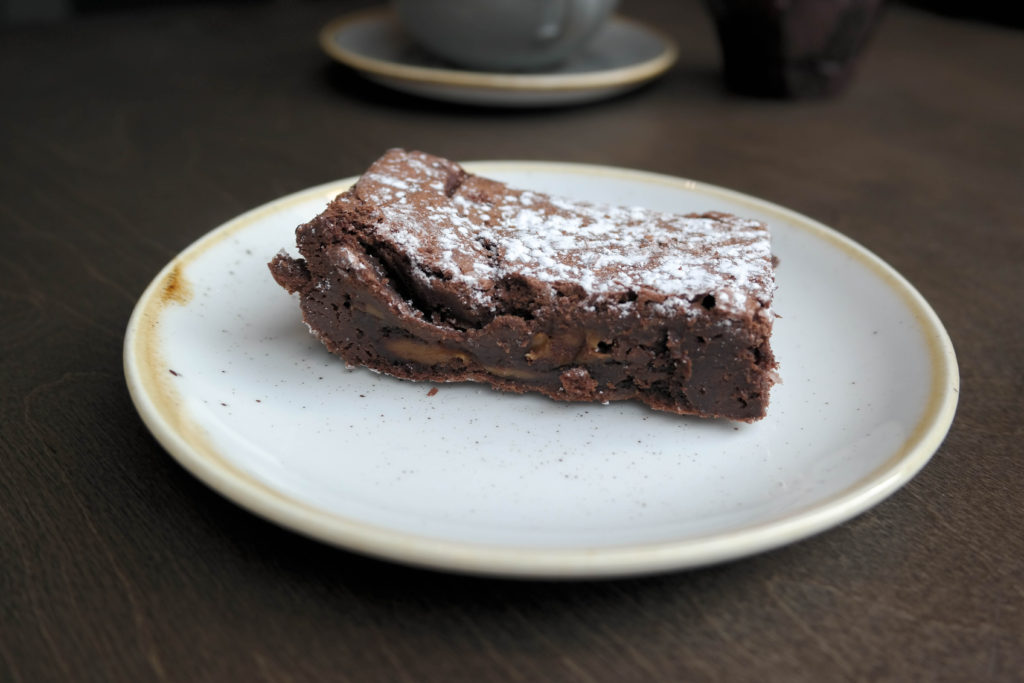 We then opted to a Raspberry and White Chocolate Muffin which we thought went perfectly with our coffee made using the Kalita Wave coffee brewer. This uses a drip method of brewing but instead of dripping itself, a constant pressure needs to be applied to the water to create a constant flow. It's an art, and its delicious! Back to the muffin. This was one of the most moist muffins we have ever tasted. The raspberries really contributed to this, plump juicy raspberries  and chunks of white chocolate.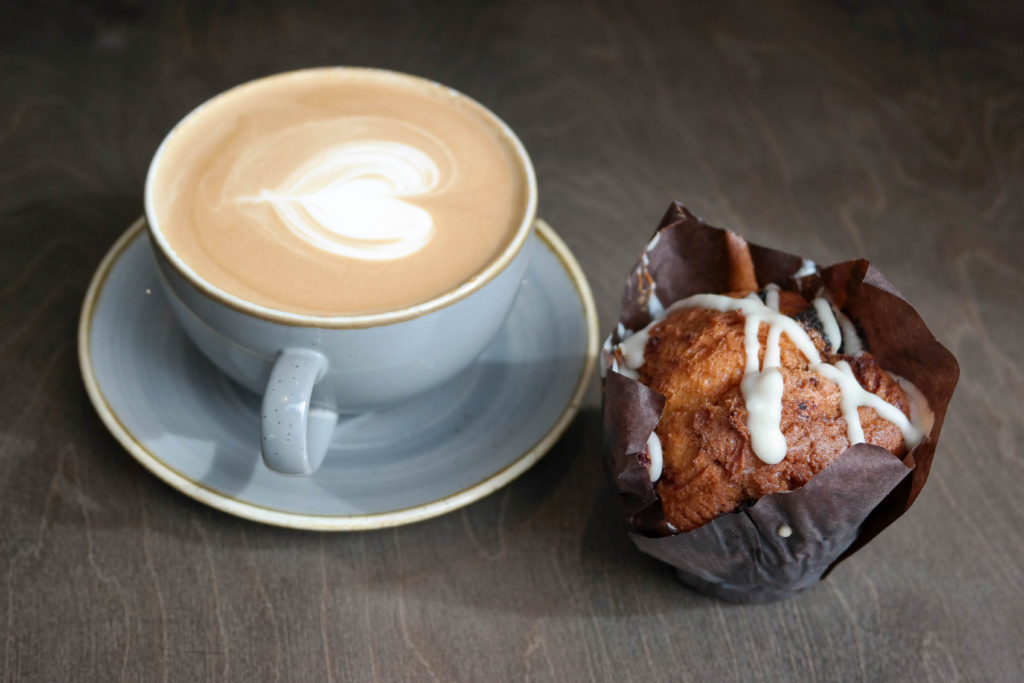 If you visit on lunch, fear not, Ground have a huge range of mouth watering sandwiches. We didn't try one when we visited but we took the liberty of grabbing a quick picture to share the selection with you. <insert tummy rumble noises here>.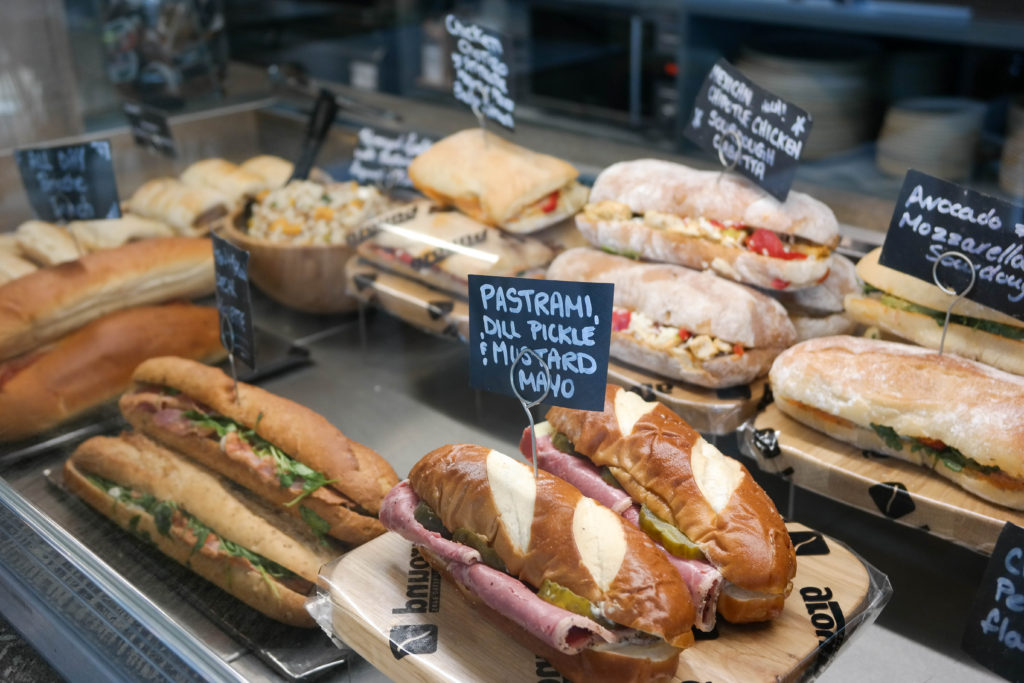 The Freakshakes!
Now, the showstopper! FREAKSHAKES. These appeared a few years ago but this was our first experience with them. We've seen them on Instagram, Pinterest and everywhere in-between. We were not prepared for what was placed in front of us. It was both a work of art and an absolute monster. Dripping, oozing, bubbling. We opted for the Salted Chocolate Brownie Freakshake. Which as the name suggests uses their signature Salted Caramel Brownie. Megan transformed this into a milkshake, topped with ice cream, cream and brownie pieces. Served on a wonderful artisanal slate with accompanied sliced salted caramel brownies dusted with icing. SUGAR! Needless to say our productivity peaked for a few hours afterwards. These are certainly a treat to be enjoyed on any special occasion. Share one with a friend, or brave one by yourself. What will you do?