BakingBar Top Chefs Interview – Nathan Outlaw
As part of the series of Baking Bar Top Chefs Interview – Nathan Outlaw – We had the opportunity to interview the inspirational Nathan Outlaw about his experiences with cooking and what makes him tick.
Nathan runs his self-titled two Michelin star restaurant, Restaurant Nathan Outlaw, in Port Isaac, Cornwall. As well as his restaurant The Capital Hotel in London and The Mariners Rock public house also in Cornwall.
You can find Nathan on Twitter.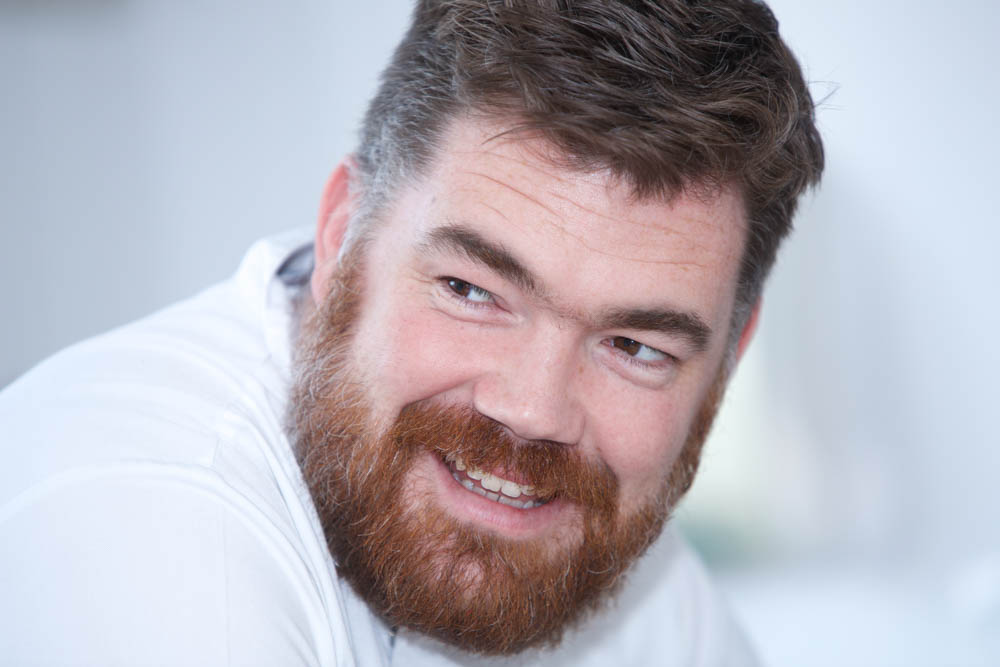 When and from whom did you learn about cooking? Do you have any early memories of something you enjoyed cooking?
Like most kids, I started cooking at home with my Mum.  At first it was just rolling out bits of left over pastry but then I graduated to making rock cakes and fairy cakes.  There's real skill in getting the wings just right on a butterfly cake!  I also used to help out in my Dad's industrial kitchen traying up sausages and flipping toast.  That's where I realized I liked the buzz and teamwork involved in a busy kitchen.
Where did it all begin? What was your first job in a professional kitchen and how do you think this helped get you where you are today?
When I was 15 I started helping out in the local pub kitchen and at a local golf course at weekends.  However, my first 'real' job was at the Intercontinental on Hyde Park Corner under the late Peter Kromberg.  It was a steep learning curve but I learnt so much.  I had the opportunity to learn from fantastic chefs from around the world so I was exposed to many different cuisines.  It was a great start for a young chef.
What is one of your favourite ingredients to use in your dishes and why?
I've always used various vinegars to balance dishes.  I think they're underrated but they can make such a difference to a dish.  Most people think vinegar is just for chips but they're so wrong!  I also use verjus often.  It's an old-fashioned ingredient that's making a comeback it's much gentler than vinegar and has a more subtle result.
What is your favourite dish to cook? Do you have a favourite that you like to eat yourself?
Barbecued mackerel, good bread and butter, simple salad.  There's nothing quite like mackerel straight from the sea and cooked over coals.  It's so good it needs nothing else but a decent chunk of good bread and butter to soak up all the juices and a simple leafy salad to serve alongside.
What regional dish stands out to you and should represent your country?
It has to be a proper Cornish pasty.  And not one of those manufactured by a huge industrial bakery.  The real ones are made by artisan bakers; well filled with tender slow-cooked meat, potato, onion and swede, encased in shortcrust pastry and just a bit peppery.
What do you think makes dishes in your region unique from others?
The ingredients.  We have access to the best fish, meat, cheeses and vegetables in the country in Cornwall and it really does make a difference.
Have you ever cooked for any celebrities or famous faces?
Yes, many, but they wouldn't thank me for telling tales about them so I'm naming no names.  Most are lovely and have a genuine love of, and respect for what we're doing.  At the end of the day, all our customers are treated the same.  It makes no difference who they are or what they do, they are our customers and we want them to enjoy their time with us and remember the experience fondly for a long time to come.
Do you have any funny or embarrassing kitchen stories to tell?
I have to admit that my dish of Oyster Cured Mackerel was a complete accident.  I came in one morning to find that some bright spark had put some oysters in the fridge in such a way that the juices had spilled out overnight onto some mackerel fillets below.  It should have been a disaster but, the salt in the oyster juice had reacted with the mackerel and cured it, thus creating a dish that revisits our menu time and again and is really well received!
Is there a celebrity chef who inspires you or has inspired you from the beginning of your career? Why does this person inspire you so much?
Two.  Rick Stein who has a genuine love for food and an amazing knowledge about it.  Working with him as a young chef I leant so much and realise now that his insistence that I just prep fish for a whole year gave me an excellent grounding.  Also, the late Keith Floyd who loved food, did things his own way no matter what and had fun doing it!
Do you have any final advice for someone just starting to cook?
Watch, listen and ask questions.  Also, get out and meet the producers.  You can't do ingredients justice if you don't know where they're from and how they get to you.