Organic Seed and Bean Chocolate Bars Review
We're never ones to turn down the offer of chocolate. We were absolutly delighted when Organic Seed and Bean asked if we wanted to try some of their chocolate bars. We hope you enjoy our Organic Seed and Bean Chocolate Bars Review. We're also giving away one of their huge Ultimate Chocolate hampers in our latest competition. So don't miss out on that!
The Business
Seed and Bean was founded in June 2005 based on the concept of creating an ethical chocolate bar range. Focussing on Organic Ingredients Seed and Bean pride themselves on using small scale suppliers who they get to know in the process of doing business. This is very important as it allows them to observe the issues and challenges they face. Seed and Bean themselves have a wealth of 25 years worth of organic cocoa production to share with any struggling farmers. We think this is so important as larger businesses or corporations take little interest in the farmers direct issues.
Seed and Bean chocolate is produced here in the UK. It isn't imported from somewhere far away. It is produced locally in Northamptonshire, England. This is very important to them as it helps reduce food miles as well as helping local employment. A huge plus I am sure we can all agree on. Seed and Bean also pride themselves on being green. You can read about all their amazing initiatives and how they help their suppliers on their About Seed and Bean page.
The Bars
So lets get down to business. What chocolate bars are available. First of all we have to comment on the packaging. Packaging is a big part of us choosing food whether we like it or not. We are naturally attracted to beautiful colourful packaging, we just can't help it. Seed and Bean have went for a kaleidoscope of colours to showcase their many (and growing) range of flavours. I am sure I am not the only one who slowly opens beautiful chocolate bars so as not to rip the packaging?!

Oh and did we mention…..a lot of their chocolate bars are Vegan. Which is excellent news for some of us. Great tasting chocolate AND it's vegan. What's not to love!
The Flavours
We'll start with three popular flavours which are not vegan.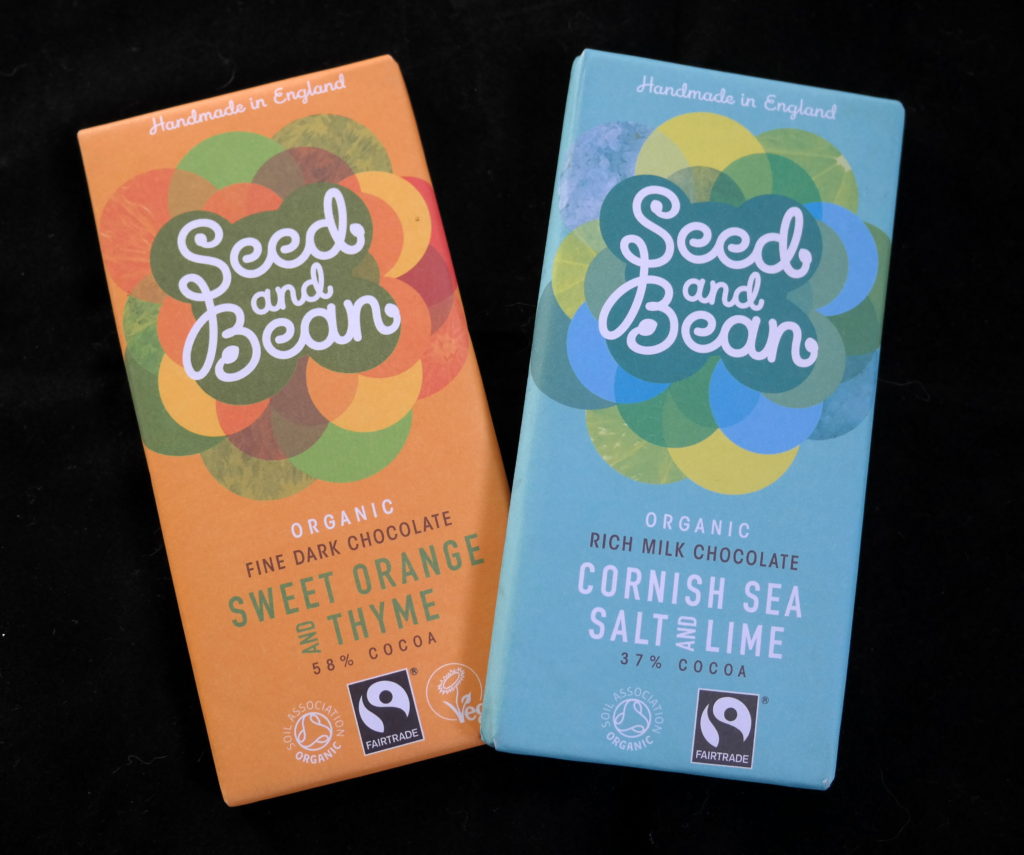 This bar is 58% cocoa. Made from The Dominican's finest selected Trinitario cocoa. 100% ethical accreditation from The Ethical Company Organisation. We love orange and dark chocolate. They just go together so well. Hence the lack of Jaffa Cakes in our house. The addition of the peppery flavour of the thyme just adds to this wonderful flavour combination.
This bar is 37% cocoa Milk Chocolate which is perfect for this flavour. The sweet creamy texture of the chocolate compliments the sharp flavour of the lime and the additional of salt just enhances all those flavours. Only slightly salty but just enough!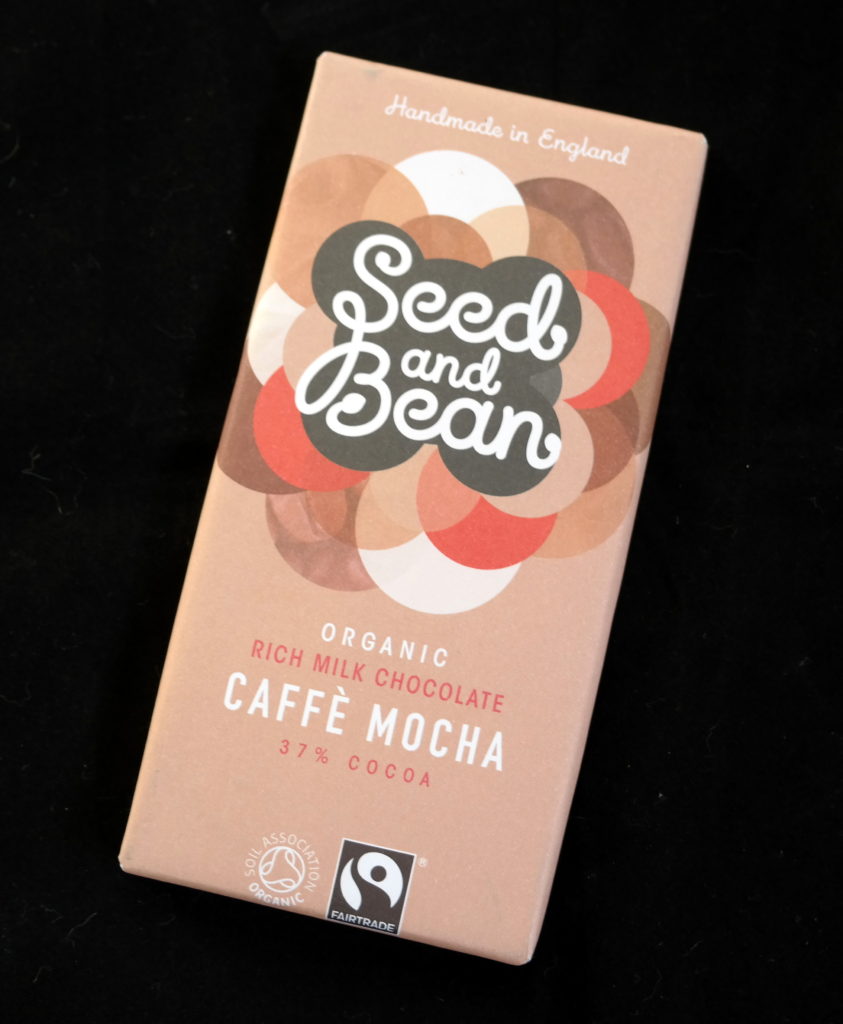 Made with Made from The Dominican's finest selected Trinitario cocoa. 100% ethical accreditation from The Ethical Company Organisation. This is one of our favourites. We're huge coffee fans so this isn't a huge surprise. However this milk chocolate bar goes beyond most others. Smooth and creamy just like a Mocha with just a hint of coffee. Again, just enough coffee. This isn't an overpowering coffee flavour.
Now lets move on to the vegan range. There are some amazing flavours to explore here! We'll start with our favourites first.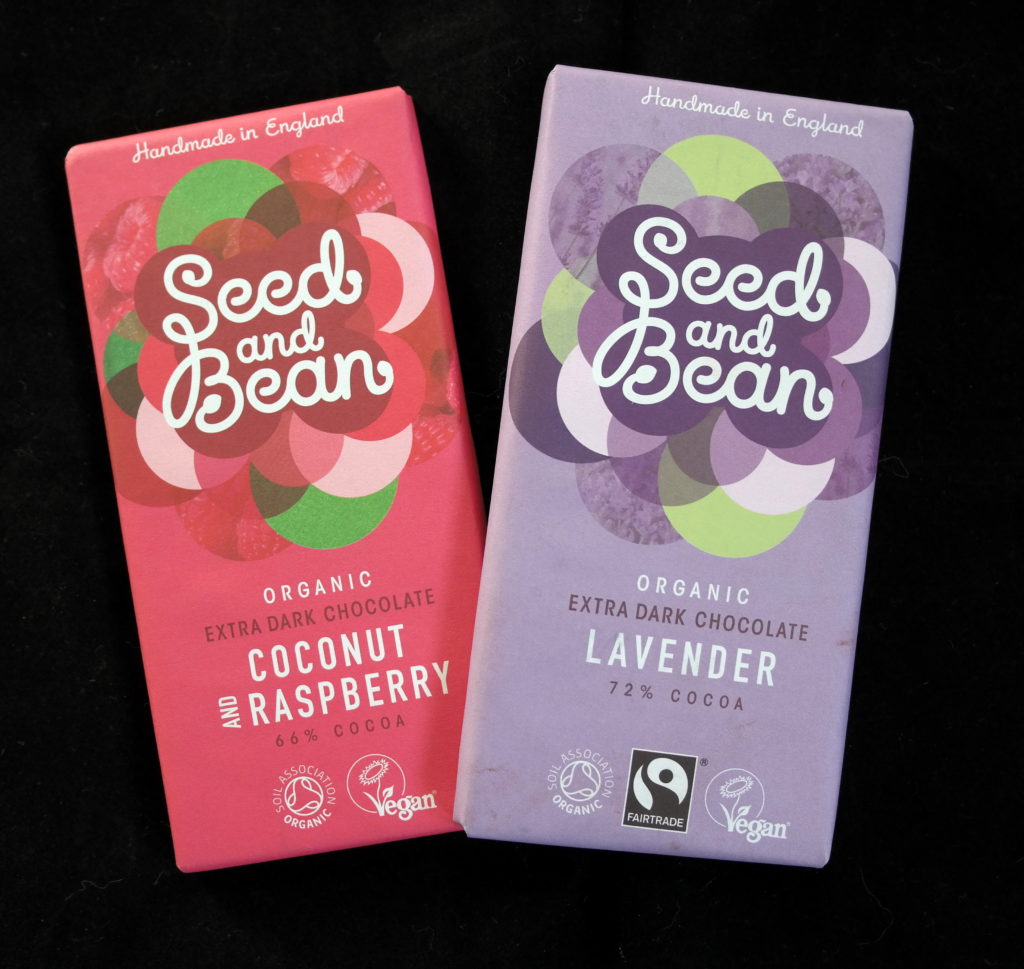 This is an extra dark chocolate bar with 66% cocoa. This bar is made with infused Philippine coconut oil and almost 40 crushed organic raspberries, blended with cocoa from Sao Tome, West Africa. Sounds exotic doesn't it? It is! This bar is a flavour explosion. The coconut and raspberry harks back to one of our favourite local recipes for Jam and Coconut Sponge.
Made with 72% cocoa this is extra dark chocolate. We find the darker the chocolate the better it works with lavender flavour. Lavender is a very powerful flavour so it works well with the bitterness of extra dark chocolate. Experience a subtle blend of Dominican cocoa, delicately infused with aromatic French lavender oil.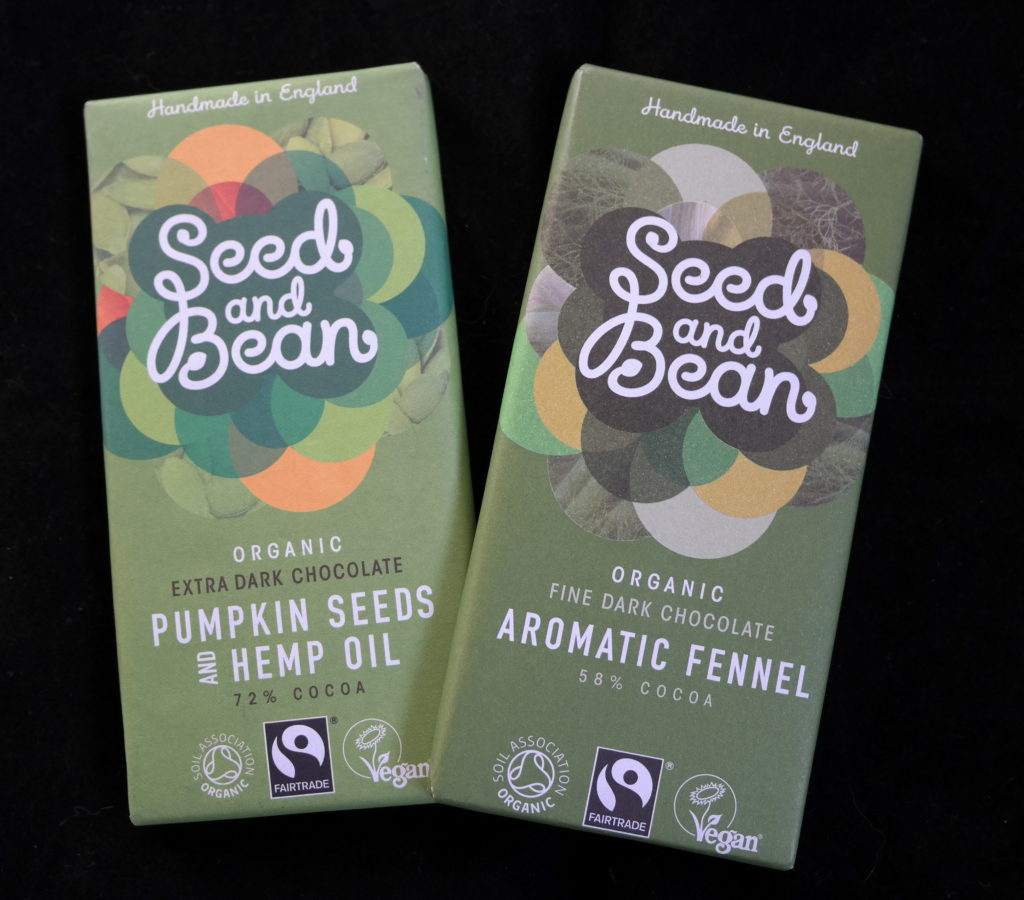 Crunch into this gently air-roasted whole pumpkin seed extra dark Dominican cocao bar, that's gently infused with organic Canadian hemp oil. This is an another extra dark chocolate bar. But this works excellently with the toasted pumpkin seed flavour. An indulgent bar to sit down with a great movie. Incredibly moorish.
This bar might not be for everyone. If you love the flavour of liquorice then read on. This is a really flavour packed bar. Made with 58% cocoa and with a powerful taste of liquorice from the fennel it works well with the dark chocolate. Not a bar to eat all at once but one to savour.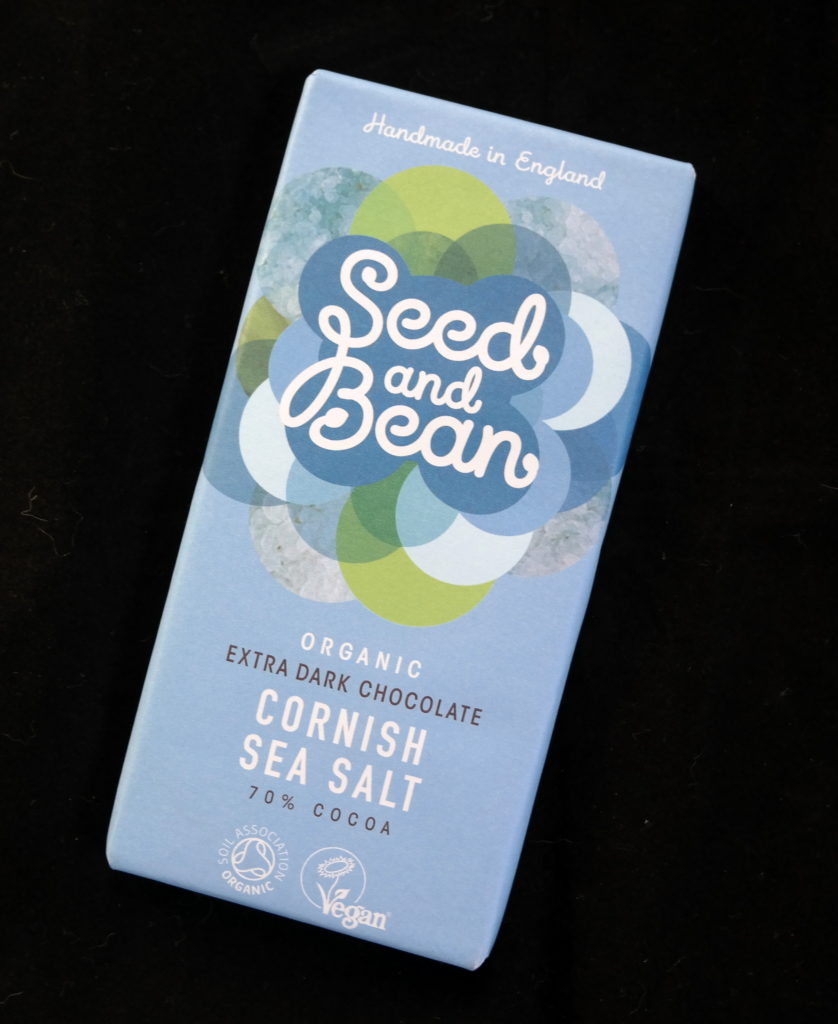 Made with extra dark 70% cocoa. Dive into this new classic, made from rare Ecuadorian 'nacional cocoa' beans, blended with smoked sea salt harvested from the clearest of Cornwall's 'Grade A' classified waters. This is a real classic. One of our favourites. This bar has you coming back for just one more square, just one more. A very subtle smoky flavour from the smoked sea salt. But just enough to give this bar a complex and delicious flavour.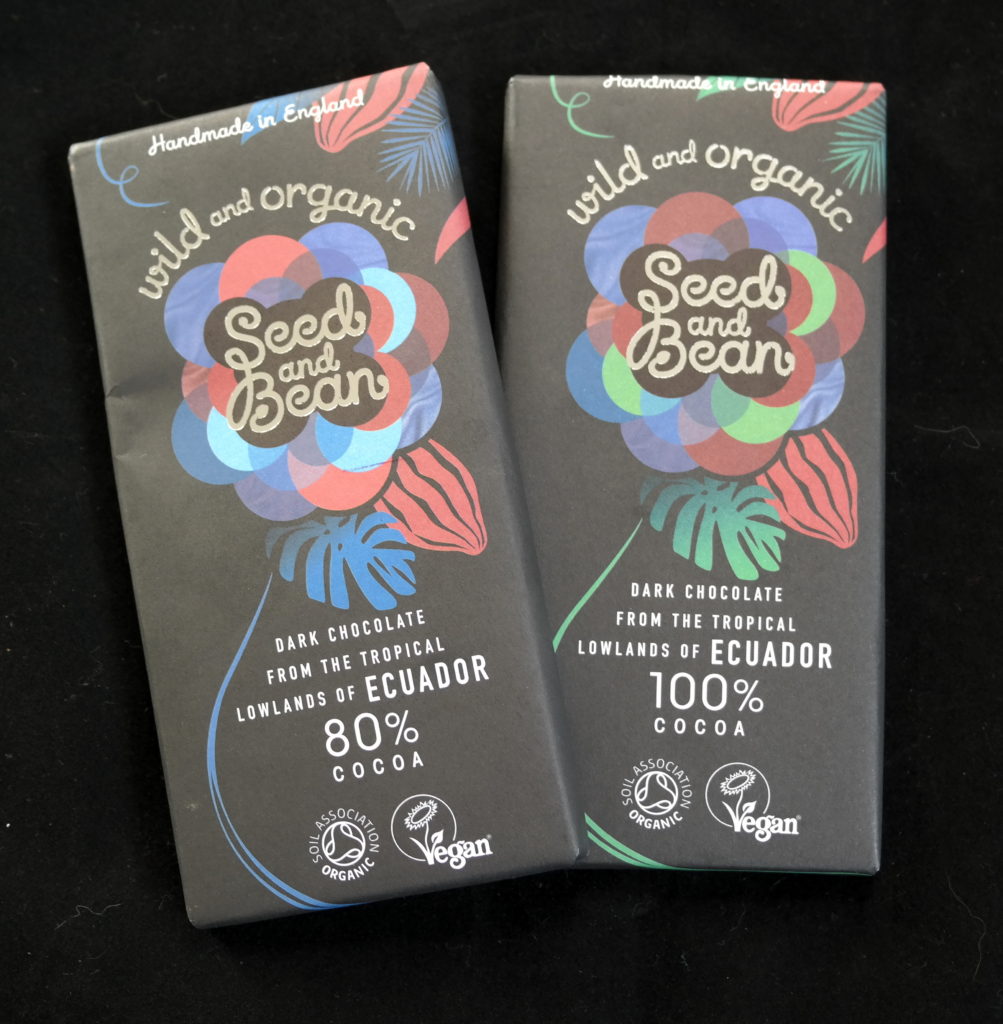 We'll finish with these two extra special bars. Available in both 80% and 100% cocoa. These are for the serious chocolate connoisseur. Not bars to eat all at once. But to enjoy every square one at a time. Made exclusively with premium cocoa beans grown in the tropical lowlands of Equador, one of the most biodiverse countries on Earth. The 'Arriba' variety brings an unequalled depth of both aroma and flavour. Only working with organic cocoa beans, which whilst costing a little more, helps provide for the 396 farmer families their deserved share of the entire process, through our new partnership in Equador. For special occasions we cannot think of a better chocolate bar to celebrate.