Its time for Bake for Heroes 2017 ! TV star Lorraine Kelly is calling on Britain to get out the aprons, wooden spoons and mixing bowls to help the annual Bake for Heroes campaign smash the million-pound mark.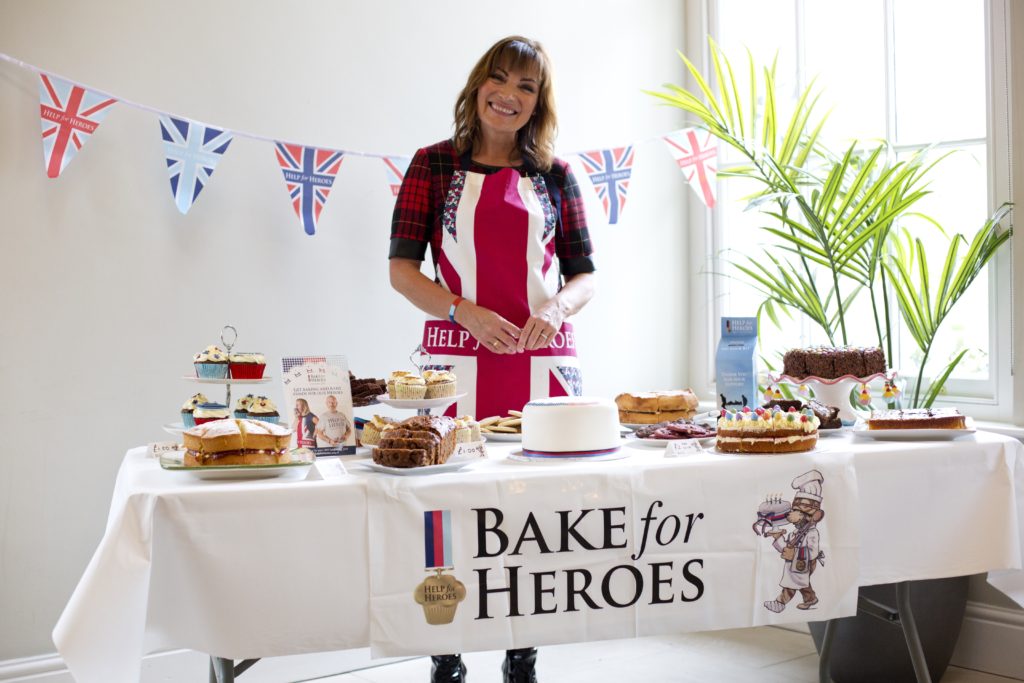 Supporters of all ages and all around the UK have cooked up more than £850,000 for Help for Heroes (H4H) since the Bake for Heroes fundraiser began in 2009.
Now, as H4H prepares to mark its 10th anniversary in October, Lorraine says this year is the perfect opportunity to rise to the occasion and make the 2017 event the biggest ever.
The ingredients for success are simple – supporters simply sign up for a free fundraising pack through H4H to bake cupcakes, sponges, biscuits, flapjacks or whatever tasty treat they fancy, and sell them off to colleagues, family and friends.
All money raised goes to H4H supporting wounded, injured and sick personnel, veterans and their loved ones.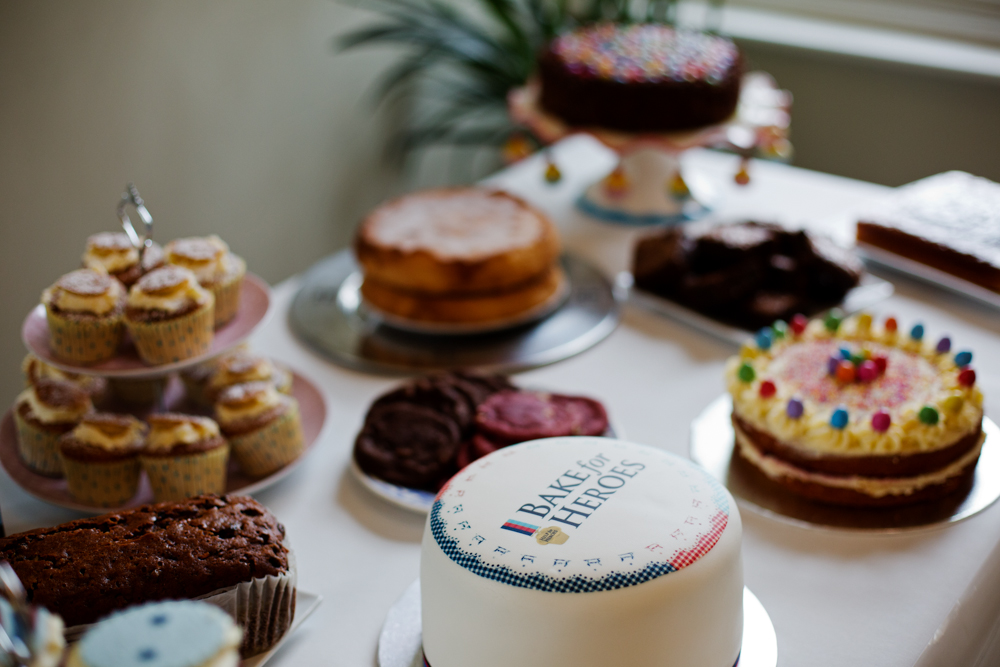 The Bake for Heroes campaign runs between April 15 and April 30, but supporters can take part whenever it suits them.
Lorraine said:
"I'm so proud to be a Patron of Help for Heroes. Every time I sit down and talk to our brave men and women, they tell me how much it means to know the public is behind them and their families throughout their recovery.
I'm determined to help make sure that this vital support is there whenever it is needed. So please join us, it's very simple to sign up and bake a difference! You could just get some friends together for a cup of tea, have a laugh and have a chat. You really will be helping to rebuild lives and continue the amazing work that Help for Heroes does."
Bake sales can be as big or small as you want – it could be a tea and cake event at work or school, a coffee and cake morning at the local community centre, or simply an invitation to friends to come round for a slice of cake and a catch-up in return for a donation.
Funds will support the work of Help for Heroes and their four Recovery Centres, which have been purpose-built and support around 4,000 people every year.
Throwing her full support behind Bake for Heroes is Sally Amoore, 62, who lives near Tenby in Wales and has raised around £37,000 for H4H by selling cakes over the past eight years.
Her son, Captain James Amoore, now 32, was seriously injured in Helmand province in Afghanistan after stepping on a Taliban mine in 2009.
James, a platoon commander with 2nd Battalion The Rifles spent four months in hospital, undergoing 15 operations.
With the prospect of more treatment ahead of him, Sally has pledged to do all she can to raise money for H4H.
Sally said: "James should have been a triple amputee, but he somehow managed to keep all of his limbs.
"He is among 66,000 ex-military personnel who will need support to deal with life-changing injuries and illnesses.
"Without charities like Help for Heroes, these brave men and women who we ask so much of would never get the support they deserve and so badly need.
"These men and women look strong and capable, but behind the brave façade, they face daily challenges. For some, the first challenge of the day is to fit their prosthetic legs or arms, for others it may even be battling their anxiety of leaving the house.
"As the public and media focus is no longer on Afghanistan or Iraq, it is critical we maintain support for them for years and years to come.
"I love Bake for Heroes because it's something that everyone can take part in and do their bit. It's not a huge effort to bake a cake! It's just a very friendly and fun way of raising a bit of money for a good cause."
How you can help?
To register to take part visit www.bakeforheroes.org.uk or call 01980 846459.
Everyone who registers has the chance to win a Kenwood kMix (kindly donated by Debenhams).
A free fundraising pack will be sent to every Bake for Heroes organiser to help make each event a success.
The packs include collecting boxes, a sweepstake game, bunting, balloons and pricing stickers.
Participants can also enter H4H's 'Best Looking Cake Competition' for the chance to stay at the Bloomsbury Hotel in London, together with breakfast and afternoon tea.
To enter, email a photo of your cake and your event registration number to cakecompetition@helpforheroes.org.uk by 31 July 2017. This competition is open to everyone aged 18 or over.
A selection of easy-to-follow recipes, ranging from brownies to lemon meringue pavlova, are available at www.bakeforheroes.org.uk. There are also downloadable cake toppers in four different H4H designs or a blank template for your own designs.
*People can share pictures on Twitter by using the hashtag #bakeforheroes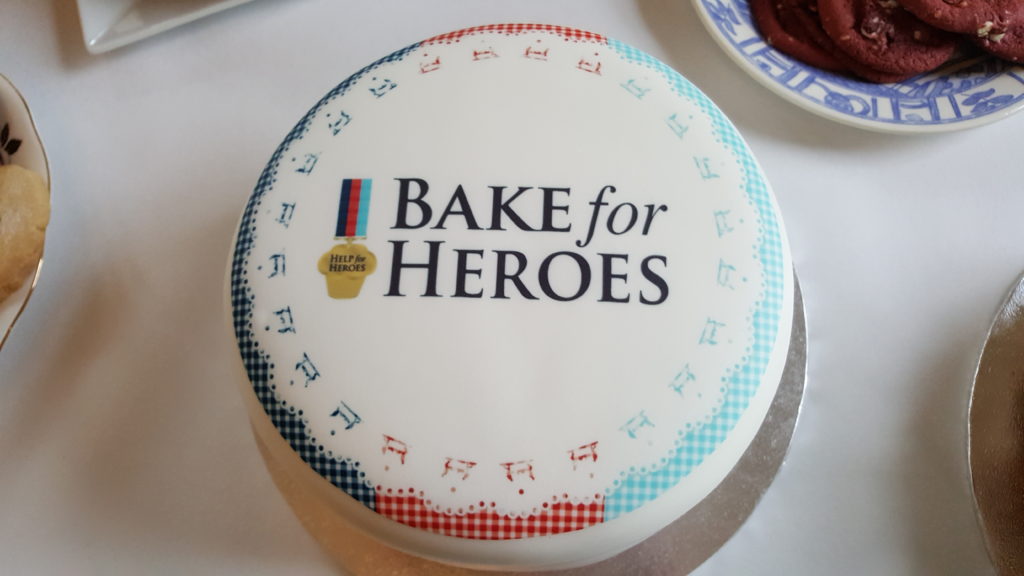 Bake For Heroes Five Facts
More than £850,000 has been raised since 2009. The aim is to break through the £1m this year.
Approx 2,400 bags of flour are used every year for the bake sales.
Around 450,000 eggs are used every year for the bake sales.
Around 300,000 slices of Victoria Sponge are eaten every year during Bake for Heroes.
Kent is currently the most active baking county for Bake for Heroes.