BakingBar Top Chefs Interview – Andy Beaton
As part of the series of Baking Bar Top Chefs Interview – Andy Beaton. We had the opportunity to interview the inspirational Andy Beaton about his experiences with cooking and what makes him tick.
Andy Beaton, Head Chef at The Lakes Distillery eatery, Bistro at the Distillery.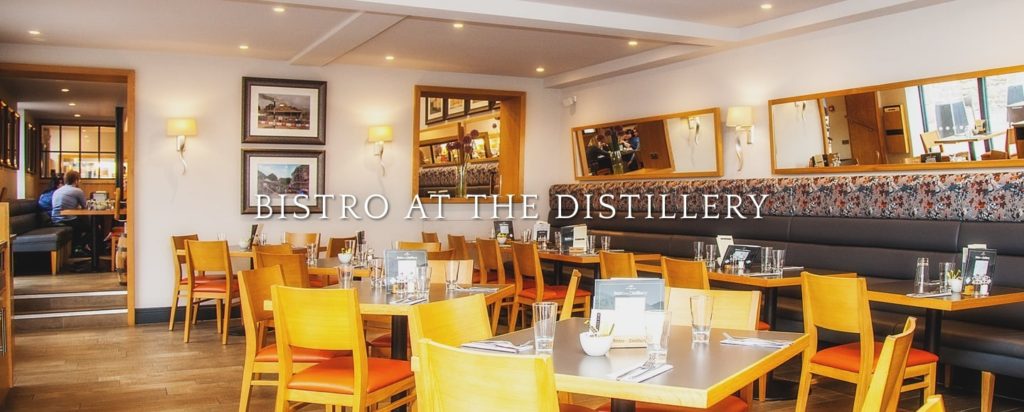 When and from whom did you learn about cooking? Do you have any early memories of something you enjoyed cooking?
I first learnt about cooking from my grandad when I was 14 years old. I always remember cooking with my grandparents and have lots of fond memories. Sunday roast was the speciality in their household. For me, I used to study closely how my grandad would respect the ingredients. Anything from a humble potato to a whole leg of lamb. He passed down to me how important it is to treat all produce like it is a beautiful lady. That's always stayed with me.
Where did it all begin? What was your first job in a professional kitchen and how do you think this helped get you where you are today?
For me it all began in a small restaurant in Bardsea called The Old Mill. Here my main responsibility was to wash up and I used to observe the chefs closely who were serving functions of around 100 people. I used to get such a buzz from being busy. Even if it was just doing so many dishes and keeping up with the fast pace of the kitchen. I really took on-board how the chefs worked as they cooked for so many customers and used to think to myself that I wanted to do that too.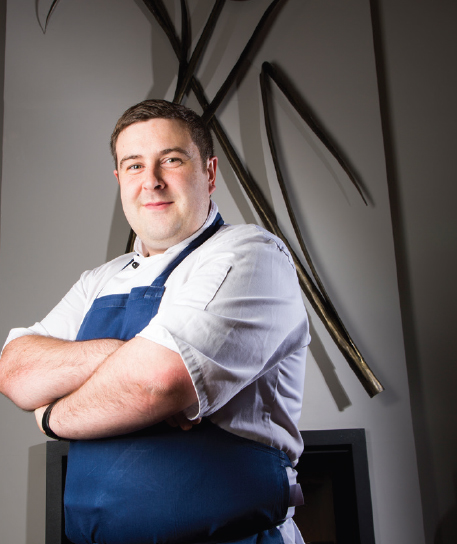 What is one of your favourite ingredients to use in your dishes and why?
My favourite ingredient has to be Jerusalem artichokes and I love them in either a soup or in puree form. They are so versatile they can be used alongside red meats as well as complimenting delicate fish. They add a nice element to vegetarian dishes but can equally as enjoyable on their own.
What is your favourite dish to cook? Do you have a favourite that you like to eat yourself?
My favourite thing to cook is most definitely the humble omelette and we are striving to serve the perfect omelette at Bistro at the Distillery. We have a rate my omelette page on Facebook where members of the public can send in pictures of their own omelette attempts and we then score them on overall appearance. In the kitchen team, there is a healthy competition to achieve omelette perfection to the point that we will have a timed competition to see who can make the most omelettes in 10 minutes! This is judged by appearance and taste and the chief tasters are the staff that then receive them for their tea.
What regional dish stands out to you and should represent your country? What do you think makes dishes in your region unique from others?
The best regional product for me has to be Cumbrian spring lamb. It is simply is the best in the country! This time of year in particular is great for wild garlic and also English asparagus which both go really well this meat. This makes my job really simple, as all I need to do is cook these ingredients simply and let them speak for themselves.
Have you ever cooked for any celebrities or famous faces?
I am honoured to have had the privilege of cooking for the Queen and the Princess Royal while I was the head chef of the Miller Howe Hotel. I also once cooked for Liam Gallagher whilst working here. He came in via helicopter at lunchtime and all he ordered was a portion of fat chips, washed down with plenty of champagne of course. He was accompanied by the band Kasabian and all in all this felt like a pretty surreal moment. Especially when they began singing at the top of their voices in the restaurant conservatory.
Do you have any funny or embarrassing kitchen stories to tell?
There are loads of funny stories to tell although unfortunately some can never be revealed! But the best one that I can divulge has to be when I slipped on a set of stairs whilst carrying over £100 worth of veal stock. The end result was me covered from head to toe in the stuff! Lucky for me it wasn't red hot at the time, just slightly warm.
 Is there a celebrity chef who inspires you or has inspired you from the beginning of your career? Why does this person inspire you so much?
The chef I look up to most is Raymond Blanc as my first real chef job was in his kitchen. Working for such an acclaimed chef gave me a real grounding in cooking and it was like listening and learning from my grandad once more; respect all ingredients the same way, everything should be treated like gold. It also taught me discipline in a kitchen, so the importance of things like always being in on time, keeping a clean and tidy uniform at all times and most of all, having respect for everybody that you work alongside. For me this last point is key because as a chef, you will ultimately spend more time with your fellow co-workers than you will do with your loved ones.
Do you have any final advice for someone just starting to cook?
My advice to anyone just starting out would have to be to just listen to the advice on offer and try your best to surround yourself with the most talented chefs possible. Even in the hard times never give up. There will be moments when you want to give up and get out of the kitchen for good but always try, push through that barrier and give 100% all the time.