How to Launch Your Food Blog Today
Every cook at least once thought of starting a blog. Most of famous chefs like Jamie Oliver or Gordon Ramsey already have their blogs and billions of readers. Food blog can perform many functions: help you tell people about your skills and invite them to your restaurant or cafe, if you're a professional; share recipes with friends, and get the feedback, if you're an amateur but wish to master the art of the "haut cuisine". So, if you like cooking, taking pics and writing – why not to launch your food blog today?!
Hosting
This might seem like an alien term if you're just starting out. But don't let it frighten you. Essentially your host is the company who are giving your website somewhere to live. You can change your host whenver you want etc. We've always used GODADDY as their customer service and technical support have been second to none. Always there to help and advise. We love them. You'll always find great deals too. They do a special WordPress Hosting Package which is just perfect.
The Design
Here you will get some basics about launching and managing a food blog. But first, let's decide what to choose – a custom design or a ready-made theme.
Custom design will be definitely unique and customer-specific. But it may cost you thousands of dollars and it is definitely not an option for an amateur cook, a food blogger or a novice chef. If you have some spare money – you can go for a custom website. In other case, consider another option.
Ready-made theme is a great option for all – from a professional cook to a cuisine aficionado. There are lots of platforms that allow creating blogs for free or for a low cost. One of the best, the easiest and the most popular blogging services is WordPress. A user can choose from a wide range of free or paid food and restaurant WordPress themes that can become a good base for a cook's blog. Template Monster has a huge selection of delicious templates for any taste.
Find your own voice
It's the trickiest part in launching a blog. If you're a restaurant chef you probably already know what will be your points of interest, what recipes and recommendations will you post. In case of an amateur cook everything is much trickier. Try to understand what food do you love the most? Are you a vegetarian and wish to share your knowledge and passion about healthy food? Or you're addicted to sweets and desserts? Define your niche.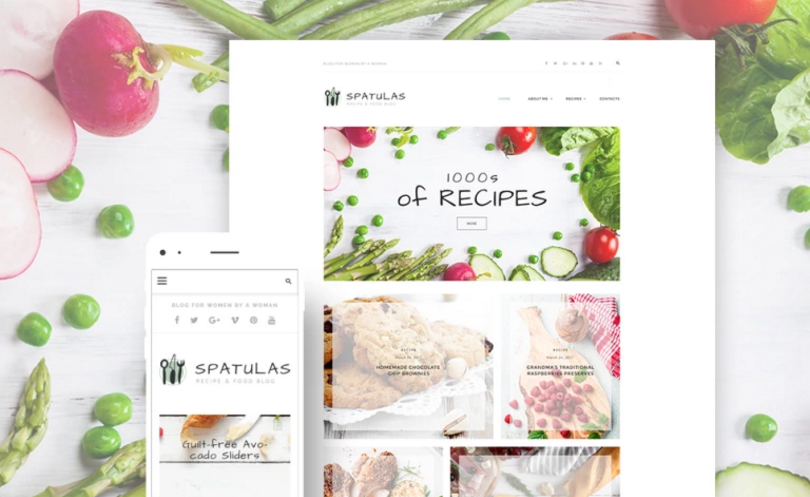 Try to add zest to your blog by adding more style to your way of cooking and blogging about it. Define your writing style. Are you a happy mother whose kids love to help you on kitchen? Create some kind of "Cooking-with-my-kids" project with cool photos of children cooking. Or tell your visitors about different foods from various countries you have visited. Be unique!
Choose a catchy & functional design
If we speak about getting a template for your blog, you should keep in mind a few basic requirements to it:
The design should be simple and clean. Its layout should be minimalist since you're going to post many colorful photos of food. It shouldn't be cluttered and overloaded with many elements to draw user's attention to recipes, images and conversation rather than to design gimmicks.
Its navigation should be intuitive. When visitors land on your website – make sure they can easily browse your blog and find what they need. Provide a proper categorization so users can easily jump from starters or salad recipes to drinks or desserts.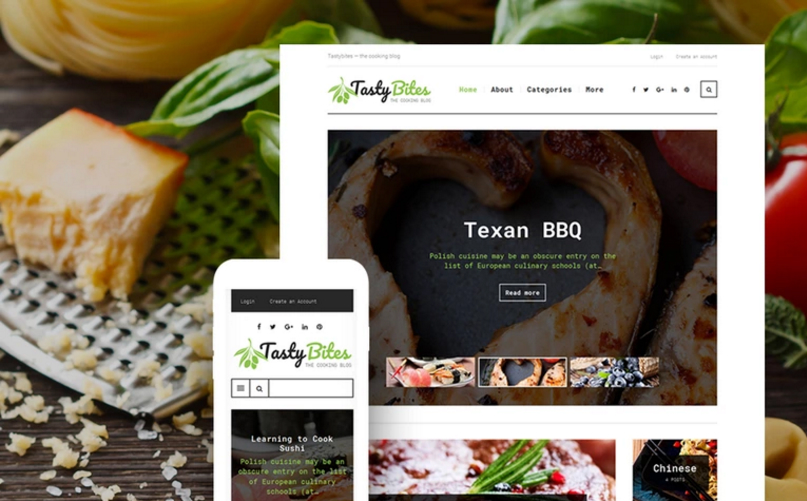 It should be responsive. Many users browse websites from their smartphones or tablets. Especially when they're on kitchen – it's easier to get a recipe and step-by-step description of a cooking process at hand. So make sure the design looks just perfect on smaller devices. Address to web design service centers if you're not sure how to make the design mobile-friendly – they will definitely help you.
Get a hosting and a domain name
WordPress a self-hosted platform what means it's powers and functionality will be enough for a start. If you plan to run a serious blog and monetize it later, you may consider to get a hosting for it. Aside of its price, you should consider the following characteristics of a good hosting:
Ease of managing.
Hostings are usually based on Linux or Windows.
Linux is cheaper, but it can be tricky for a non-techie person.
Windows costs more, but is managed effortlessly.
Tech support.
Consider a hosting that offers a free tech support most of the time.
Uptime amounts.
Hosting servers may fall unexpectedly.
Choose the hosting that recovers from downtimes easily and fast.
You should also choose between shared hosting (which is cheaper) and dedicated (more expensive but it's all yours).
Domain name should be unique and fit you and your blog perfectly. Start a bit of a brainstorm and try to define your cooking style, its main characteristics or main products you use. You can simply put your name or the name of your kid that helps you on kitchen while cooking. The rule of a thumb – it should be memorable and easy-to-spell. Then visit a website that sells domain names and check its availability. If it's available – buy it (some websites even offer free domain names).
Take care of imagery
Chefs consider the presentation of a dish not less important than its taste. So you should take care of catchy, vibrant and mouthwatering photos of your dishes and even process of cooking. Not to mention that it's better to have your own unique photos than those faceless images from photobanks.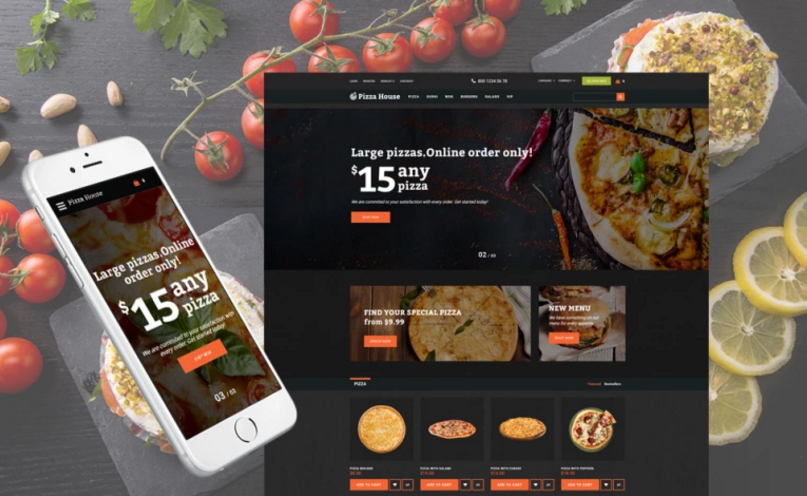 Try to experiment with your photography. You don't have to buy a professional camera to get good photos: most latest smartphones have high-quality cameras that allow taking amazing photos. Go for a clean and clutter-free background to showcase your products or dishes. Choose a cloudy (not rainy or dark) day to shoot in the natural daylight. Choose an attention-grabbing style for your photos.
Stick to posting schedule
It means, if you're already started a blog – have courage to take care of it every week. Set a schedule and stick to it: choose a number of posts per week, establish the days and time of posting. It helps your users to adjust to the schedule and thus they can know when to expect a fresh recipe or cooking lifehack from you. They will return to your blog again and again when they know that their expectations will be managed.
It doesn't mean that you should post five days a week no matter what. The schedule can be flexible. And don't post too often – it is not good for your health and the posts quality. Posting consistency matters more here.
Drive engagement
Your visitors is that main resource of life for your blog. Treasure their attention to your blog, answer their questions and comments, even the provocative and angry ones. try not to miss notes from your readers. Answer their emails even days later when have had no time or desire to do it. Create social accounts – one or two will be enough, consistency is also important here. Thus, Instagram works perfectly for cooking blogs.
The main thing about running a blog – don't give it up. Don't be disappointed by a low number of visitors during first month, year or two… If you're really fond of cooking, people will notice it and will appreciate your efforts. And you'll definitely get your thousands of readers!