Nest Smart Learning Thermostat
Earlier this month we had a Nest Smart Learning Thermostat installed by Ecoheating.Services in our new home. In this review we aim to show you everything we have learned and love about Nest so far. We were in no rush to post this review as we wanted to give ourselves enough time to experience what it is like to live with a Smart Thermostat. Spoiler alert…We were not disappointed.
The Decision
Getting a Nest Smart Learning Thermostat was on my wish list since their launch in the UK. I have a lot of friends who saved truck loads with nest thermostat so I decided to research all the details. I promised myself we'd look into getting one installed once we bought our own home. Before I knew it all that had happened. We're pleased to say we have a pretty smart home. If you're one of our regular readers you will know we have a Robot Vacuum, Wifi Kettle and Coffee Machine as well as Smart Lighting. So the Nest is just the cherry on top.
The Purchase
Nest can be purchased directly from their website where you can also bundle the installation cost. It is highly highly recommended that you get your Nest installed by a Nest Pro certified installed. Nest can help you locate on in your area. Nest made this incredibly simple for us and before we knew it we had our 'Nest Install Day' booked in. We only had to wait a week which is a lot faster than we expected. We were sent our nest within days as this is posted out to you directly so you have it ready for your install day.
The packaging is very Apple-esque (is that a word? I use it all the time). The packaging is designed to impress, to wow you, to show off the Nest Thermostat as soon as you open the lid.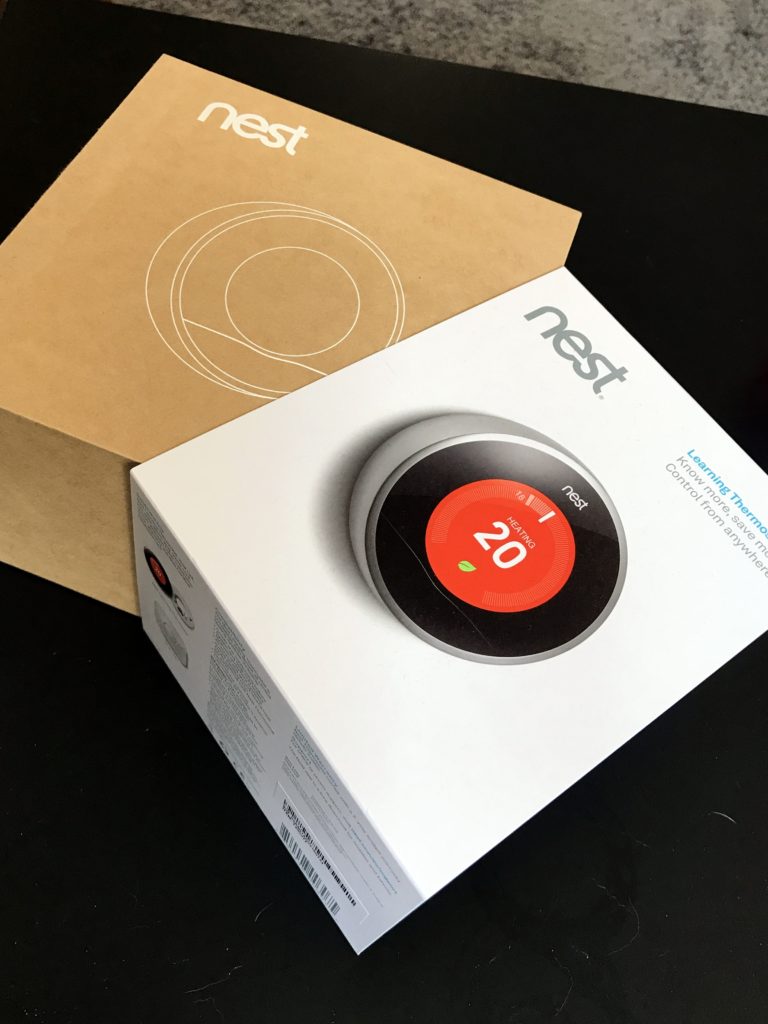 The Install of the Nest Smart Learning Thermostat
Kevin from Ecoheating.Services turned up exactly on time on our install day. Having only moved into our new home (yay!) a few months previous we didn't know too much about how our heating system was set up or wired around the house. I'm sure not everyone knows this either. Kevin did not hesitate to start investigating immediately and established everything he needed to know. We chose where we wanted our Nest thermostat, we chose the same location as our old non-smart thermostat. However this is an opportunity to decide to either move your thermostat somewhere else on your wall or take it off the wall completely and power it via a USB cable. The choice is yours. I like ours on the wall, its so pretty too!
The first step for Kevin was installing the Heat Link which comes with the Nest Smart Learning Thermostat. Essentially this is the box which gets wired into the boiler that communicates wirelessly to the nest thermostat, turning the boiler on and off. If your boiler is hidden away in a cupboard somewhere like ours is, the chances are you'll never actually see the Heatlink. Once that was connected to the boiler Kevin then disconnected our old non-smart thermostat and started wiring in the Nest Smart Learning Thermostat. We were initially worried about the rough edged plaster hole where the old thermostat was but were relieved to see that Nest now supply a backplate which the Nest fits neatly on top of. So this creates a nice flawless finish.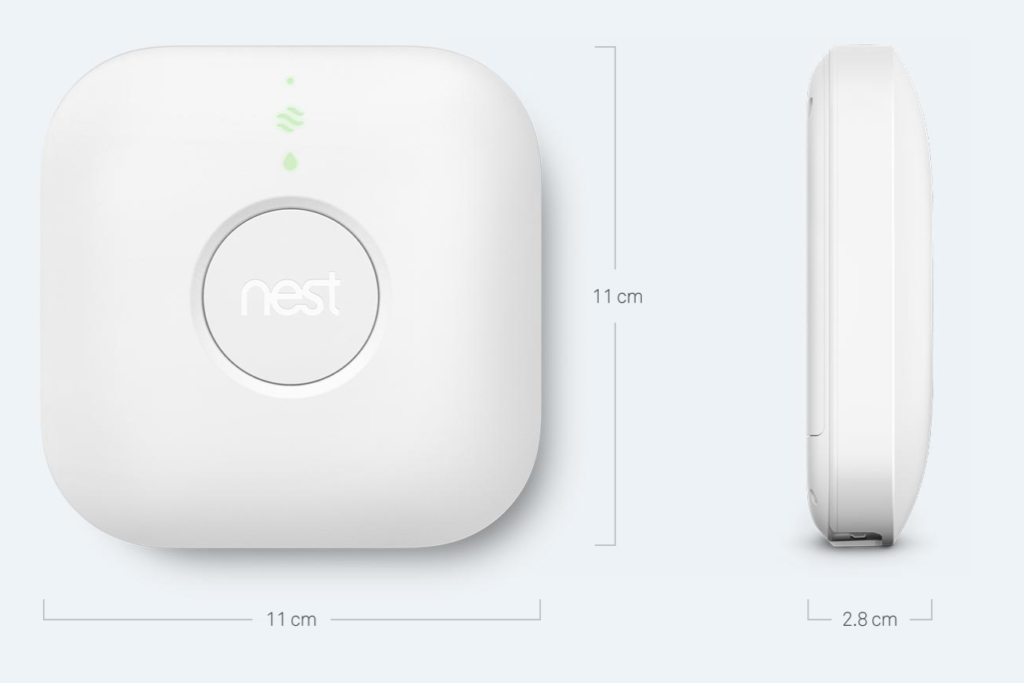 Once the wiring was done the Nest Smart Learning Thermostat itself was connected. Its little face lit up. We fell in love immediately. Such a lovely display. It is true that real quality really does shine through in the detail. The thermostat ran through a very simple heating test to check everything was connected as it should be. It was then set up with our account information. We synced the thermostat with our phone via the Nest app. Everything absolutly seamless.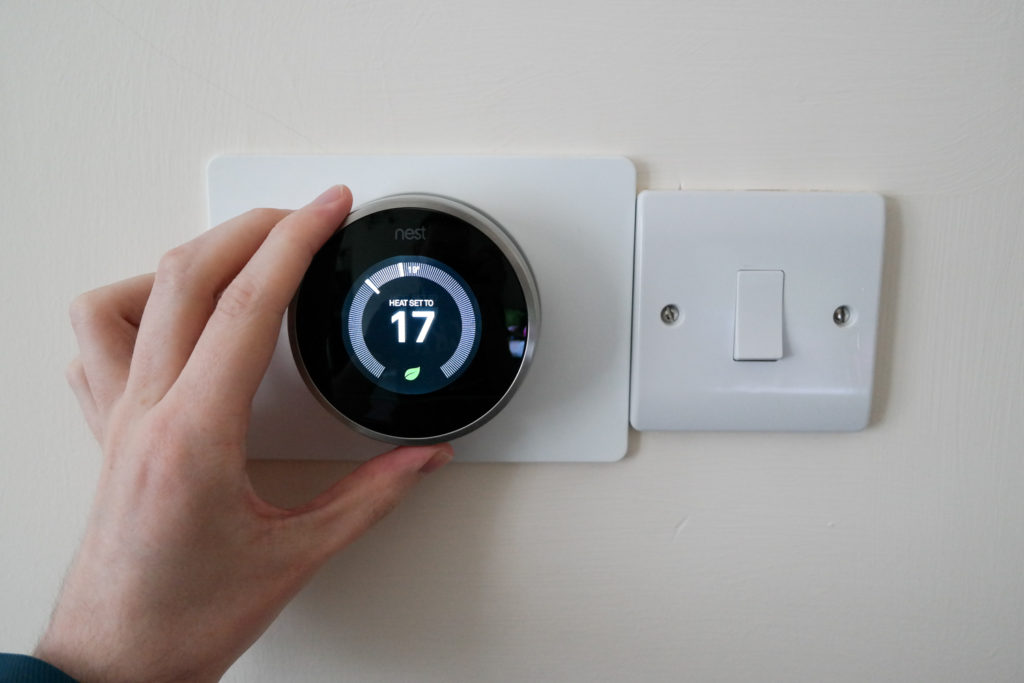 With a final check over everything Kevin was on his way. About an hour later. So within just an hour how we manage our heating had been changed forever.
The Day-to-Day Usage
This is obviously the biggest and most important part of the review. It wouldn't matter how pretty it looks if it didn't actually work well. We're glad to tell you that it does, very well actually.
When we tell people about Nest a lot of them have the same reply. "But don't you just turn your heating on and off the same way". This is part true. You CAN manually turn the bezel (which is beautifully smooth) to adjust the temperature. It would actually be a bit annoying if you couldn't do this when you wanted to. If you're walking past it this is obviously the most natural thing to do to alter the temperature. When you turn the bezel the temperature is displayed in digits and adjusts up or down depending on the direction you turn it.
The App is amazing. We'll just come out and say that from the start. It makes managing and teaching (we'll come to that shortly) the Nest Smart Learning Thermostat incredibly easy. The app connects seamlessly to the thermostat. You can also invite other people in your household to join your account, with you being the main owner. They can each have the app on their phone and control the thermostat (don't worry you can lock it too!). Once set up you can view the same display as you see on the actual thermostat. Here you can adjust the temperature up or down or create a schedule in a calendar view. The amazing thing is you can adjust the temperature from ANYWHERE. Not just within the house. From the bus, from work, from holiday! Just set it and it will send a signal to your thermostat.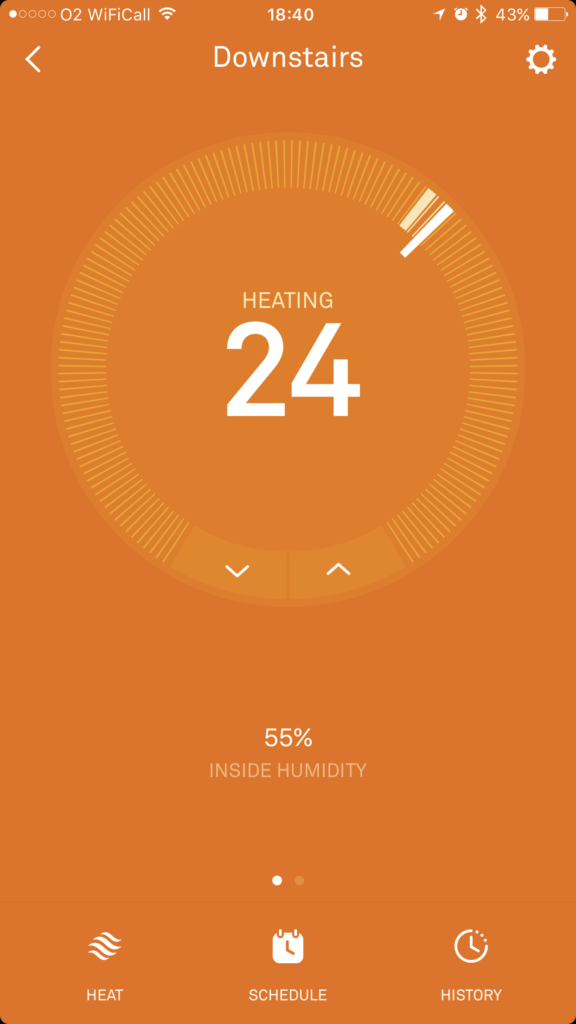 It's all in the learning! Nest advise you to go about your normal business for the first week or two. Turning the Nest Smart Learning Thermostat down before bed time and then up in the morning. Just adjust it to the temperature you feel comfortable eating your breakfast etc. After a few days of doing this the Nest will start automatically creating a schedule for you. Don't worry if it gets a few things wrong at the start. You can simply remove items from the schedule with a tap of your finger. It's still learning after all. Once it learns your home and how long it takes to heat up etc, it will aim to turn the heating on long enough before you want to eat breakfast so that by the time you are sitting at your table the temperature is already at the desired level, not just still heating up.
Another ingenious idea of Nest was to include the Eco Leaf on the device. This essentially adds a bit of gamification to using Nest. Anytime you turn the temperature down lower than it would normally be, a green leaf appears. You've just earned a Leaf. This means you're saving money and being eco friendly by turning your heating down. Homeowners may also want to consider comparing their energy provider's rates against others, like Amigo Energy rates, to ensure they're getting the best rate they can. Each month Nest will let you know how many Leafs? Leaves? you have earned that particular month. It's quite cool trying to beat your current best.