BakingBar Top Chefs Interview – Jonny Phillips
As part of the series of Baking Bar Top Chefs Interview – Jonny Phillips. We had the opportunity to interview the inspirational Jonny Phillips about his experiences with cooking and what makes him tick.
Jonny is Executive Chef at Belfast restaurant Coppi. You can also find him writing about his favourite recipes over on his website.
When and from whom did you learn about cooking? Do you have any early memories of something you enjoyed cooking?
My first memories of cooking came from my mum, she made an excellent curry & good home baked pies. I enjoyed cooking pasta with butter & black pepper from an early age at home. Since moving into a professional career as a chef I took a lot of influence from an Italian Chef Franco, he taught me the proper way to cook classic Italian food, this training shaped my career to date & my love of Italian food.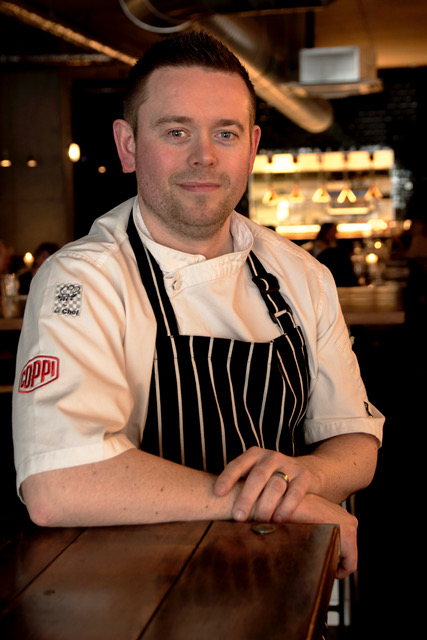 Where did it all begin? What was your first job in a professional kitchen and how do you think this helped get you where you are today?
My first job was at Queens Café Bar in Belfast, while the food offering was not outstanding it taught me how to cope with a pressure & drove me to learn more.
What is one of your favourite ingredients to use in your dishes and why?
I absolutely adore N'duja, a spicy Calabrian salami. It's so versatile & adds a great hit of spice to dishes, it's fantastic paired with sweet shellfish & fresh basil in a very simple pasta dish or even used as a dressing for a healthier salad.
What is your favourite dish to cook? Do you have a favourite that you like to eat yourself?
I love nothing more than cooking a home made sourdough pizza, another tradition at home is pizza night, I love experimenting with the dough & my 2 boys seem to enjoy it too!
It's hard to choose a favourite dish to eat but my goto is a Florentine steak, we have it at home every Boxing Day with Bearnaise sauce, gratin potato & lots of slowly roasted vegetables.
What regional dish stands out to you and should represent your country?
It has to be Seafood Chowder, it's the ultimate representation of our amazing produce, the best butter, dairy & seafood paired with wheaten bread. All of which are local to us.
What do you think makes dishes in your region unique from others?
We are very lucky in Northern Ireland to have many excellent restaurants with massively talented chefs cooking their own unique styled food. There is a big focus on the locality of ingredients whether it be Tynedale Goat Kid, Walter Ewings Smoked Haddock & Salmon or Peter Hannans Beef. I believe the relationships built with these passionate Producers & their commitment to our industry makes us unique.
Have you ever cooked for any celebrities or famous faces?
I've been quite lucky to cook for a few including Bill Murray, Vinnie Jones & a lot of world class cyclists.
Do you have any funny or embarrassing kitchen stories to tell?
The funniest moment I can recall was one of my chefs many years ago eating his breakfast in the staff bathroom, he had previously had his breakfast stolen from the other guys a few too many times apparently…
Is there a celebrity chef who inspires you or has inspired you from the beginning of your career? Why does this person inspire you so much?
Rick Stein, he represents everything I love about this amazing industry. Great fun food, no nonsense service & true passion. I love his food & took a lot of inspiration from his cooking in my early career.
Do you have any final advice for someone just starting to cook?
Enjoy cooking the food that makes you passionate, find a path and achieve your goals. Too many chefs burnout with working big hours, drinking & partying too much. Stay focused & give serious thought to what you want to eventually achieve.