Pistachio Raspberry and Rosewater Meringue Tower
This pistachio raspberry and rosewater meringue cake recipe is a perfect summer soirée showstopper dessert. Impress your guests with this extravagant and heavenly but deceptively simple tower cake.
Serves approx. 10-12 depending on slices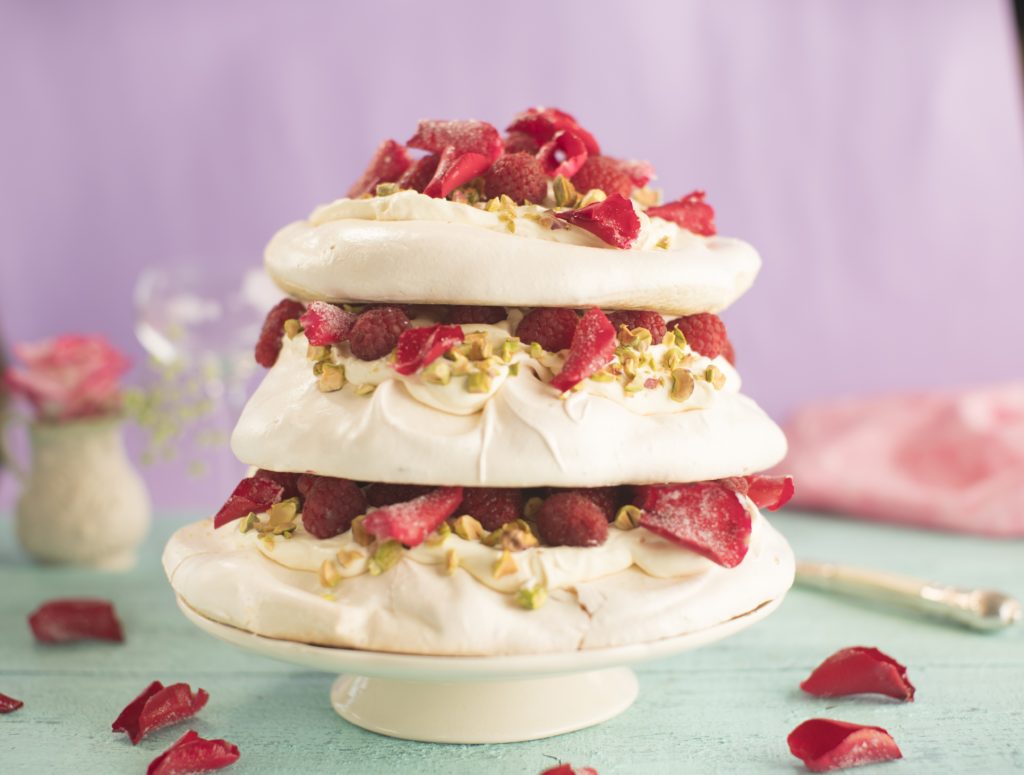 Ingredients
For the meringue
7 egg whites
420g McKinney's Caster Sugar
2 to 3 drops rose water
For the crystalised roses
Organic red rose petals (roses)
1 egg white, beaten
100g McKinney's Caster Sugar
For the filling
300ml cream
200g mascarpone cream
50g McKinney's Icing Sugar
300g raspberries, trimmed
50g pistachios, roughly chopped
Method:
To prepare the meringue
Preheat the oven to 120°C/fan 100°C/gas 1. Line 2 baking sheets with parchment paper. On the underside of the paper draw large, medium and small oval shapes, measuring 25cm, 20cm and 15cm across, ensuring that you can see the shape through the paper.
Place the egg whites in a clean bowl, whisk the egg whites until stiff but not dry. Gradually add in two thirds of theMcKinney's Caster Sugar, a tablespoon at a time. Add the rose water and fold in the remaining McKinney's Caster Sugar.
Spoon the meringue mixture into a piping bag with a star or plain nozzle. Following the outline of the ovals, fill in using all the meringue. Secure the parchment paper to the baking sheet with a little meringue mixture to ensure the paper doesn't lift in the oven.
Bake for 1½ hours. Switch off the oven and leave them in with the door closed to cool and set over night.
To prepare the rose petals
Pick the petals off and wipe lightly. Place the sugar into a shallow bowl. Whisk the egg white and using a paint brush, paint egg white onto the petal. Lightly dip the petals into the McKinney's Caster Sugar until very lightly covered. Place into a container and leave to dry.
To prepare, the filling
Pour the cream, mascarpone and McKinney's Icing Sugar into a mixing bowl and whisk until a thick cream forms.
To Assemble
Place the large meringue base onto the cake stand, spread mascarpone cream onto the meringue, add just over half of the raspberries and place the next meringue layer on top just slightly off center.  Now spread the rest of the cream over the meringue, sprinkle over the raspberries and place the last meringue oval on top.
To Decorate
Sprinkle the pistachios of the sides and a few on the top and add the crystalised roses.