The Protein Works – Protein Snacks Review
We're always on the lookout for healthy alternative snacks especially if they are packed with protein. We were delighted when The Protein Works asked us if we wanted to try some of their selection of bakery protein snacks!
UPDATE – Get 50% off any of these below products until the end of Aug 2017 by using our code BB50
What Are The Benefits of High Protein Snacks?
High protein snacks are a great alternative source of quality protein to the conventionally used protein shakes. At THE PROTEIN WORKS™ we are particularly proud of this range. Not only does it stick to our core philosophy of using only finest quality, natural ingredients, each product has its own unique innovation.
What makes The Protein Works stand out?
The Protein Works has their own protein bakery! Custom built just for them. They're in this for the long run because they believe there is still a lot of innovation and development still to come. The most important thing of course is the taste. The snack range tastes great as well as stacking up nutritionally. There are so many products out there which are great nutritionally but taste like sawdust. What's the point, you're never going to stick to eating stuff like that. With The Protein Works range it has you coming back for more. You start to really look forward to your protein snacks!
The Protein Works kindly sent us some of their Protein Snacks range to try out for ourselves. We've tasted loads of protein snacks over the years so we're in a good position to offer you a fair review based on their taste, texture and protein content.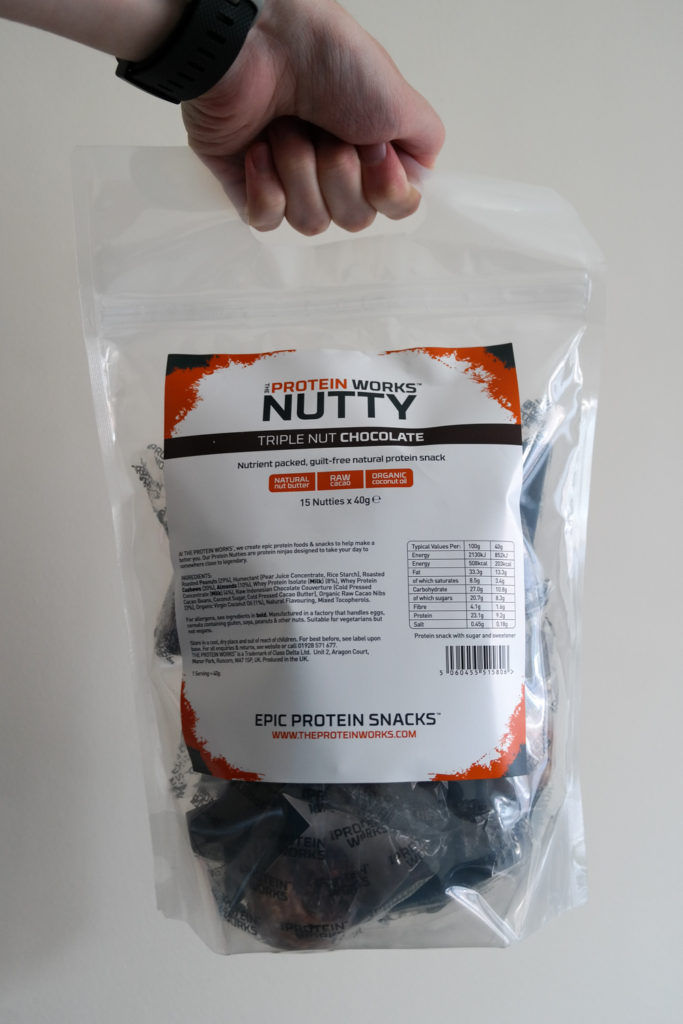 Protein Nutties are the first item we tried. Protein Nutties™ are a unique nutty protein snack, fresh out of the TPW™ Protein Bakery right here in the UK. They are made with 100% natural nut butters and the finest whey proteins and are packed full of healthy mono and unsaturated fats. These little Protein Nutties are utterly delicious. They are a great post gym snack or to beat those mid morning or mid afternoon cravings. All individually wrapped for freshness. The flavour we tried was Triple Nut Chocolate. Also on offer are Almond Super Berry, Cashew Coconut and Peanut Crunch. They come in a handy resealable bag too, so no loose snacks rolling around your cupboards or gym bag!
So what's in them for me?
For the Tripple Nut Chocolate variety : 9.2g Protein, 11.3g Carbs, 199 Calories per serving.
I've yet to meet anyone who doesn't like brownies. So it's no surprise that The Protein Works prioritised them in their development of their Protein Snacks. Again these come in a handy resealable bag and they are all individually wrapped. The variety we tried was Belgium Chocolate. Which is of course the traditional brownie. It is genuinely very difficult to distinguish whether this is a 'real' sugar packed brownie or a healthier protein packed alternative. And that's exactly what we're looking for in a Protein Snack! The texture is great, they are moist and of course chocolaty. The brownies are also available in the varieties Choc Hazelnut, Choc Peanut Butter and Millionaire's.
So what's in them for me?
For the Belgium Chocolate variety : 10.7g Protein, 2.7g Fat, 112 Calories per serving.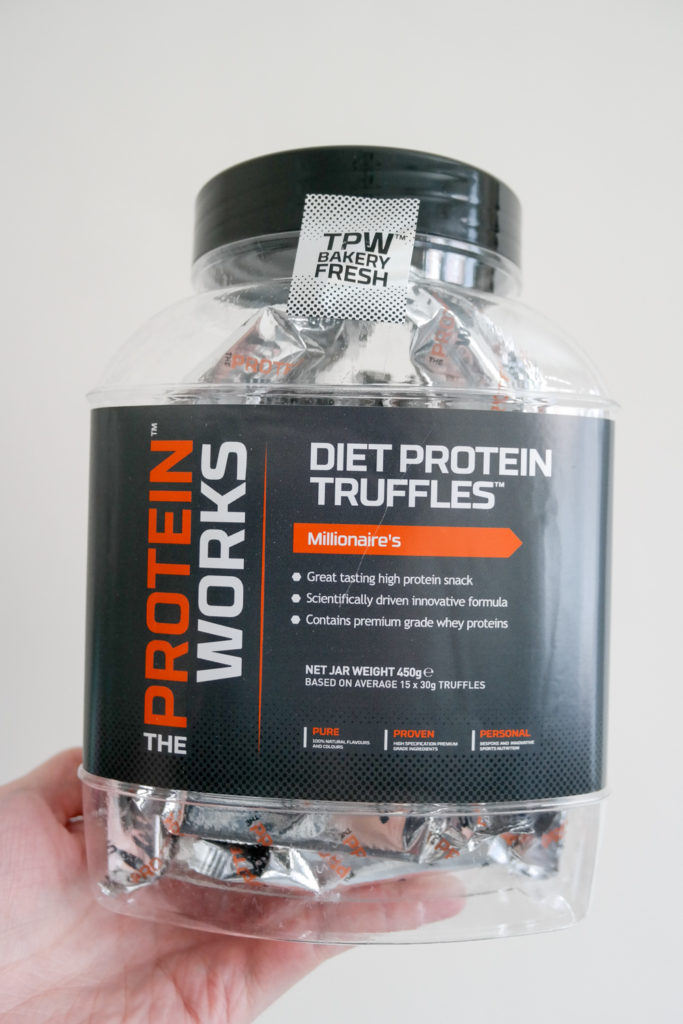 Finally we come to our favourite. We LOVE truffles. We've never come across any which have the word Diet in the title. We were a little sceptical at first. The variety which we were kindly sent was Millionaire's. These are also packed with a whopping 10.4g of protein per truffle. Not to be sniffed at! To us these are the ultimate cravings crusher as they are sweet and incredibly tasty. I love these in the late afternoon when you're slowly fading due to hunger. Diet Protein Truffles™ are hand-crafted using The Protein Works award-winning premium whey protein to a highly formulated in-house recipe. This includes infusing the protein blend with microencapsulated CLA, acetyl L-carnitine and fat-reduced cocoa powder to create a great tasting snack. Available in three other mouthwatering varieties, Caramel Macchiato, Jaffa Cake and Strawberry Cheesecake. Sounds amazing right?! These come in a plastic jar for easy storage. These truffles are quite dense, but this isn't a bad thing in this case. They are filling and really do quell your cravings for something sweet.
So what's in them for me?
For the Millionaire's variety: 10.4g Protein, 2.6g Fat, 96 Calories per serving.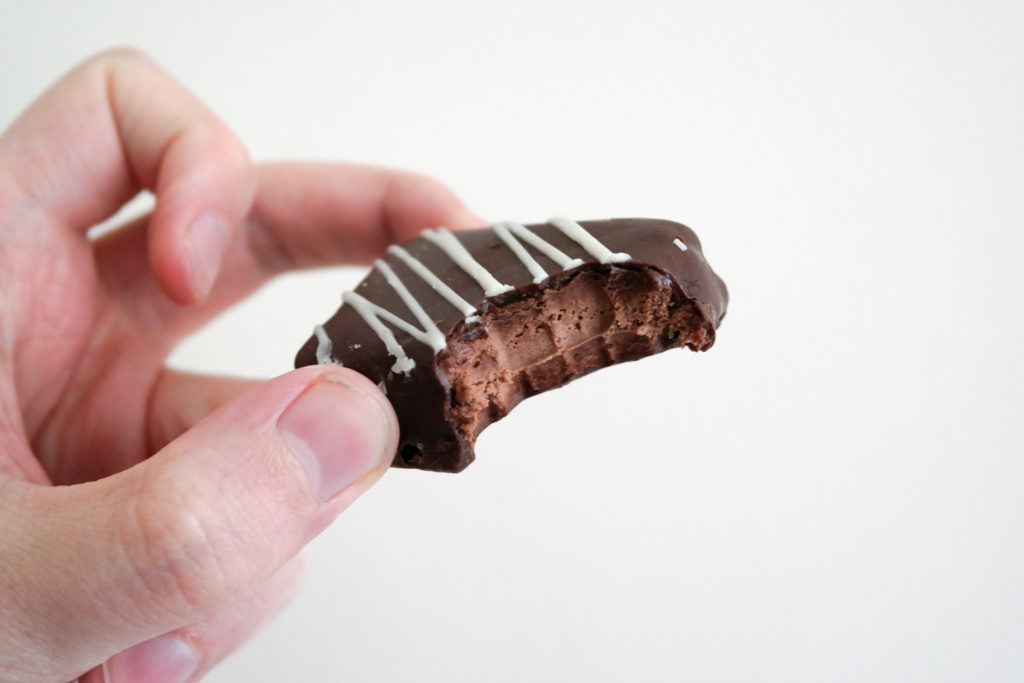 Overall this is a great selection of protein snacks. We look forward to seeing what other flavours and products The Protein Works comes up with.