3 Autumnal Recipes To Help You Beat Those Summer Blues!
Summer has flown by, as it tends to in this part of the world, and many of us might be experiencing a September slumber! It's that awkward time of the year, where the 'summer body' season is over, but it's too early to get excited about pigs in blankets and mulled wine! Not warm enough for shorts (for most of us, there's always that one person!), but no need to bring out the hats and gloves. In January, everyone makes new years' resolutions and gym memberships sky- rocket. Yet although September marks the beginning of the academic year for children, many people experience summer blues; a melancholy mood brought about by the thought of having to wait nearly an entire year to see some sun! Fear not, Box'd Fresh is here to motivate you to get those pin- striped aprons out and cook your way to Christmas! I like to think of autumn as a transitional season, preparing us for the manic run up to the festive season. If summer represents fruity fresh flavours, autumn is all about earthy recipes! Warm up and get creative with the following recipes, family- friendly food to keep you feeling good!
Butternut Squash & Sage Risotto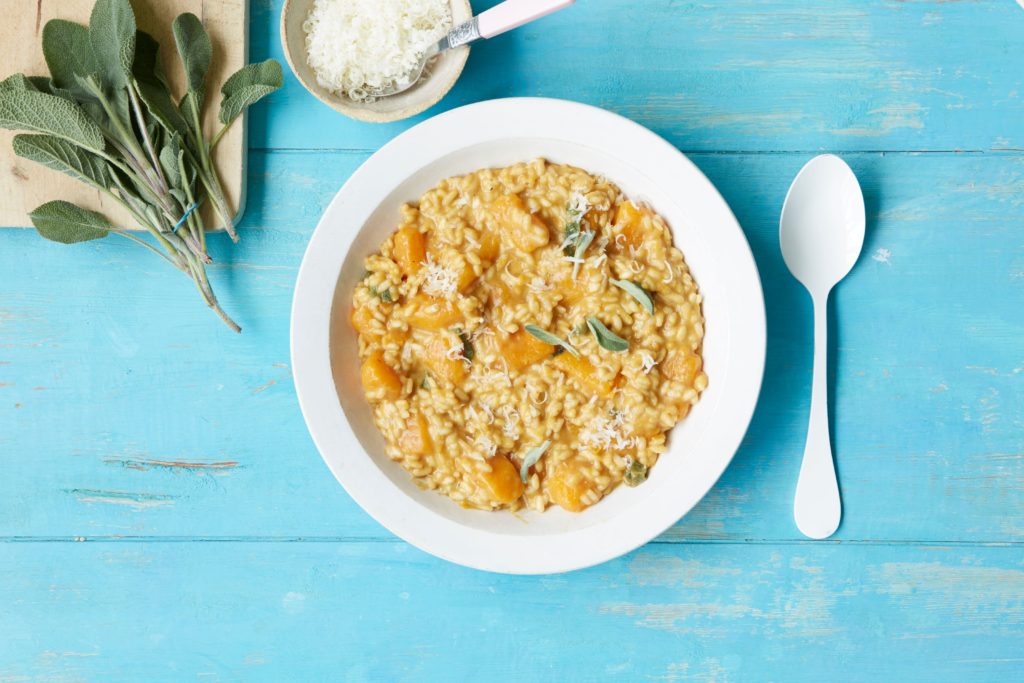 Here at Box'd Fresh we are slightly obsessed with all things squash! Butternut squash and sage should be married and never divorce! The earthy tones garnished with parmesan are a foodie's paradise! A very short list of ingredients, which is always music to our ears, but nevertheless ravishingly- delicious! Our British summer hasn't been the most giving, so why not enjoy an indulgent treat that can be whipped up in 30 minutes.
Serves: 2
Cuisine: Italian
Time: 30 minutes
Ingredients:
250g risotto rice
1 vegetable stock pot, mixes in 700ml of boiling water
1 butternut squash, peeled, deseeded and cut into medium chunks
50g parmesan cheese
1 handful of fresh sage leaves, rroughly chopped
You will need:
Salt
Pepper
Grass- fed butter
Method:
Heat 1 tbsp. of butter into a large saucepan on a medium heat and add the butternut squash. Season to taste and stir gently for a couple of minutes until the squash is a deep golden brown and tender.
Add the risotto rice to the saucepan. Then add one ladle-full of the boiling hot vegetable stock and stir continuously until the liquid disappears. Keep adding the stock in 1 ladle full at a time until all stock has been used for about 20 minutes.
To test whether the rice is cooked try a teaspoon of rice- it should be cooked through but still have a bit of a bite.
Turn off the heat and add a slither of butter to the risotto, sage leaves, and parmesan cheese. Do not stir.
Simply place the lid on and leave to rest for 3-5 minutes. Once rested, stir and serve in a bowl.
Sesame Butterflied Chicken With Peanut Sauce & Asian Slaw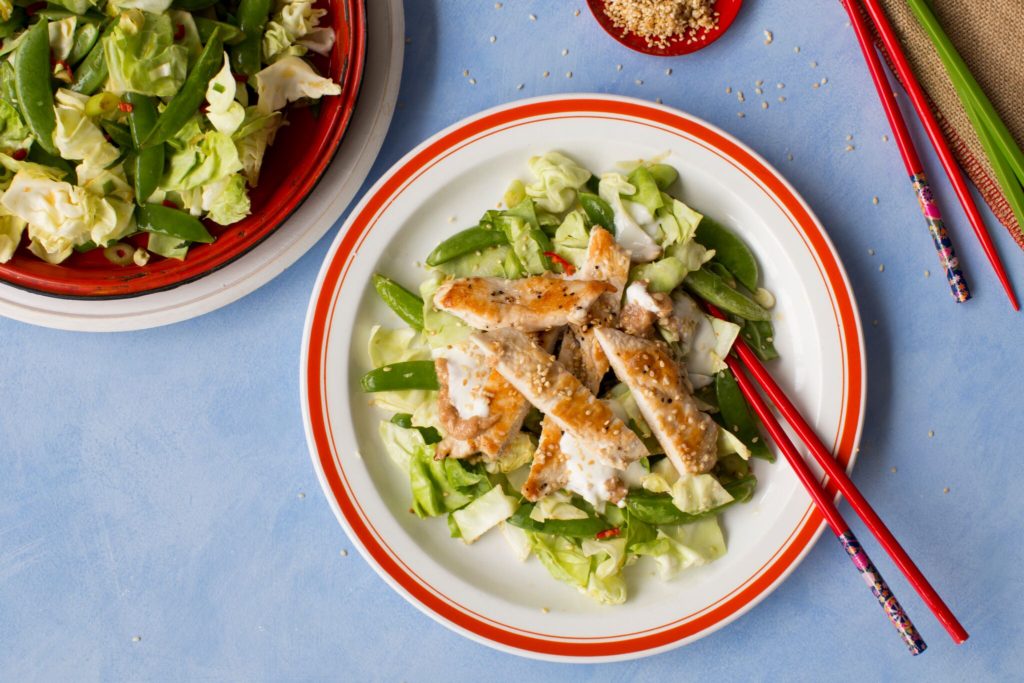 This recipe will allow you to enjoy a much- revered cuisine, with half the calories, but even more delicious! Asian cooking is a real treat for us as it is packed with a tangy combination of flavours in no time. A nutritious dish for the little ones, thank us later!
Serves: 4
Cuisine: Chinese
Time: 20 minutes
Ingredients:
4 chicken breasts, butterflied
8 spring onions, finely sliced
400g sugar snap peas
2 red chilli, finely chopped
4 limes, juiced
1 small cabbage, roughly chopped
4 tbsp. tamari soya sauce
2 tbsp. peanut butter
2 tbsp. honey
1 natural yogurt (170g)
½ inch ginger, crushed
2 teaspoons sesame seeds, toasted
You will need:
Salt
Pepper
Groundnut oil
Food processor
Method:
Put a large frying pan or a griddle pan on a high heat. Rub 1 teaspoon of groundnut oil, pinch of salt and pepper into the chicken breast, then griddle/fry for 8 minutes, or until golden and cooked through.
Put the spring onions, cabbage, peas, and chilli into a bowl. Dress with the juice of 2 limes and soya sauce. In another bowl mix the peanut butter with the juice of the remaining lime, honey and the ginger.
Remove the chicken to a board and slice, sprinkle the sesame seeds over before serving. Serve the chicken with the slaw and peanut sauce.
Spinach, sweet potato & lentil dhal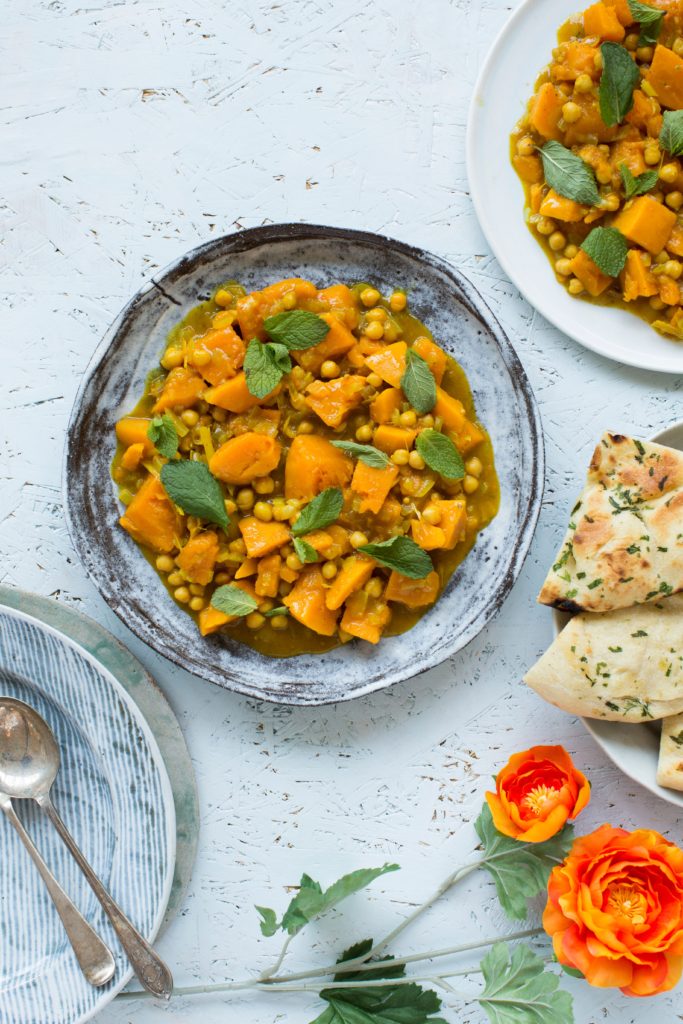 Indian food is a vegan's best friend! Rich in iron, low in fat and low in calories. At the end of your meal, not only will your body feel satisfied, but dhal has a soul- comforting effect too! A humble yet highly nutritious meal, dhal is enjoyed by the majority of Indian families all over the world. If you aren't a lover of spinach, which I suspect many of you aren't, this recipe disguises the spinach pretty well as the flavour is overpowered by the spices.
Serves: 4
Cuisine: Indian
Time: 40 minutes
Ingredients:
1 red onion, finely chopped
1 garlic clove, crushed
5g ginger, peeled and crushed
One red chilli, finely chopped
1 ½ tsp. ground turmeric
1 ½ tsp. ground cumin
2 sweet potatoes, cut into chunks
250g red split lentils
1 vegetable stock cube, with 425ml of boiling water
½ pack spinach
½ bunch coriander
150 g cashew nuts, roasted
You will need:
Sesame oil
Salt
Pepper
Method:
Heat sesame oil in wide based pan with tight fitting lid. Add onion and cook over low heat for 5 minutes. Add garlic, ginger and chilli, cook for 1 minute, then add turmeric and cumin and cook for 1 minute more.
Turn up heat to medium, add sweet potato, and stir everything together so potato is coated in spice mixture.
Tip in lentils, stock and season with salt and pepper. Bring liquid to boil, then reduce heat, cover and cook for 20 minutes until lentils are tender and potato is just holding shape.
Taste and adjust seasoning, then gently stir in spinach. Once wilted, top with cashew nuts and coriander to serve.
Box'd Fresh work with British farmers, makers, and bakers across the UK to send our subscribers everything they need to cook healthy, delicious meals from scratch. All the fresh produce and easy-to-follow recipe cards arrive in one perfectly customised food box.