Crab and Mango Salad from Favis of Salcombe
We're sharing this recipe with you in cooperation with Favis of Salcombe. The Favis Family have been fishing the waters off South Devon for the very freshest crab and lobster since 1972 and can get their hand-picked crab from pot to plate in less than eight hours. Their monthly recipes showcase their amazing food and we hope that you will enjoy making these at home! It's cracking crab at its very best.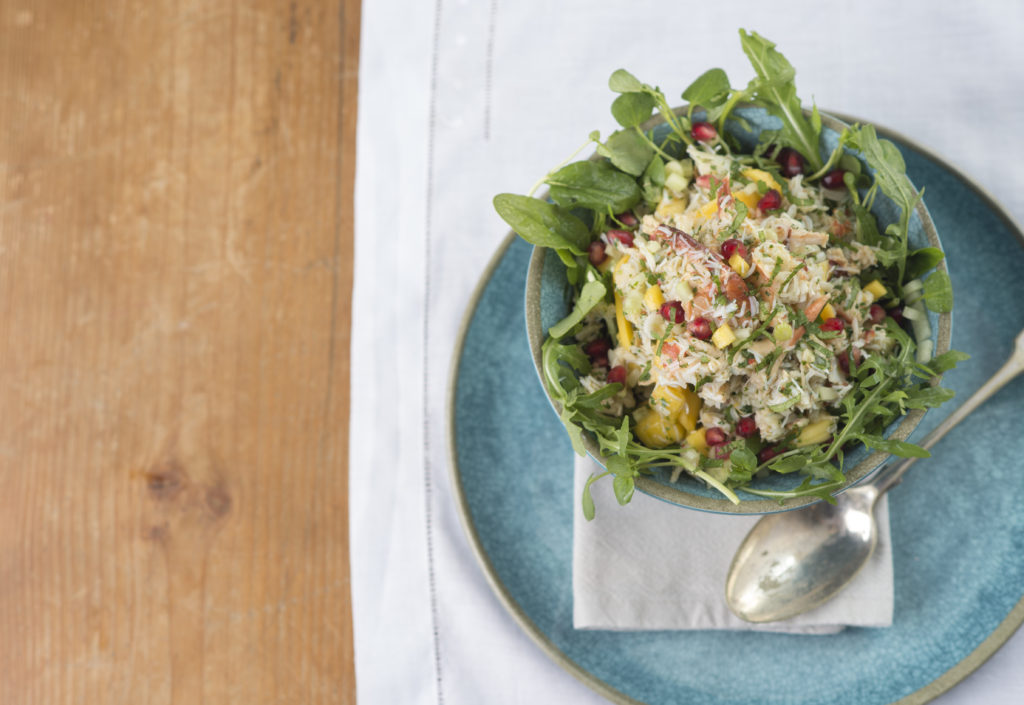 Serves 4
The Ingredients
For the dressing
5 tbsp olive oil
2 tbsp lemon juice
finely grated zest of ½ lemon
1 garlic clove, crushed
For the salad
200g white crabmeat
200g brown crabmeat
3 tbsp chopped fresh coriander (or flat leaf parsley, if preferred)
3 tbsp chopped fresh mint
4 spring onions, finely sliced
½ cucumber, peeled and diced
1 large ripe mango, peeled and sliced
100g bag watercress rocket & spinach salad
4 tbsp pomegranate kernels
The Method
1. For the dressing, mix the olive oil, lemon juice, lemon zest and garlic together in a jug until combined. Season with salt and pepper.
2. Mix the white and brown crabmeat together in a bowl and pour over three quarters of the dressing. Add the coriander and mint (reserving some for garnish), spring onions and cucumber and mix well together. Very carefully fold the mango through the mixture.
3. Arrange the watercress, rocket and spinach leaves on four serving plates and spoon the crab mixture on top. Sprinkle over the pomegranate and remaining coriander and mint. Drizzle over the remaining dressing and serve.