Crab Spaghetti with Lemon Gremolata from Favis of Salcombe
We're sharing this recipe with you in cooperation with Favis of Salcombe. The Favis Family have been fishing the waters off South Devon for the very freshest crab and lobster since 1972 and can get their hand-picked crab from pot to plate in less than eight hours. Their monthly recipes showcase their amazing food and we hope that you will enjoy making these at home! It's cracking crab at its very best. Images courtesy of Favis of Salcombe.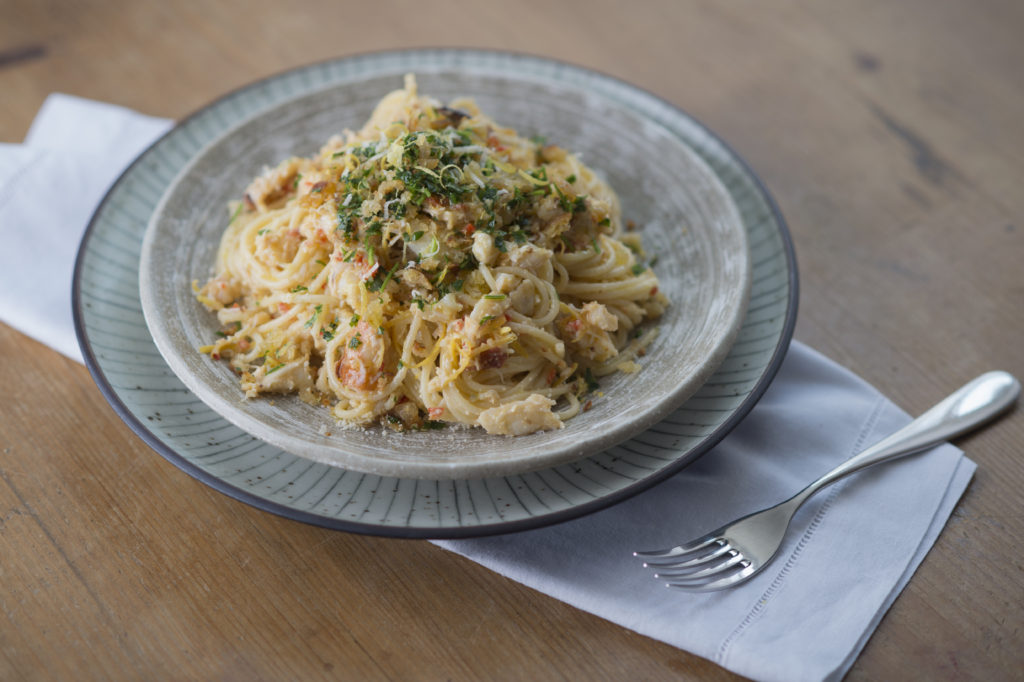 Serves 4
For the crab spaghetti:
200g dried (or 500g fresh) spaghetti
75g butter
3 tbsp olive oil
2 garlic cloves, crushed
175ml white wine
juice of 1 lemon
2 red chillies, de-seeded and finely chopped
450g white crab meat
100g Parmesan cheese, grated
For the Gremolata:
30g butter
120g fresh sourdough breadcrumbs
¼ tsp crushed sea salt
1 garlic clove, crushed
2 tbsp flat leaf parsley, chopped, plus extra for garnish
finely grated zest of 1 lemon, plus extra for garnish
The How-To:
For the crab spaghetti, bring a large pan of salted water to the boil and cook the spaghetti according to the packet instructions. Drain and keep warm, reserving 150ml of the cooking water.
Melt the butter and olive oil in a large pan. Add the garlic and cook for 30 seconds, stirring constantly, until fragrant. Add the white wine, lemon juice and chopped chilli. Bring to the boil, reduce the heat and simmer for 5 minutes until the wine has reduced by half.
Add the crabmeat and hot spaghetti and mix together.  Add 75g of Parmesan and toss together. Add the reserved cooking liquid a little at a time if the pasta needs more liquid.
For the gremolata, melt the butter in a frying pan over a medium high heat. Add the breadcrumbs and salt and cook for 3-5 minutes, stirring occasionally until the breadcrumbs are lightly toasted.
Remove from the heat and add the garlic, parsley and lemon zest. Sprinkle over the crab spaghetti and top with the remaining Parmesan cheese.   Garnish with chopped parsley and lemon zest.